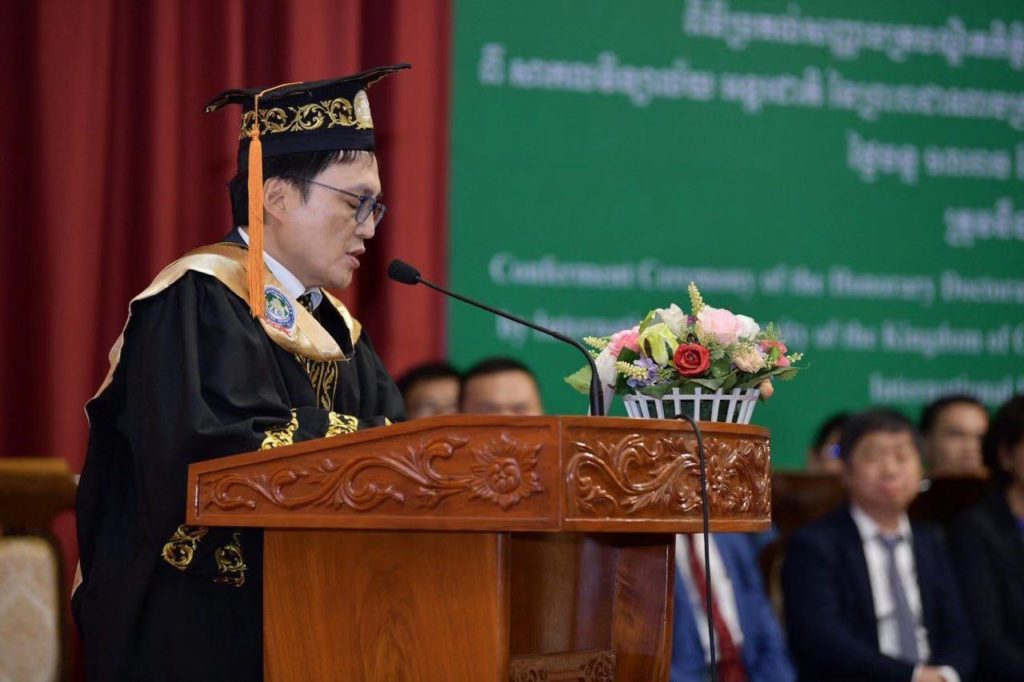 Dr. Manson Fok Honorary PhD Acceptance Speech Given at International University Cambodia on July 29, 2019.

Rector Professor Sabo Ojano, Secretary of State, your Excellency Heng Sokkung, esteemed educators and guests, and to all of you fabulous students, I wish you a good morning.
I'm honored to be here and in your warm and welcoming presence and to receive this Honorary PhD in Business today from this esteemed institution, the International University of the Kingdom of Cambodia.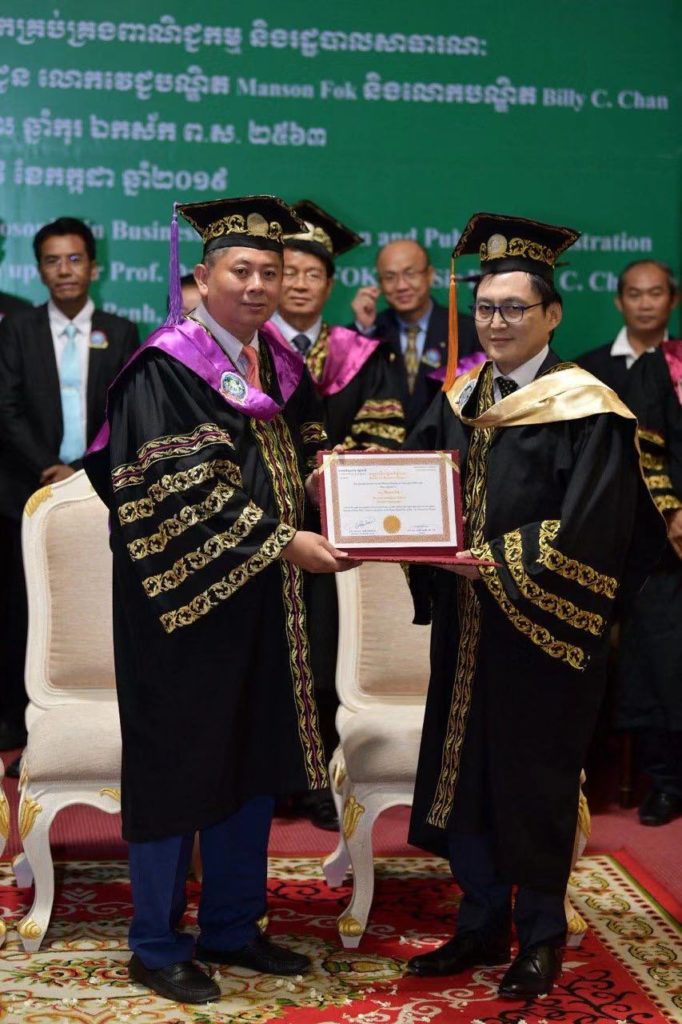 Let me begin by saying that my life is dedicated to the pursuit of medicine and education. I have been lucky the past several years to be able to harness knowledge of medicine and education into the business of biotechnology, healthcare clinics, and even a NASDAQ listed company in New York. We are creating innovative cancer treatments, advances in nano-technology medical devices, and creative healthcare solutions for a fast changing integrated world.
Coming here from the Peoples' Republic China, I want to say that business alone is not meaningful unless it is grounded into a framework that can benefit humanity.
I believe business people should strive to be educators, entrepreneurs, and philanthropists. These three elements are what I would like to convey to you today for creating a bigger and brighter world with business for your beautiful brothers and sisters here in Cambodia.
This message is especially relevant now as Cambodia goes through truly historic peaceful development with the energy of youth, vitality and hope.
I particularly hope all of you wonderful students can embrace making ethical business and sustainable development as you go forward in your studies and in life—of harnessing education, entrepreneurship, and philanthropy. 
When I look at your fresh faces, at the glint of hope and humanity in your eyes, I am truly inspired. As the Founding Dean of Macao's First Medical School, I look at you as if you were my own students. Indeed, today being here in then capital of Cambodia, I can feel the patriotism of your ancient civilization with you and am honored that we are signing an MOU to bridge Macao's first Faculty of Medicine at the Macau University of Science and Technology with the International University of the Kingdom of Cambodia.
I think we can truly make a better world with our medical education synergies and find innovative ways to collaborate for the future—just as Cambodia and China have done for thousands of years.
Our civilizations have a rich legacy of mutual cooperation and links from government to government, business to business, and people to people. Looking at all of you I am inspired that we will continue this strong tradition.
In the coming days, weeks, months and years, as we grow closer and closer, I hope we will continue to make new and innovative paths in medical eduction and business peace to create mutual prosperity between Cambodia, China, and the world.
Whenever I look upon of this special PhD Diploma from the heart of the Cambodian people, I will remember this day and all of you.
For me, that is priceless—the true aim of anything to do with business should be about.
Thank you.