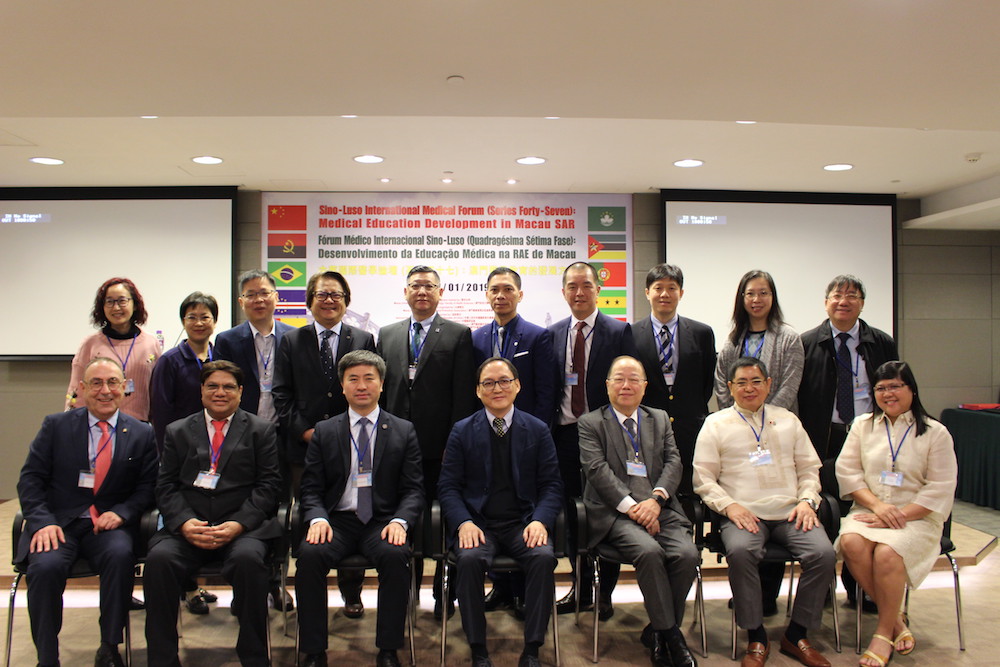 By Christopher Cottrell/Images Peace Post
With news of Macao's first medical school announced for the Macau University of Science and Technology (MUST) last week, the 47th Sino-Luso International Medical Forum this past weekend set praxis in motion with workshops and lectures of international medical education experts.
Under the theme of "Medical Education Development in Macau", over 250 participates from Macao, the Greater Bay Area, Australia, Philippines and Portugal convened at the Dr. Stanley Ho Medical Development Foundation Center and Faculty of Health Sciences at the Macau University of Science and Technology (MUST) for this historic conference.
Commented Professor Manson Fok, Dean of the Faculty of Health Sciences at MUST, "This new medical school is for the whole of Macao, the whole society. We already have a bounty of applicants from our local schools and are looking forward to training up the first medical class."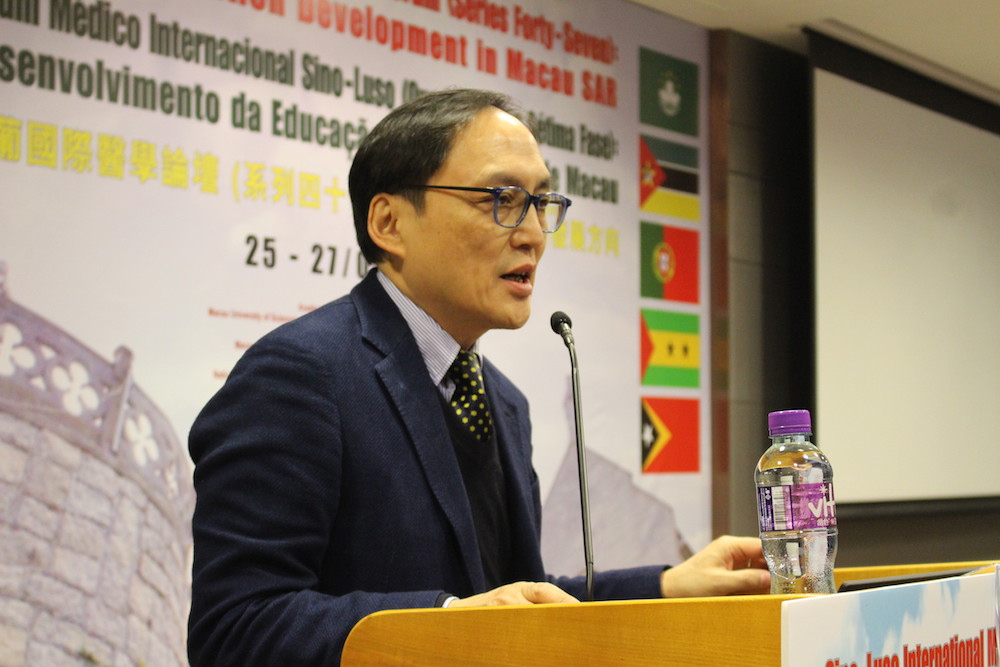 Prof. Fok, who is also the President of the Sino-Luso International Medical Forum, commented, "This is truly a historic moment in Macao and medicine. As part of the Greater Bay Area we are excited to do our part to bridge our best young medical minds to the resources of this region and are so glad to have friends from Hong Kong, China and the world here to help us."
Dr. Billy Chan, Director for the Center for Professional Medical Development at the Faculty of Health Sciences at MUST, commented, "We've been working hard for nearly 10-years to plan this medical school and are thankful to the support given to us now by the Macao government, National Health Commission of the People's Republic of China, and the people of this beautiful city."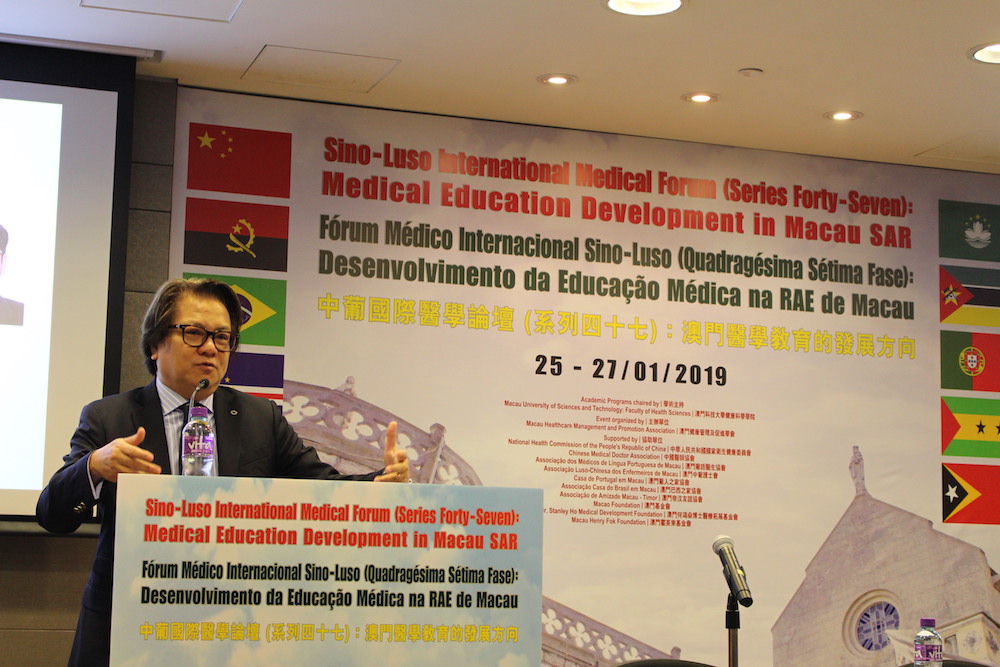 Dr. Chan, who is also the Vice-President of the Sino-Luso International Medical Forum, also commented, "These valuable workshops we had at MUST, as well as the lectures are really complimenting our medical education movement. Today, we heard from our medical colleagues from Davao Medical School about their dynamic training program for over 4,000 students, and from our friends in Hong Kong and China and Europe. This is truly Greater Bay Area medical collaboration and its just the beginning. "
Saturday saw extensive airway passage management simulation training at the Faculty of Health Sciences at MUST, with Sunday leading the main scientific symposium.
Session one was chaired by Dr. Jeffrey Man-Lap Chu of Kiang Wu Hospital and Prof. Manson Fok. For this session, Prof. Niv Patil of the University of Hong Kong presented on "Competency Based Medical Education." Prof. Patil noted that for Macao's first medical class, "Because this is just a small class of first year students, you will really be able to know them by name and take exceptional care of them."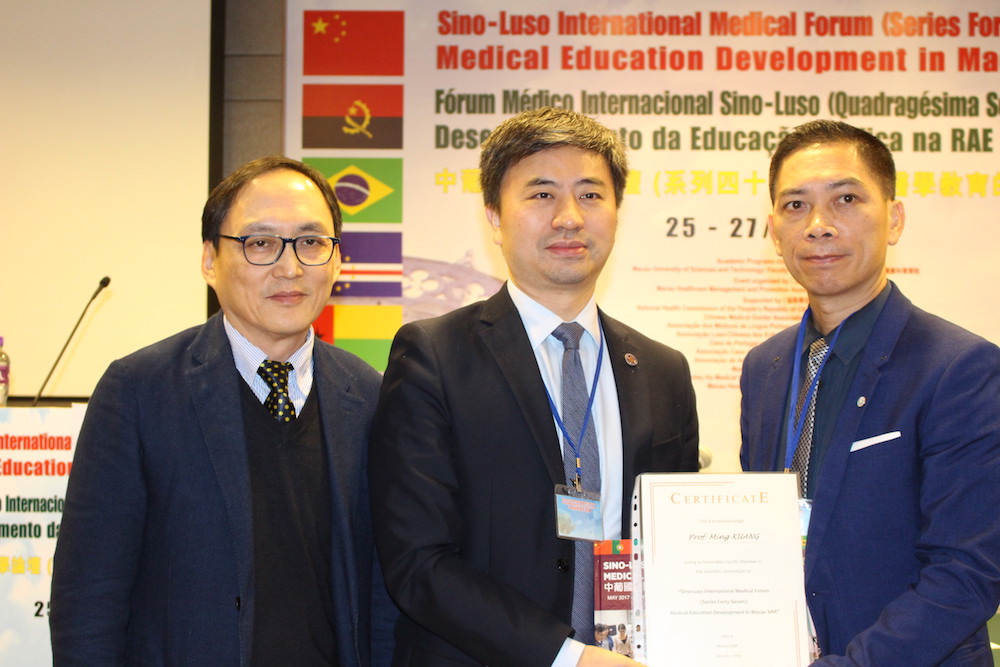 He added, "The true assessment of a medical student is if you believe they are competent enough to treat your own family."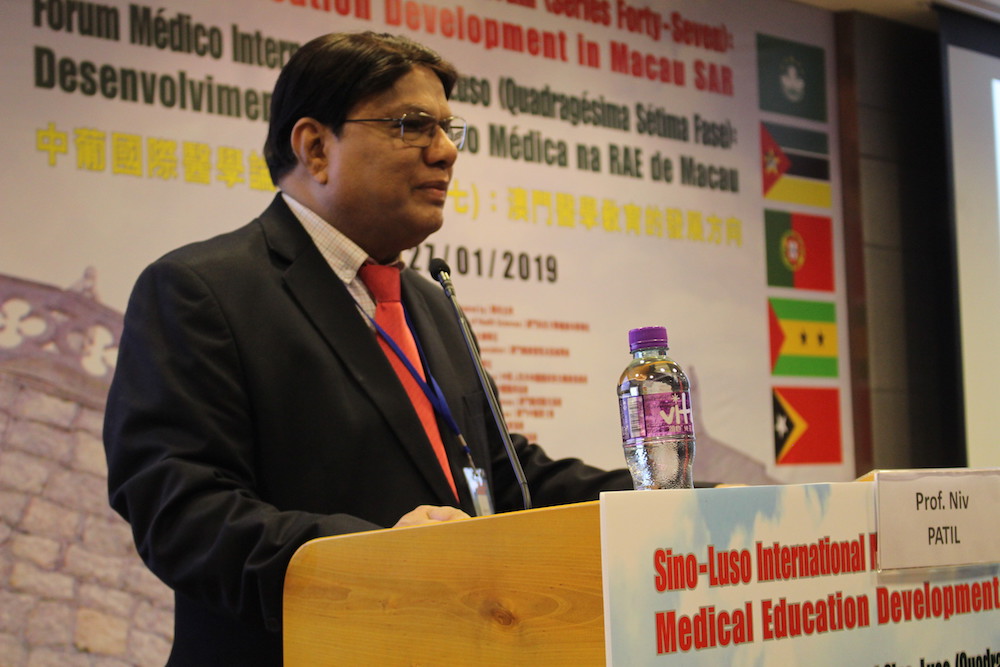 Professor Ming Kuang, Vice President of Dr. Sun Yat-sen University in Guangzhou, said, "We adapt many elements from around the world, such as the European International Medical Association (AMEE) and Dr. Ron Harden's OSCE. We localize for our needs in Guangzhou and as the largest university in South China. We also send our doctors regularly over to Hong Kong and globally for post-graduate training. This is what Macao might also want to consider with local and international strengths for its students."
Professor Gilberto Ka-kit Leung, Hong Kong Academy of Medicine Vice-President of the and Chairman of the Academy's Education Committee, discussed the "Role of Academy in Postgraduate Medical Education."
Prof. Leung said, "The Academy looks after post-graduate education. It serves a very important step towards specialization in medicine because medical students when graduating from medical school are safe but still very far from the level of competency required for specialist practice.What the Academy aims to do is organize proper training so the young doctors can be guided by specialists in a field that he or she is interested in. What is important is to look at undergraduate and postgraduate training as a continuum. Historically, these two aspects were looked after by two different sets of institutions. They sometimes communicate and work together. Sometimes they may lose touch of what each other is doing. What I think is ideal, and I think Macao is in a very good position for this, is to work towards for the undergraduate teaching institution to know how to prepare the students for special training and for the specialist training institutions to know what medical students are like when they emerge from the medical school; so that the two parts know what each is doing. The linkage is very important otherwise you have a disruption."
Prof. Leung added, "Hong Kong is doing ok, but I think Macau is even in a better position to achieve that continuum. We have a good system, but for historical reasons the medical schools have been doing their own thing for over a hundred years and the Academy is younger, so we have to make extra efforts to understand each others' agenda. But in Macao you are starting from ground zero and a vision to build that continuum so they will have an easier time."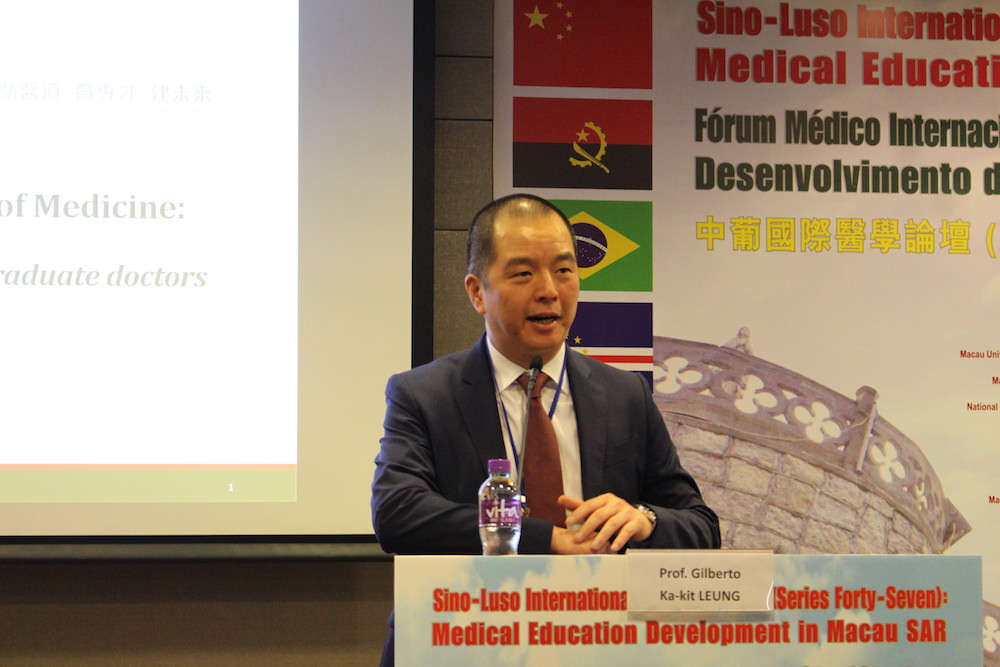 Prof. Leung continued, "There is also the greater strategic plan of the government—whether this is for local consumption or a greater vision; and if for the greater vision of the Greater Bay Area, how is it going to be played out? Is it going to be a training site for doctors of the whole and an exporter of manpower or is it going to act as a hub that coordinates with other medical schools in the Greater Bay Area? How will it fit into the whole game plan? Its something I don't know, but its important to look at… In Hong Kong we evolved from expat medical teachers to having our own medical teachers."
Dr. Wai-sin Chan, President of Macau Orthopaedic Society and former Deputy Director of the Macao Health Bureau, and Hong Kong Dr. Amelia Pui-wah Huin, an obstetrics and gynaecologist expert at Hong Kong University chaired session two which saw, Philippines, Australia and Hong Kong doctors present.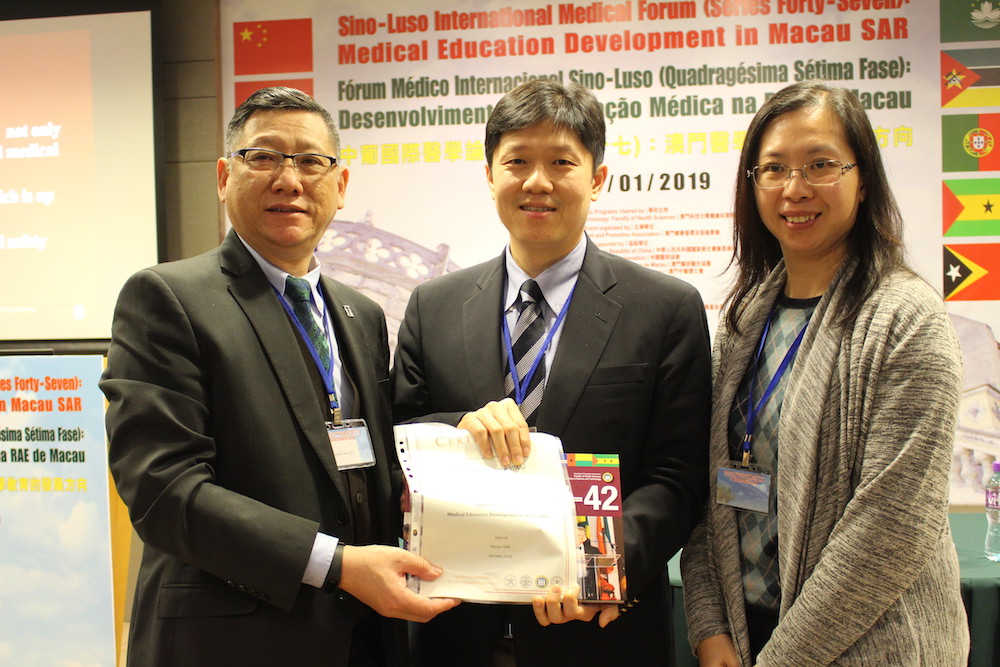 Professor Erwin Hontiveros, Vice Dean of Davao Medical School in the Philippines, spoke about "Innovative Curriculum," while his colleague Dr. Fides Ababon Fides, Director of the Simulation Center of Davao Medical School, elaborated on "Paperless Medical Exams."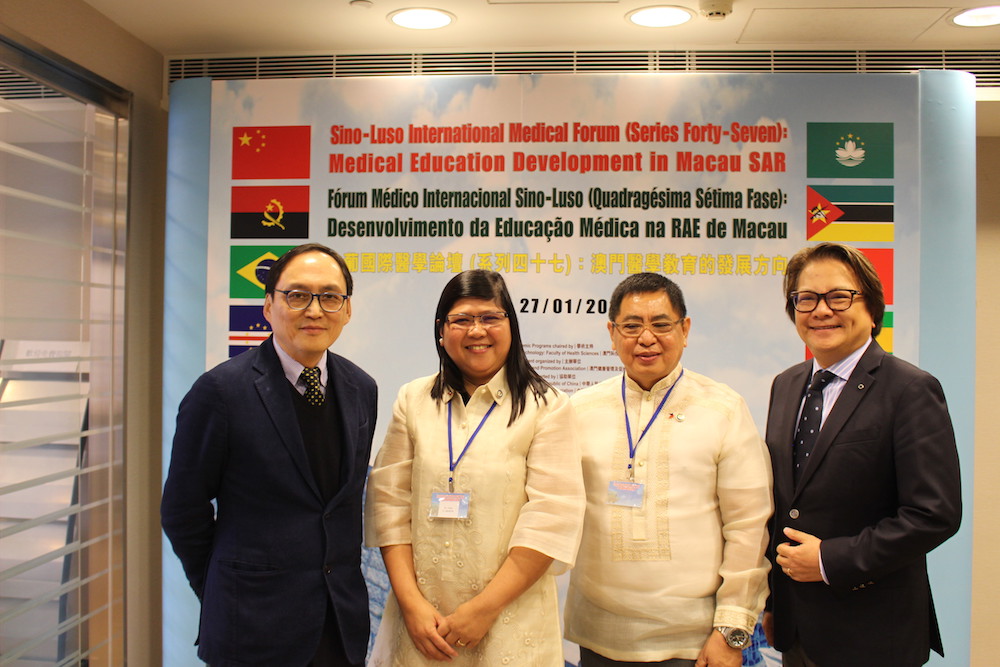 Of the sessions, Prof. Hontiveros said, "This has been a wonderful chance to come here and learn from these speakers, and also to share about what we are doing in the Philippines."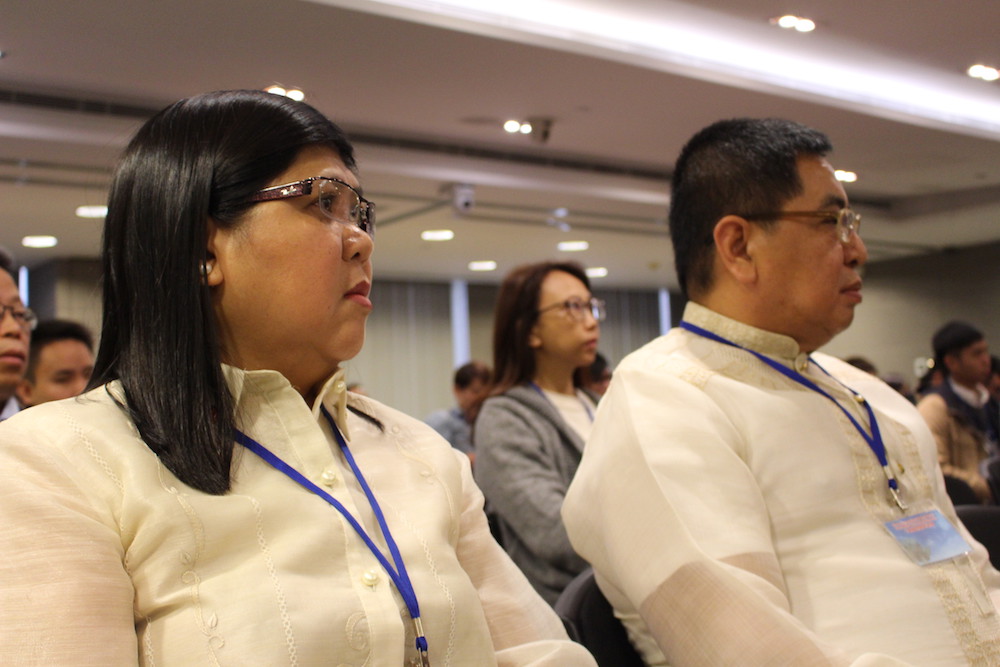 Commented Dr. Ababon, "This is actually a good way of learning from different countries and how they run medical schools, and their specialties. Its a new way to start a partnership with another medical school coming here in Macao."
Professor Felix Wu-shun Wong, of the University of New South Wales, discussed continuing medical education with gynaecology, and Assistant Professor Wong Tak Man of the University of Hong Kong discussed medical education orthopedics. Commented Dr. Wai-sin Chan, "This is going to be a challenge because we have never had a medical school in Macao, so we are figuring out how to measure things. We are thinking now how to manage the future 10-years so we can focus on how to get more students into the medical school. As you know, we need to create more interesting programs to attract more of Macao's students to study medicine."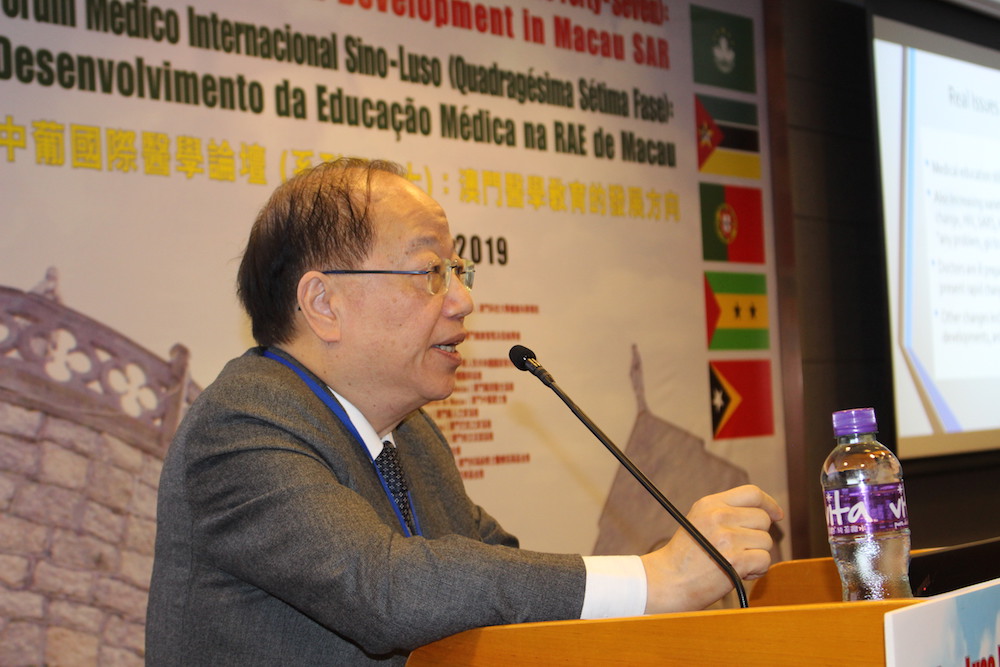 Dr. Jose Costa-Maia, Head of the Department of Surgery from Centro Hospitalar de Sao Joao in Porto, Portugal, added, "This is long overdue in Macao. I wish this well and luck so that you can truly change the paradigm."