By Christopher Cottrell// Images: Christopher Cottrell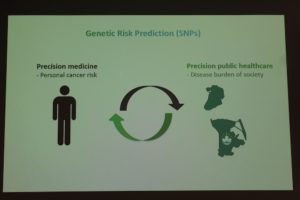 "Over the past seven years, we've trained over 10,000 local and regional frontline healthcare workers," say Professor Manson Fok, President of the Sino-Luso International Medical Forum.
Indeed, since May of 2011 seven years ago this month, Professor Fok, who is the Dean of the Faculty of Health Sciences at Macau University of Science and Technology (MUST), and Dr. Billy Chan, Vice President of the Sino Luso International Medical have made it a mission to improve local Macau healthcare training—with Sino Luso holding sessions in Macau, Hong Kong, Beijing, Porto,Portugal Manila,Philippines, and Phnom Penh, Cambodia. Indeed, in 2014, they launched a sister Sino Asia Pacific Medical Forum for regional healthcare training.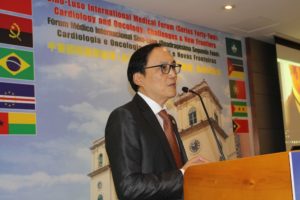 This past weekend, they held a special series of symposiums and workshops in Macau with special guests from the World Association of Chinese Doctors and the 3-million doctor strong Chinese Medical Doctors Association, the Hong Kong Academy of Medicine, Conde de São Januário hospital of Macau, and many others.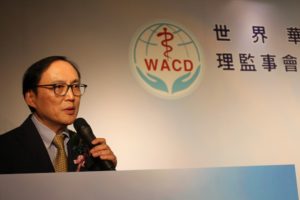 At the opening scientific dinner symposium this past Friday, Dr. Zhang Yanling, President of World Association of Chinese Doctors (WACD), addressed the audience noting the challenges healthcare providers across Mainland China face.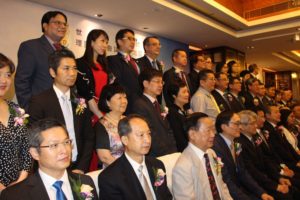 Professor Fok highlighted the challenges and opportunities presented by new technologies and drug treatments.
Dr. Chan noted of both opening speeches. "They're setting a proper context about medicine in China that many westerners and people around Asia don't know: that China is experiencing a seismic shift in medical education with new treatments and uniquely designed Chinese technologies."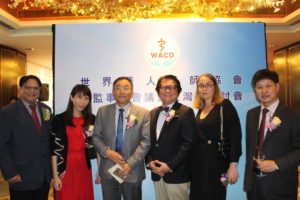 Dr. Chan continued, "Being a Chinese-Australian, I can see a lot changes that have happened over the years. When I was coming here for medical education even just a few years ago, we could not imagine that China would be leading with some advanced technologies such as sonograms. Now they are!"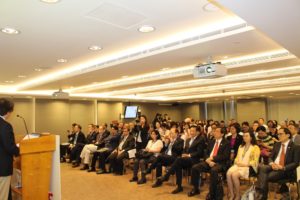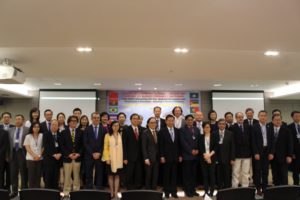 Indeed, one doctor in attendance, Dr. Felix Wong of Hong Kong, explained that ultra-sound technology from China is revolutionizing tumor removal. Dr. Wong noted that a tumor could be minimally invasively without having to cut into the patient—all with new technology able to send in sound waves and zap it without hurting the patient, depending on where the tumor is. This will have major ramifications for breast cancer in the coming years, said Dr. Wong.
This past Saturday witnessed a day of high level scientific exchanges at the Dr. Stanley Ho Medical Center in the Landmark hotel and tour of local hospitals.
Two presentations in particular highlighted how doctors in both the public and private sectors are reducing medical risks in Macau.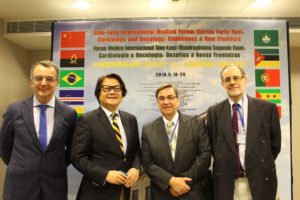 Dr. Luis Sousa, a senior Member of Portuguese Medical College of Surgery & Portuguese Society of Senology, and senior surgeon at Conde de São Januário hospital, illustrated how over the past year "magnetic medicine" is saving lives and reducing costs.
Dr. Nancy Tsui, a genomics expert from Avalon Genomics in Hong Kong, noted that there three year genome study of Macau is showing that the city has its own rare set of genetic characteristics compared to Chinese in southern China—and what this can mean for "precision medicine" to treat this.
Prof. Niv Patel, from Hong Kong University, an acclaimed surgeon and medical educator who has been awarded the MBE by the Queen Elisabeth II for his remarkable work in Papua New Guinea, discussed advances in medicine in terms of war and peace.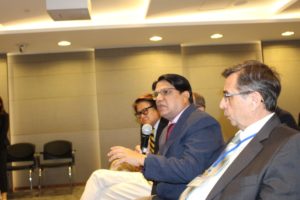 From Shanghai, Fudan University, Prof. Wang Xiangdong, the Director of Shanghai Institute of Clinical Bioinformatics, and Prof. Xia Jinglin, an expert in the Oncology Department at the Zhongshan Hospital in Shanghai and Fudan University, both spoke for the morning session on tumors and vascular thrombus, respectively.
Dr. Daniel Alvarenga, of Sao Paulo, Brazil, and Dr. José Manuel Esteves, the former Clinical Director of Hospital Casimiro da Silva Marques, also spoke in the afternoon session. Dr. Esteves discussed next head and neck surgery and Dr. Alvarenga delved into scientific and public health campaigns in Brazil to reduce cervical cancer.
There were also hands-on workshops conducted by two colleagues from Prince of Wales Hospital of Chinese University of Hong Kong at the Faculty of Health Sciences at MUST.
The Sino-Luso International Medical Forum is supported by the new National Health Commission (Formerly the Ministry of Health of PRC) and 3-million-member Chinese Medical Doctors Association, as well as a list of outstanding healthcare organizations and Portuguese speaking associations in Macao
SAR.
Dr. Chan added, "We thank our special friends here from Brazil, Portugal, Shanghai, Beijing, Hong Kong, and of course Macau. Seven years ago this month in May of 2011, we launched the Sino Luso International Medical Forum. It's been an incredible experience so thanks to all of you for continuing this tradition with us."