By Christopher Cottrell // Images: Christopher Cottrell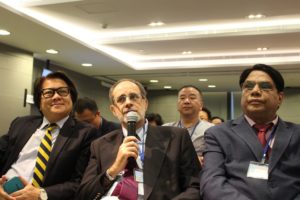 Both the Macao genetic study project of Avalon Genomics in Hong Kong and the new magnetic medicine at the Conde de São Januário hospital in Macau are saving lives with precision—precision medicine that is!
One is a highly targeted genetic population study to understand health risks a population or individual has and prepare science and policy for it.
The other uses magnetics to eliminate surgical incisions when testing for diseases such as breast cancer.
Both subjects were given elucidation at the 42nd Sino-Luso International Medical Forum held in Macao this past weekend. Driven with workshops and seminars and experts from Brazil, Portugal, Beijing, Shanghai, Taipei, Hong Kong and Macao, the Saturday afternoon symposium shared strong advances in caring for the population of Macao.
Dr. Luis Sousa, a senior Member of Portuguese Medical College of Surgery & Portuguese Society of Senology, and senior surgeon at Conde de São Januário hospital, illustrated how over the past year "magnetic medicine" is saving lives and reducing costs—with nanotechnology being one way to successfully treat breast cancer.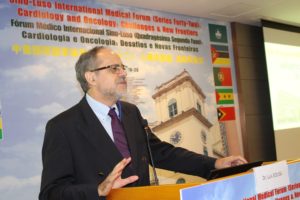 Dr. Sousa said, "We are seeing results. You don't need to cut into the patient…this is minimally invasive…We can test the dye with microscopic magnets for early breast cancer detection. And early detection is key to treating early for survival."
Considering that breast cancer is something that has unique genetic prospects in Macao, Dr. Nancy Tsui's work can aid and enhance the work of local frontline healthcare workers like. Dr. Sousa.
Dr. Nancy Tsui, a genomics expert from Avalon Genomics in Hong Kong, noted that there three year genome study of Macau is showing that the city has its own rare set of genetic characteristics compared to Chinese in southern China—and what this can mean for "precision medicine" to treat this.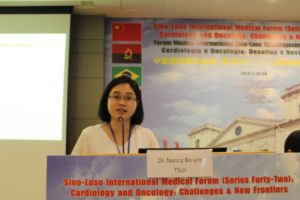 Although the current sample is just 1,500, it is already providing unique patterns to the genetic makeup of this part of Southern China. Dr. Tsui said, " We're seeing unique characteristics at the deepest levels for cancer….We need more people to volunteer for the study to increase our data."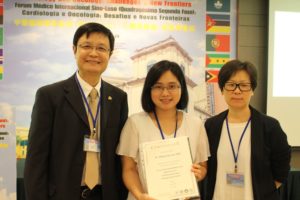 Scores of Macao frontline healthcare workers took note of the day long session, which included Prof. Niv Patel, from Hong Kong University, an acclaimed surgeon and medical educator who has been awarded the MBE by the Queen Elisabeth II for his remarkable work in Papua New Guinea, discussed advances in medicine in terms of war and peace.
From Shanghai, Fudan University, Prof. Wang Xiangdong, the Director of Shanghai Institute of Clinical Bioinformatics, and Prof. Xia Jinglin, an expert in the Oncology Department at the Zhongshan Hospital in Shanghai and Fudan University, both spoke for the morning session on tumors and vascular thrombus, respectively.
Dr. Daniel Alvarenga, of Sao Paulo, Brazil, and Dr. José Manuel Esteves, the former Clinical Director of Hospital Casimiro da Silva Marques, also spoke in the afternoon session. Dr. Esteves discussed next head and neck surgery and Dr. Alvarenga delved into scientific and public health campaigns to reduce cervical cancer.
There were also hands-on workshops conducted by two
colleagues from Prince of Wales Hospital of Chinese University of Hong Kong at the Faculty of Health Sciences and MUST.
President of the Sino-Luso International Forum Dr. Fok said, "Over the past seven years, we've trained over 10,000 local and regional frontline healthcare workers."
Since May of 2011, Professor Fok, who is the Dean of the Faculty of Health Sciences at Macau University of Science and Technology (MUST), and Dr. Billy Chan, Vice President of the Sino Luso International Medical have made it a mission to improve local Macau healthcare training—with Sino Luso holding sessions in Macau, Hong Kong, Beijing, Porto, Manila, and Phnom Penh. Indeed, in 2014, they launched a sister Sino Asia Pacific Medical Forum for regional healthcare training.
Complimenting the program were doctors from the World Association of Chinese Doctors and the 3-million doctor strong Chinese Medical Doctors Association, the Hong Kong Academy of Medicine, Conde de São Januário hospital of Macau, and many others.
The Sino-Luso International Medical Forum is supported by the new National Health Commission (Formerly the Ministry of Health of PRC) and 3-million-member Chinese Medical Doctors Association, as well as a list of outstanding healthcare organizations and Portuguese speaking associations in Macao
SAR.
Dr. Chan added, "We thank our special friends here from Brazil, Portugal, Shanghai, Beijing, Hong Kong, and of course Macau. Seven years ago this month in May of 2011, we launched the Sino Luso International Medical Forum. It's been an incredible experience so thanks to all of you for continuing this tradition with us."