By Christopher Cottrell// Photos: Christopher Cottrell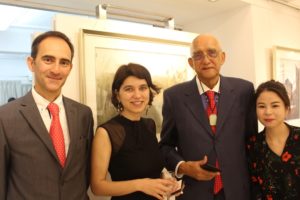 The delicate art of watercolour painting is not lost on Dr. Rui Cunha.
Indeed, his eponymous Rui Cunha Foundation in Macau is hosting a special exhibition through May 25 titled "Celebrating in Watercolour". For the launch on April 25, art lovers and intellectuals from across Macau and China gathered to appreciate the works.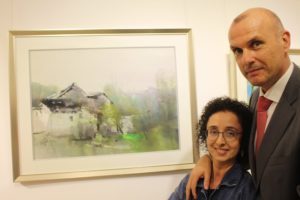 From blurred images of traditional homes in Suzhou to a ship sailing into the horizon, the powerful images on display are subtle and stirring in equal measure.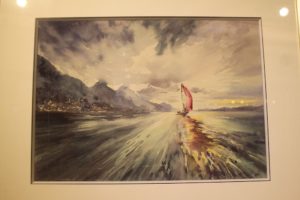 The works are from six fine artists from afar afield as Australia to China to Moldova.
These include masters such as Herman Pekel, a top Dutch-Australian painter now serving as Art Consultant of Press Painting and Calligraphy Academy of Qingdao Daily Press Group.
Also coming down to Macau from Qingdao is Wu Kemeng, vice president of the Watercolour Association of Qingdao and a senior painter of Press Painting and Calligraphy Academy of Qingdao Daily Press Group. When not in his hometown of Qingdao, Wu is in Beijing serving as the Dean to the Watercolour Institute of Chinese Poem, Calligraphy, Painting and Ink Art Printing Academy.
Lin Tao, a senior painter of Press Painting and Calligraphy Academy at the Qingdao Daily Press Group, is a student of the Qingdao International Watercolour Advanced course and was mentored by Chu Jian, David Taylor, Herman Pekel, Eugen Chisnicean, and Ping Long—three of whom are also exhibiting with him.
Ping Long is a Vice Chairman of the Watercolour Painting and Pastels Painting Committee of the Shanghai Artists Association, and associate professor of the School of Art Design at Shanghai University, among other titles.
Moldova born Eugen Chisnicean has exhibited art across Europe and is a student of design and architecture.
Also from Europe, John Hoar of the U.K. is a pedagogical master that younger painters emulate. He loves painting architecture, landscapes, ocean scenes, and flowers.
The event aims to promote not only the craft of watercolours, but painting and art appreciation writ large. This exhibition was organized with the support of the Watercolour Association of Qingdao, the Macau Cultural and Creative Industries Promotion Association, and the Luyuan Art and Culture International Company.
Founded in 2012 and now celebrating six years, the Rui Cunha Foundation has held over 700 events, supporting local cultural and philanthropic endeavors for Macau. Their motto of "For Macau, Further and Higher" is one they set in motion with supporting community artists—their facilities even feature state-of-the-art media support for students to utilize. Indeed, they are extremely media savvy, with live Facebook streaming of events and press support of their philanthropic endeavors.
For more information about the "Celebrating in Watercolour" exhibit or Rui Cunha Foundation, visit: www.ruicunha.org