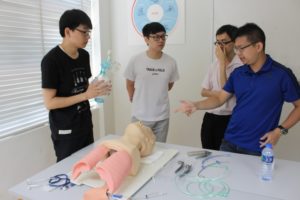 PRESS RELEASE
The 39th Sino-Luso International Medical Forum will be presenting a special forum on medical tourism.
Featuring lectures from laser surgery to aesthetic medicine, this series, titled "Sustaining Medical Tourism", features a strong contingency of medical experts from South Korea, the Chinese Mainland, Hong Kong, Macau, and Taipei.
Anti-aging, body contouring, and other elements of excellent sustainable medicine will be presented at this conference, which takes place from 23th to 25th of September, 2017 in Macau.
It begins with a high quality Lipolysis Workshop on 23rd Sept. (Saturday) at the Center of Excellence for Professional Medical Development, Faculty of Health Sciences at the Macau University of Science and Technology (MUST).
A public scientific symposium will take place on 24th Sept. (Sunday) at the Lecture Hall of Dr. Stanley Ho Medical Development Foundation, 9/F, ICBC Building, Landmark Macau.
President of the Sino-Luso International Medical Forum, Prof. Manson Fok, comments, "There will be many medical professionals in the aesethetic medicine industry looking forward to catching up with colleagues and experts in this dynamic field."
Prof. Fok continued, "I must say this Sino-Luso event is a timely topic. It is totally unparalleled whether you need to learn about physical surgical procedures or non-invasive methods."
Prof. Fok added, "We can see in this region many doctors and nurses and other specialists getting into this field. Many medical professionals still consider this a new field due to a lack of certifications and licensing. We are establishing a good platform more of an all-inclusive and to unifying standard in this new field, and potentially a huge draw for Macau's medical tourism."
Dr. Billy Chan, Vice President of the Sino Luso International Medical Forum, says, "We put together a very good package this time and expertise to deliver a stimulating scientific program that will attract many in this regions to attend. They will learn new practices and share in an opportunity to interact with professionals and give them profound insights."
Macau's collaboration with South Korea, the Chinese Mainland, Hong Kong and Taipei is increasing for medical services, says Dr. Chan.
Moreover, Dr. Chan explains, "Many experts will be part of the innovation and evolution of best industry practices. We have invited an expert from Taipei, Dr. Pin Chi Chiu, to talk about the latest trends in this field and two amazing experts from Seoul. Mr. Joshua Lim will be talking about the latest fractional laser system and Dr. Sang Ju Lee will present a paper on future skin and vaginal rejuvenation."
From the mainland, they have invited experts in facial aging and laser medicine such as Dr. Pei Yu Mai, Dr. Guo Ling Wu, and Dr. Shu Zhang. A Macau expert from University Hospital, Dr. Angie Chan, will be holding a workshop and presenting body contouring.
Prof. Niv Patil, LKS Faculty of Medicine, Hong Kong University, will also chair the scientific symposium. As a long supporter of the Sino Luso International Medical Forum, Prof. Patil said, "I am delighted to see that registrations are in coming in for the forum from this dynamic region and to further the phenomenon of this field. I believe uniqueness is the key and proud to be a participant of this event."
According to recent medical studies, there are millions of procedures carried out in Asia every year due to non-invasive treatments that are gaining popularity as new technologies become more accessible.
In diversifying Macao's economy, Prof. Fok added, "We would like to see medical tourism helping the city from only relying on gaming. By setting good standards and establishing a forum such as this, we hope to deploy cosmetic and aesthetic tourism in Macao, improving it as a destination in this region."
Aimed at improving medical training for Macau's healthcare providers and for bridging international medicine, the academic programs are chaired by the Faculty of Health Sciences, Macau University of Science and Technology (MUST) and organized by the Macau Healthcare Management and Promotion Association (MHMPA).
For more information, contact Dr. Billy Chan: bchan@must.edu.mo