PRESS RELEASE
Inaugural Dr. Henry Fok Memorial Lecture Series launches September 20, 2017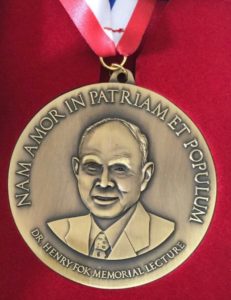 The first Dr. Henry Fok Memorial Lecture Series launches on September 20, 2017 at The Military Club of Macau.
A champion of Chinese civilization, Dr. Henry Fok was an unwavering and passionate patriot. Throughout his historical life Dr. Fok fought for the greater good, humanity, and vitality of all. He is remembered and cherished in Macau, Hong Kong, and Mainland China for his role in building up the country and dignifying the Chinese people and their ancient culture.
In his honour, the Dr. Henry Fok Medal and Memorial Lecture Series embody his wellspring of hope and glory for humanity.
The first recipient of the medal is Professor Michael Lavelle-Jones, President of the Royal College of Surgeons of Edinburgh since 2015, and Consultant General Surgeon at Ninewells Hospital Dundee, UK.
There will be a press conference at 19:00 at The Military Club of Macau, followed by scientific lecture by Prof. Lavelle-Jones titled, "The Future of Surgical Education and Practice."
A VIP dinner will follow from 20:00 to 22:00.
For more information, contact Dr. Billy Chan: bchan@must.edu.mo