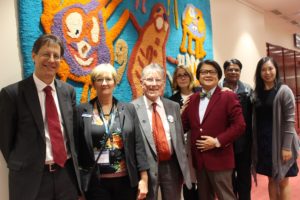 By Christopher Cottrell/Image: Christopher Cottrell
On the sidelines of the AMEE 2017 conference in Helsinki, esteemed doctors and medical educators Ronald Harden and Pat Lilley spoke with the Peace Post about their insights into training future
doctors and healthcare experts.
A pioneer of the Objective Structured Clinical Examination (OSCE), Dr. Ronald Harden is Professor Emeritus of Medical Education at University of Dundee and General Secretary for AMEE. Pat Lilley is the Operations Director for AMEE. Both are regarded in high esteem internationally for their tireless efforts in medical education.
Joining them in comment on the Peace Post from Macau and Hong Kong were Dr. Billy Chan, Director of the Center for Medical Excellence at the Faculty of Health Sciences at the Macau University of Science and Technology, and Prof. Nivritte Gajana Patil, Honorary Clinical Professor at the Li Ka Shing Faculty of Medicine at Hong Kong University. Dr. Ross Horley, a lecturer at the University of Notre Dame Australia also joined for commentary as a long supporter of medical simulation training with Dr. Chan and Prof. Patil in Asia and globally.
Dr. Harden explained to the Peace Post that, "This is an exciting time in medical education. I think this is reflected in some of exciting developments we're hearing at the conference. New approaches to making teaching more effective, how you make it more efficient, and how can the teacher have the passion to inspire the next generation of doctors."
Dr. Harden continued, "Teaching is an important attribute. People maybe born teachers, but they still need to learn to be better teachers. We can learn by doing courses, and we can learn by sharing our experiences. And that's what's marvelous about a conference like this. We've got 92 different countries, almost 4,000 people, all sharing their experiences. What a marvelous pool of experiences this is. Everyone will go back with at least one case or message to make their own school better."
Dr. Pat Lilley remarked that, "What's so important at the AMEE conference is that attracts so many people from different backgrounds. It attracts the educators who've been working in medical education for many, many years. It attracts young doctors who are recently qualified who are just getting into medical education. It also attracts many, many students who in their undergraduate courses who have an interest and a passion to become medical teachers. It also attracts many other health professionals."
Dr. Lilley further explained, "AMEE used to very much medical education. But now the focus is on all of the health professions. We have dentists, physiotherapists, nurses, so really it's a home for everybody with an interest in health professions, and education, and improving the health of the nation.
"I think the new types of sessions that we have organizing this time, particularly the e-posters. They've really captured the imagination. Every year we try to innovate and introduce new types of formats of presentations… There sessions where presenters have 20-seconds each to present 20 slides. So they really have to think in advance what their message is because as a slide automatically advances after 20 seconds, so they have to make sure that they cover what they want to say in that time. I think we have the roundtable sessions which are new this year. That's where a small group of people come together and have in-depth discussions on a very focused topic. I think all of these are exciting innovations, and every year we try to introduce something new. That's what excites me as well."
The Fringe
One such exciting element is a series of creative sessions dubbed The Fringe. Dr. Lilley elaborated, "The Fringe is very popular. We started this in about 2005. Every year I try to go to at least one of the Fringe sessions. It's just amazing the variety of sessions—we can be singing, we can read poetry. There can be wine tasting, we've had that in the past. There are also things like dealing with deaths, some quite dark topics; but these are all such important things that all doctors and students have to learn about. I think its really very important session in AMEE, and I think its something that some people might find a little bit unusual, but it all adds to the variety of the sessions."
Switzerland 2018
Looking forward to AMEE's conference next year in Switzerland, Dr. Lilley said, "I'm really hoping we can attract a lot of Swiss educators to the conference. Historically, they haven't really come to AMEE in large numbers, but I think we have a very enthusiastic local organizing committee there are a lot of interesting things that they want to introduce to the conference. For example, they have a national exam, and that really is a hot topic in many countries throughout the world. So we'll be focusing on this as one aspect. They also have some very advanced surgical simulators there, so surgery is another aspect that we want to focus on. In terms of professional education, that really is a hot topic as well. We have some really interesting, and I think exciting, topics that we're going to cover in the conference."
Dr. Chan said, "I've been to AMEE a few times. It's very exciting to be back and especially seeing old friends. The Fringe had a full house and it was like going to an art festival, with Bob Dylan poetry to comedy. What touches me the most is that, apart from the Fringe and all of the posters, is the sessions this year are very well attended, especially the session that I was chairing in the morning yesterday. It's very hard to keep everybody there paying attention, and not leaving the room. I could see people come in the room in droves to the very last moment, and asking questions.
Dr. Chan observed, "I could also see a lot of participants from China and Asia. I thought in the beginning that AMEE was just an association in Europe, and there were hardly any Asian folks actually coming. So it was very surprising to see people from Guangzhou, Taipei, and Thailand, from Hong Kong, and participating in big numbers. So I think this is making a very big impact in Asia as well. In years to come, I hope we can see more Asian folks getting involved in presenting."
Getting Stronger
Prof. Patil said, "AMEE has gone from strength to strength. Why has AMEE been so successful? There's a thing called the Ron Factor. And Pat. It's like two Ronnies, you know. I think in any organization, the leadership and teamwork is very important. AMEE has flourished under Ron and Pat's leadership. This really matters because you have to good public relationships. And with Ron's work, besides OSCE, in general medical education he has published many articles and published books, and given a really globalized vision of medical education. I always believe that health education, health principles do not differ whether you are under the mango tree or in the Mayo clinic."
Dr. Horley said, "It's impressive to see so many different voices and the sessions, on the most part are really good. There are so many posters to take in with really interesting concepts. I'm happy to see simulation training getting the spotlight it deserves, and I hope to see it grow."
Dr. Harden said, "One of the exciting things about innovation is that it works. It works in more than one context. What gives me most satisfaction is when you see it being transferred and used in other contexts. It's now the national exam in Indonesia, and some of the other countries at this meeting. At a personal level, I am seeing some of these ideas which I first introduced many years ago in Scotland, now world used internationally, and it gives me a great thrill.
Dr. Harden added, "It also shows one of the real important issues if something works in all of these different countries, the principles are important and matter. If something only works in one setting then that is a local perspective. We ask if is something worth testing, valuable and useful?"