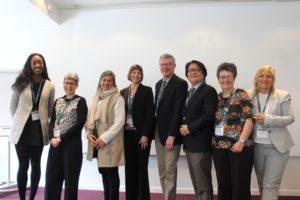 By Christopher Cottrell/Images: Christopher Cottrell
A swirl of nearly 4,000 medical educators at AMEE, or Association for Medical Education in Europe, have descended on Helsinki, Finland the past few days to raise the bar of how medicine is learned.
One such panel with medical education touches from Macau, China stood out as a microcosmos of the conference— Teaching and Learning Approaches short communications.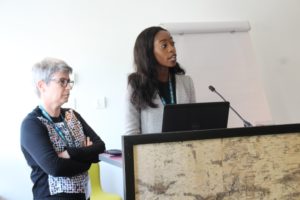 Chaired by Dr. Billy Chan, Director for the Center of Medical Excellence at the Faculty of Health Sciences at the Macau University of Science and Technology (MUST), the panel was much like the overall AMEE environment—teeming with medical educators from the islands of Polynesia to the forests of Vermont, to brick laden lanes of London. Essentially, the world's most international medical education forum.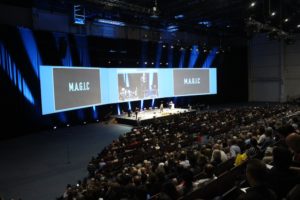 Presenters on Dr. Chan's panel ranged from tech and analytic experts from Seattle and Boston, to passionate professors from Uruguay, New Zealand, the U.K., and the USA.
Summing up the panels, Professor Diane Kenwright of the University of Otago, Wellington New Zealand, said, "I think that everyone is trying similar kinds of innovations and suffering the same kinds of problems. And the problems are that medical students don't really know how to learn. So, for example, the speaker who talked about IBL [Inquiry Based Learning] emphasized you really need to have scaffolding where you teach the students what they need to learn and what they can get out of it before they begin. She was doing her IBL before the lectures. We've actually found that the lectures, which we kept, are a really good way to introduce scaffolding."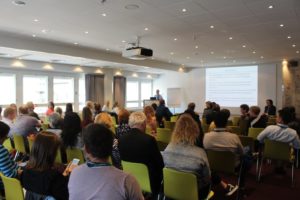 Prof. Kenwright noted, "In our courses now, we make sure that the lectures provide scaffolding. Then we introduce the novel components afterwards. Once they have the scaffold they understand how to integrate to a whole."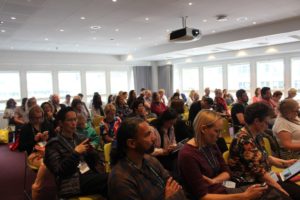 Prof. Kenwright continued, "My take away message, from my point of view on my talk, which was about co-creation, was that students really appreciate partners in learning. Partners who will provide not just academic, them through the process."
She found that they, "Actually don't trust peer learning. They don't trust the information that comes from their peers because they don't value them as knowledge sources."
Educators from Vermont explained how they totally overhauled their medical school to reduce outmoded lecture formats, and are also a leading center for simulation learning.
Professor Kathryn N. Huggett, Assistant Dean and Director of the Teaching Academy, College of Medicine, University of Vermont explained that, "We're very interested in considering the different perspectives that are considered or should be considered when you think about organizational reforms, in particular to curricular changes."
Prof. Huggett continued, "Listening to all of the presentations today, we think about human resources of the faculty involved, and what are their needs. We think about structural changes. Are their changes to the calendar, are their changes to the classroom size? Are their changes to the schedules? Changes to the pedagogy? We also think about the symbolic nature. How to students and faculty perceive the changes."
Prof. Huggett further said, "Then finally we think about the political dimensions. Sometimes the politics are within the campus. Sometimes its within your own school. I was just talking here with some colleagues from Denmark discussing some local challenges to peer review of teaching. So you have to know your own local context, right? It's very important if the tradition is valued if the feeling that privacy is important but peer review is necessary. You need to take that into account and think of strategies to enable a more open observation of teaching and to think of it as peer review, much like we have peer review of scientific work."
Prof. Huggett added, "We now prepare our students for different types of active learning strategies during the very first week and second week of medical school. We give them a live run through of the different active learning modalities, starting with team based learning so they have an opportunity to practice. Its not scientific work, it's a safe environment for them to get a hands on experience about how to learn something and why it works. It gives them practice. We don't expect that they have that coming in."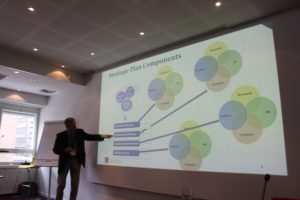 Professor William Jeffries, Senior Associate Dean for Medical Education of the Dean's Office, College of Medicine, University of Vermont remarked of their advanced simulation laboratory, "We have the most encounters, as far as we can tell from the local statistics. We have the largest number of logged learner hours in our simulation laboratory. We train a lot of learners too. We train everyone from advanced surgery fellows right up to the staff—to show how to a hospital room properly. Everyone is integrated so there is a way to work together and work on advanced things like infection control."
Prof. Jeffries added, "We incorporate as much simulation as early as possible because we know that adult learners learn in context. Therefore, the more clinical the environment, the more sticking the knowledge."
Other exceptional presenters on Dr. Chan's panel included Jimmy Beck of the University of Washington, who discussed analytic visualizations in student progress tracking and Matthew O'Rourke of the New England Journal of Medicine who talked about novel adaptive learning assessment.
Dr. Janette Myers and Uchechi Eseonu, a student she mentored at St George's University of London, discussed Inquiry Based Learning, whilst Giorgia Ganduglia of the Facultad de medicina Claeh Montevideo in Uruguay presented about Project Based Learning.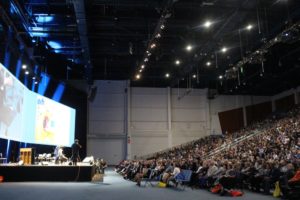 Prof. Kenwright outlined her approaches with co-created curriculum, whilst Prof. Jeffries highlighted organizational changes in medical education training at the University of Vermont.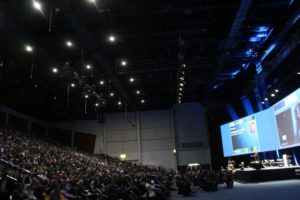 Dr. Chan commented, "This was an exceptional group of presenters that generated a lot of audience discussion and questions. I am honored to have listened to all of them and hear what the audience had to ask them."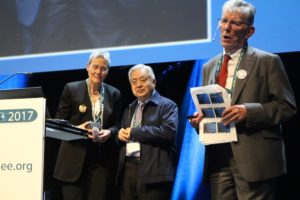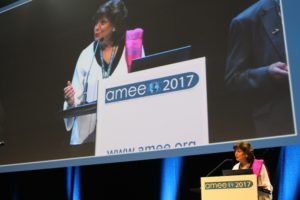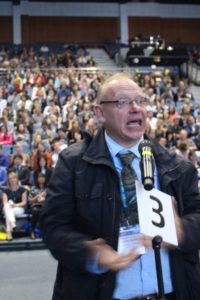 Dr. Chan added, "This is a great response for everyone here at AMEE 2017."