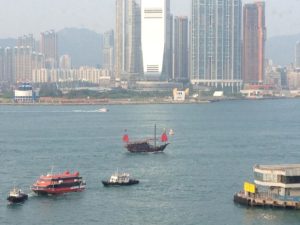 Happy Hong Kong 2020 Salutes
Looking back and to the future of world's first SAR—with Chinese characteristics
Twenty years ago this past weekend, a bold experiment in nationhood and post-colonialism was set in motion—the One Country, Two Systems policy with the Chinese mainland and Hong Kong.
Within days, the One Country, Two Systems formula was challenged due to the Asian Financial Crisis that kicked off in Bangkok.
I ought to know. On the Royal Thai Air flight I was on between Los Angeles and Bangkok on July 2, 1997, I read all about the Hong Kong Handover in the Bangkok Post newspaper. By the time I landed at the old Don Muang Airport in Bangkok, the Asian Financial Crisis was in full swing.
Six years later, in 2003, I had just landed in Shanghai for a teaching job when SARS erupted in Hong Kong. In 2005, I moved down to Guangzhou and launched the regional that's PRD magazine—and began to cover the HKSAR's entertainment scene. In 2009, I finally moved to Hong Kong over on Lamma Island. It was refreshing to cover the city as it became the world's first city to rise out of the Financial Crisis.
Since then, it has been a pleasure to interview and photograph the special people of Hong Kong. It's given me 2020 vision for better appreciating all that is China.
And so, in the spirit of two decades past and more importantly—looking forward to the next 20 (and 30…)—I've captured some of the voices that making this vibrant city tick in this special series.
From the steel financial forests of Central to organic tea gardens of Lamma, I've put together 20 voices on their reflections on the past 20-years. I've also spoken with people around the Greater Pearl Bay upon which Hong Kong plays an essential role and means so much to. We'll be running them all summer long!
Hong Kong, here's to your happiness and hope with these voices! No other city in the world has done what you have done—and can continue to do to lead the region, inspire China, Asia and the world.
And do so with class, creativity, and your head's held high no less.
Cheers and many happy returns!
Chris
Christopher Cottrell, Publisher, Peace Post