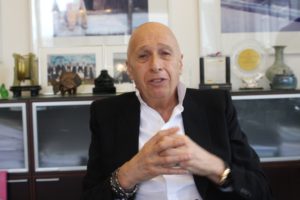 By Christopher Cottrell/ Images: Christopher Cottrell
Special Guest: Dr. Allan Zeman
Happy Hong Kong 2020 Salute Series
Looking back and to the future of the world's first SAR—with Chinese characteristics
"I've been in Hong Kong for 48-years," says Dr. Allen Zeman. A Hong Kong resident who needs no introduction, Dr. Zeman took time out from his hectic schedule to chat with the Peace Post about the city's recent past, Handover legacy, and forward looking future.
When he first heard that Hong Kong would be coming back to China
Allan Zeman: I for one was quite happy actually. Because I had my first office in Hunan almost thirty-five years ago, in Changsha.
Obviously, China was at that time, as we say, very backward and quite primitive. But I learned spending time in Hunan, Changsha, and in Guangzhou, that changes were taking place. I saw over the years the really fast changes going on. I saw the peoples' lives really getting better. The biggest problem they had then was their PR to the rest of the world. It was quite limited….
I just saw in general there was a good vibe happening. I thought to myself, China is 1.3 billion people and if it continues to develop the ways its developing, Hong Kong is right on the doorstep. What could be better?
You I know I came from Canada originally. Canada is on the doorstep of the United States. At the time, Canada was a small country with less than 30 million people back then, while the US was huge.
So I saw that Hong Kong could really benefit from China. That Hong Kong coming back to China would not be a bad thing.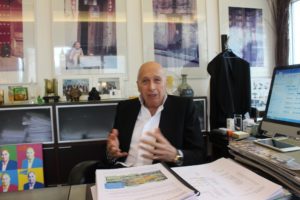 It's June 30, 1997. Where were you?
Allan Zeman: Actually, I was very, very fortunate. That day Prince Charles was out here, and the [HMY] Britannia was here. Chris Patten and Prince Charles were on the boat and it was going to be leaving Hong Kong—the final ceremonial voyage before they retired her.
I was invited at that time to have lunch on the Britannia with Prince Charles, and 10 other people with my wife. For me it really was like living in a history book. It was something special.
The funny thing was what was I wearing. I was in the fashion industry then, and we didn't wear ties or socks. We were fashion people. I didn't think anything of it and as we got out of the car to board ship, there were these two staunch security guards at attention who were not supposed to move.
But I could see out of the corner of one's eye, that he was thinking, 'Who the hell is this guy?'
At that time I became a bit self-conscious and thought I should have worn something different. So we went and we had lunch with Prince Charles. We had a tour of the Britannia boat. I still remember going to one of the bedrooms and seeing a teddy bear. It was Queen Victoria's teddy bear and they still kept it on the boat. I remember going into the engine room and the copper engines were pristine. They were shining. It was very monumental. So that meant a lot to me and of course that evening, the night of the Handover, I was invited to one of the events, one at the East Tamar Garrison. And I had argued with Chris Patten about Tamar. I said, 'What if it rains? and to put a cover over it.' He said it was too expensive, and I said, 'Ok, I'm just giving my two cents.'
Sure enough as we got there in our suits, it was pouring, the heavens opened up that night. So we sat there and our suits were soaking wet. And I felt really bad. Prince Charles of course was making his speech and someone was holding an umbrella over him as the whole world was watching. It was quite embarrassing actually.
After that, we were ushered into the new convention centre [Hong Kong Convention and Exhibition Centre] which was built especially for the Handover signing.
President Jiang Zemin was here and Prince Charles. We all sat in our soaking wet clothes in the convention centre. It was something very special, it was being part of history watching the signing while the whole world watched on television because something like this never happened before.
The One Country, Two Systems is something that Deng Xiaoping dreamed up. It has never been done anywhere in the world to my knowledge. It was something very unique, very novel. With the first few years there was a lot of nervousness on the China side and the Hong Kong side, with everyone getting to know your new family. Like in a marriage, everyone getting to know each other. There was a lot of hand holding, a lot of anxiety by many people.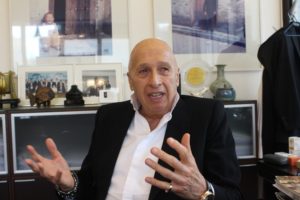 What are some memories of the HKSAR that stick with you?
Allan Zeman: Of course, over the past 20-years Hong Kong went through several crisis: the Asian Financial Crisis, property prices crashing in housing due to negative equity, to SARS, we've faced so many ups and downs. People after these became very, very nervous. For example, after SARS, China came to the rescue. Because SARS was a very frightening time. Literally, people felt that you couldn't trust your own family members. You didn't know where they had gone and who they had talked to. You couldn't touch a left button with your finger, you had to use your elbow. It was really frightening and there was no business around.
I remember that being scary and I remember China being able to light the match. Once they found the cause of SARS and looked at how to get the economy going again, they came up with this scheme for 60 Chinese counties [the Individual Visit Scheme]. At that time they started to flood Hong Kong with tourists. They really lit the match to get the economy going. Retail started booming again. People began hiring staff to speak Putonghua. Menus were being changed into simplified Chinese. So Hong Kong really started changing. And you good see the value and importance of the One Country, Two Systems.
Because Hong Kong basically changed. We had all of the factories here and this was a manufacturing place and export was part of the GDP. Then as prices got more expensive Hong Kong changed over to a service economy. Financial services became very, very important. The best thing about the last twenty years is the rule of law remained independent. That's one of the strengths of Hong Kong, the judiciary is independent, the rule of law maintained this over the years. That's really been one of the strong points for the trust of the world to do business with China using Hong Kong as the super-connector.
That's really helped both sides. Chinese are now coming into Hong Kong bringing renminbi, making this a strong renminbi center for currency exchange. As China changes, Hong Kong develops along with it.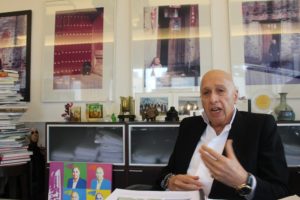 On challenges for the future.
Allan Zeman: One of the biggest Hong Kong faces is the high real-estate prices. That caused a huge angst amongst many people, young people. Home owner ship scheme eliminated for mass market housing. So for 7-years we didn't have HOS…
At a time when we should have been building more mass market housing, they were trying to stabilize the market. Because in those years the carry over from the British system was laissez-faire. Hands off, government was going to let market forces dictate, laissez-faire.
That worked up to a point. But that doesn't work in today's world. In today's world you have to have government planning, intervention, some kind of tinkering with it. That's something now the government needs to change to think about the future of Hong Kong.
The youth.
Allan Zeman: Not only in Hong Kong, but young people around the world, have this different outlook on life. The young generation today doesn't feel like they have hope. We really need to change some things in Hong Kong. With the next chief executive Carrie Lam we need to attack the property market and find a way to make some hard choices by building a new greenfield, and thinking ahead and really moving—changing some of the laws. That is very important. Look at the New Territories. Since 1975, giving houses to first born sons, things like this. Only four per cent of Hong Kong is residential with forty-one per cent country parks. Thirty-five per cent is farmland, commercial, and industrial. The skew is totally screwed up from the old British days when they gave all this land to the New Territories to first born. In those days the population was a lot less. Today we have a lot of mainland Chinese coming.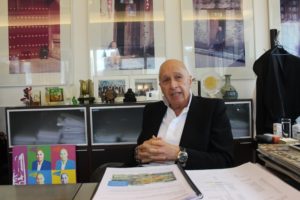 There are many things that need to be really resolved with the next Chief Executive Carrie Lam. That's a very crucial thing. The other thing that we face is technology is moving very quickly around the world, not just Hong Kong. But Hong Kong is falling way behind in technology. If you look at China today, they are leading the world in technology basically. You've got companies like Alibaba, Tencent, Huawei…Shenzhen is the Silicon Valley of the world today. Everything's moving so quickly. They payment systems in China have mainly moved away from cash and credit cards. Everything's done by Alipay and WeChat pay. It's a totally different bottle, you know. In Hong Kong we still use credit card and cash, same as in the U.S. In China, this is disappeared. Today WeChat has 964 million users, and just the whole system revolves around WeChat.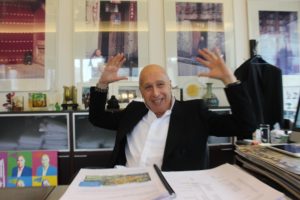 Things are changing so rapidly, Hong Kong needs to keep up, needs to be a part of what is going on in the One Country, Two Systems. It needs to rub off more on the Hong Kong people. Hong Kong people need to get together more.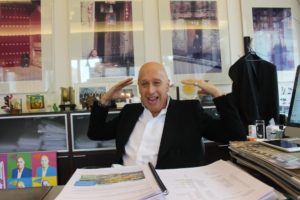 On regional changes?
Allan Zeman: Next year we have the bridge between Hong Kong, Zhuhai, and Macau. Hengqing Island will be finished and then it will only be 25-minutes on the bridge between Hong Kong, Zhuhai, and Macau. That will change things immediately. The high speed rail between Guangzhou, Shenzhen, and Hong Kong will be finished by next year as well.
The train will be forty-five minutes from Guangzhou to Hong Kong. Shenzhen to Hong Kong will be ten minutes. So your going to see a totally different Greater Bay Area, this new thing Li Keqiang just talked about with Southern China, Guangzhou, Hong Kong, Macau, Shenzhen…It gives the ability for Hong Kong to really become part of a much bigger hub when 7.2 million join 100 million people.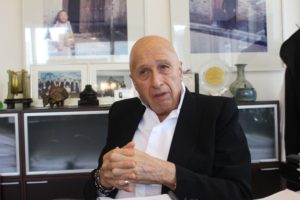 But we really must change this negative mentality some have. That will come with the most important thing, the property market. If you can make peoples' lives easy. If you can put a house over their head it totally changes the sentiment. Suddenly they love government, they love China. When your life is difficult you blame people and everyone around you. That's just human nature. It's normal.
With technology, Carrie Lam has already agreed to invest five billion Hong Kong dollars into education for technology. Because Hong Kong, a city of 7.2 million people, is basically sitting with over one trillion in assets in Hong Kong dollars. Which is a lot of money for a small city.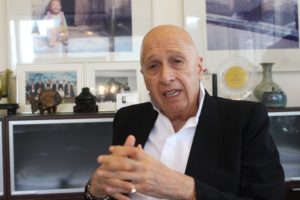 On technology, creativity and Canto-pop power.
Allan Zeman: Every kid in the world is growing up with technology, online shopping, all these things. Its incredible how quickly its' changing and disrupting in every industry. So its important for Hong Kong to catch-up, maybe somehow join up with Shenzhen.
I think eventually the borders will disappear. When I say disappear, I don't mean they're going to go away. What will happen because of technology is that I believe they will work with facial recognition so you'll just be able to go through the border without putting your finger down or putting a card in or passport or whatever. Because of AI [artificial intelligence] robotics, all this is changing the world. And Hong Kong needs to be in step with it because we've fallen behind. We have financial services, we have legal services, these are key Hong Kong services, but we've fallen behind with technology.
Hong Kong also used to be very strong on creative industries. Film, the Shaw Brothers, Canto pop and music was another part of Hong Kong's strengths. This caused the soft power that everyone across the border and Southeast Asia looked upon Hong Kong as the place to come to, the place to be. Today we've lost it.
China is quickly developing their stars, of course they have a much bigger market. Look at what South Korea has done. They've been able to really get K-pop very, very strong. Korean dramas and TV, everyone watches them. So they were really able to create an industry to make South Korea cool. Hong Kong really needs to become cool again. Young people love creative industries, so this is definitely an area we were good at before, and we lost it. But, again, because of the high-land prices, we've got to look at out of the box thinking. We should take some land and really have a plan for it. We can have it for the Hong Kong dream. And it's really up to Carrie Lam to paint the Hong Kong dream for the future.
How does the One Belt, One Road suit the city?
Allan Zeman: The One Belt, One Road actually fits Hong Kong very well. For over the years, Hong Kong has been the super-connector, especially in finance. We've done business with a lot of these countries over the years. Because our financial services are strong, we're very good at structuring deals and raising capital. A lot of these infrastructure projects for the Belt and Road can use our legal services. For these structuring of deals, we've got a lot of experience. Beijing is the pilot and Hong Kong is the passenger, but we're sitting in first class. We should be able to hang on to the different countries as the deals get done. I think that shows there's good place in the Belt and Road for Hong Kong. We're not really going to be the workforce for these infrastructure projects, but we can handle finance and the front-end of the deal. But we've got to take the bull by the horns and really make it happen.
On the next 20-years.
Allan Zeman: The next 20-years is really a young peoples world. Some of the things I've talked about with technology and creative industries, Hong Kong really needs to strengthen that part, and attracting some big technology companies to open up in Hong Kong, giving them land, some free tax for a number of years to really light the match to get the fire going again.
Education needs to be overhauled in Hong Kong. We need to get away from just memorizing subjects into more creative and technological driven thinking. Those some very important things for the next twenty years because everyone is worried about 2047. What happens in 2047? By that time, I believe the One Country, Two Systems will remain but I believe China will have moved on so quickly. I believe of the parity, the One Country will be greater than the Two Systems. I believe the differences between Hong Kong and China at that time will be not so different. Plus the China will have a lot of young leaders who will be taking over. Last year, over 130 million Chinese went abroad. I say travel makes you smart. By 2020, they estimate that as many as 200 million Chinese will go abroad. This is incredible.
Once you go out, you pick up new ideas. I've seen it across Asia in my 48-years here. People travel and the mentality and culture changes. I'm seeing it happen in China and very quickly.
In the next 20-years, and going up to 2047, we'll be partners. The question is to pull everyone together. Right now the community is very polarized from the past so we need to make some hard decisions. We need a good team that can paint a picture where people can see a future, where young people see a future for themselves so they can continue to build this place. The strength of Hong Kong is its low tax base, freedom of speech, and freedom to do whatever you want.
As long as we keep these freedoms and follow the Basic Law, I feel very confident for the next twenty and thirty years.