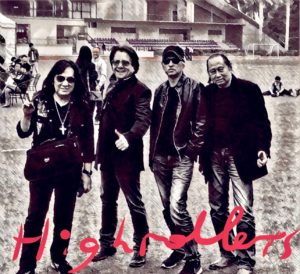 PRESS RELEASE: 
Get together with the best live rock band in South China—the Macau High Rollers led by Bill Da Kidd!
Jamming on July 8 in honor of eight years of bohemian rhapsody at La Bohemia along Zhuhai's party strip Shui Wan Lu, the High Rollers are bringing the spirit of classic and contemporary rock.
From Beatles' hits such as Eight Days a Week to 70s soul rock from the Eagles' like Tequila Sunrise, Desperado, the Macau High Rollers roll like no others in today's world of pop, rock, and blues overplay.
Other hits from The Bee Gees, Glen Cambell, Richard Marx, Eric Clapton to Steve Miller Band will round out the night with the hot steam of Billy Da Kidd and his Macau High Rollers.
The band features the magical rock licks of guitarist Jose Silva, the soulful bass of Virgilio Lemque, heady drumming groove of Ricky Cortez, and passionate guitar and vocals of Billy Da Kidd.
Bill Da Kidd says, "We always love coming over to Zhuhai from Macau and Hong Kong. La Bohemia has always been a special spot. It's how we get all of the Chinese and expats to come together for great sing-alongs, drinks, dancing, fine food and the true spirit of the deep Pearl River Delta."
Details:
House Cocktail and Buffet from 6:30 to 9:00 PM
The Macau High Rollers go on at 9pm 'till Late
Dress Code: Red, White, or Black formal
Reservations suggested
La Bohemia, 225 Shui Wan Road Bar Street, GongBei, Zhuhai
Phone: 86-756-8896683