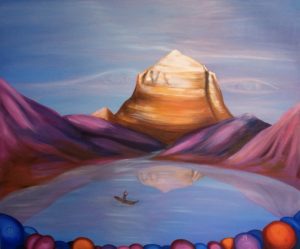 By Peace Post Staff/ Images: Courtesy Natalya Bronzova
The Himalayan spirit is strong with Russian artist and intellectual Natalya Bronzova. Especially with her latest solo painting exhibition in Manila titled "Rainbow of My Soul."
Running from June 1 to 30, 2017 at the Rockwell Club, the focus of the exhibit are Bronzova's works on "Holy Mount Kailash."
Explains Bronzova, "Holy Mount Kailash is a very high mountain located in the Himalayas. Many mystical stories and legends are told about it and some even say that its the place many call Shangri-La. According to the legends, this mountain is the central location point for three Gods​: Jesus, Buddha and Krishna, that is why no human has been able to climb it yet!"
Bronzova continues, "This holy mountain is shaped like a three sided pyramid, two sides​ are polished like mirrors… Many pilgrims, from all around the world, come there to do a special pilgrimage, referred to as CORAS, walking around the whole base perimeter of mount Kailash. Very few are able to endure even one Cora​. The legend states that whoever completes 12 Coras around mount Kailash, becomes a holy person; this has never been done yet in history, because it is so difficult to make even one circle…!"
Long captivated by the Himalayas, Bronzova says she, "painted the East and South sides of the mountain trying to render the very mystery of the place." Her work is both inspired and compared to that of Nicholas Roerich's style—a Russian spiritual guru and philosopher who lived in Naggar, India, in the Himalayas. Roerich became very famous with his spiritual writings and paintings.
Comments Bronzova, "The best paintings are those which you are never tired to look at; one must have the urge to want to live inside the reality of the canvas. The purpose of any painting is to raise emotions and preferably, good ones, so people admiring the art work feel inspired and recharged with good vibrations."
A student of history with a master's degree from Russian State University, Bronzova is an international artist and writer known for her bronze sculptures, paintings, and three books about the Philippines—particularly her book about First Lady Imelda Marcos. Her previous exhibition titled "From Russian soul with Love" debuted at the Cultural Center of the Philippines in February this year. Honored guests there for the ribbon cutting included Ms. Jewel Lobaton Pimentel, wife of the Philippines Senate President, Russian Ambassador to the Philippines Igor A. Khovaev, President of the CCP Dr. Raul Sunico, and Ms. Cory Quirino.
This latest exhibition will have a special party on June 4th at 4pm at the French restaurant Chef Jessie at the Rockwell Club. Special Chef Jessie cocktails will be served and entertainers will perform. There will also be a charity auction to raise money for struggling art projects.
Paintings are priced at 3000US$ each or 5000$US for two.
Natalya Bronzova welcomes contact via Viber, WhatsApp at this number +63 927 990 7700