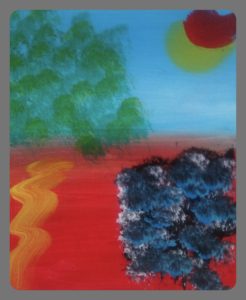 By Christopher Cottrell/ Images: Courtesy of Nick Durrer
Retired Chef Nick Durrer is a long time cooking legend from Jakarta to Zhuhai. Now, he's turning his kitchen knives for painting—literally cutting edge art.
From 1972 to 2014, Nick carved out his name in kitchens across Southeast Asia and China. During his last years cooking professionally, the Swiss born chef gained notoriety in the Pearl River Delta at Zhuhai's Harbour View Hotel—and for his private batches of home-brewed lemoncino. He only served it for four weekends as a complimentary drink with the Harbour View barbecue, but it remains a legend with Zhuhai expats of the day—namely this editor….
Of his Zhuhai days, Nick recalls, "I was also known for making long walks on Sundays in many areas in and around Zhuhai. Always between three to five hours. My philosophy is: Those who run are running after the time. Those who walk have the time waking along behind them."
Retired to Perth, Australia now, he has turned his once famous knives to paint in his golden retirement years. Nearly all of his paintings are, says Nick, "In acrylic paint on canvas and are made with the use of kitchen knives and paint brushes combined." Others employ, "oil paint on canvas and is made with the use of one kitchen knife only."
Peace Post interviewed gadfly chef Nick to get his recipes on life.
Peace Post: Describe your life as a Swiss chef in Indonesia and China?
Nick Durrer: I started to work in South East Asia in 1972. I started off in Thailand by working for Regent Hotel and Sheraton Hotel and from there I moved on to the Philippines where I worked for Ramada Hotel. Most years, however, I spend in Indonesia where I was for 15 years as an Executive Chef. First in Jakarta in the legendary Hotel Indonesia which was opened by President Sukarno and the extension of it some years later was opened by President Suharto. After that I moved to Batam Island to open the new Melia hotel.
The last station in Indonesia was in Ujung Pandang now known as Makassar in South Celebes or South Sulawesi where I opened the Melia Hotel. Thanks to Facebook I am still in good contact with the staff I trained up and I'm happy to know that they all work in good positions today. After a good break in Australia I had an offer coming in from China to work for the Harbour View Hotel in Zhuhai. I had the privilege to spend eleven years there and I can say that I enjoyed every minute of it.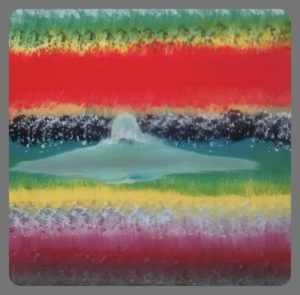 Peace Post: When did you start painting?
Nick Durrer: I only started painting a few weeks ago as a new challenge in my advanced age and to fill up some time in my retirement. I was thinking about what to do with my kitchen knives since I'm not cooking anymore in a hotel or restaurant. So, the paintings I do are crafted partly with the use of kitchen knives and some paint brushes. The idea for going into painting was coming to me when I watched some painters on TV who made painting look easy. So I gave it a try and voila.
Peace Post: How does the Australian outback of Perth inspire you to paint?
Nick Durrer: While the Australian outback may be good for inspiration, I do not really have to get there for that. Inspiration can come to you wherever you are by looking at things and try to see more of it than what you normally see, and for some when they combine it with deeper thinking or meditation. No artificial enhancement is needed for that. As for me, I get something coming up in my head which, over time, forms into a better picture and when it becomes clearer in my mind I start to paint. My paintings are totally "Freehand", meaning I allow my spirit to flow through my arm into my hand and then allow the hand to dance around on the canvas. That's why they turn out to go into an abstract direction. It's like when you play Jazz music with which you like to play music within some music.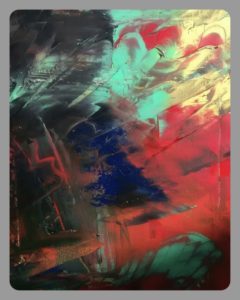 Peace Post: What is your advice to anyone who has a passion for painting?
Nick Durrer: My advice is: Do not just think about it but do it instead. Some may need a few lessons first. After three or four pictures made, it tells you how talented or not talented you are. Some may use a photograph or nice postcard to make a painted copy of it which can be nice but then it is not really from you. I went into my own style basically from the very beginning.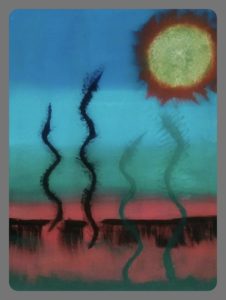 Peace Post: Do you plan any exhibitions anytime soon?
Nick Durrer: I do not think about any exhibition because the painting I have are small in number and I use them to decorate the walls in our newly renovated house to give it a nice personal touch.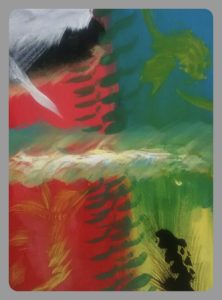 Peace Post: Are there any painters that you model yourself off of?
Nick Durrer: Not necessarily because I do not want to end up as an imitator of someone else, but that does not mean that you cannot be influenced by one or the other. The Russian lady artist [Natalya Bronzova] you interviewed is certainly a good inspiration for many.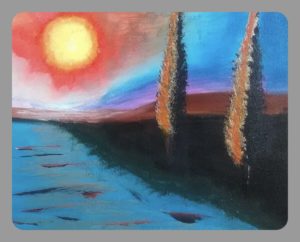 Peace Post: What is the secret of your special lemoncino?
Nick Durrer: If you talk about a lemoncino, I still use 95% proof pure alcohol which can be obtained from a pharmacy. As for myself, I still like a good cold German Weiss Bier or the Belgian Trapist Blond Bier. Most of them are invented by monks which must be the reason why they are so good.