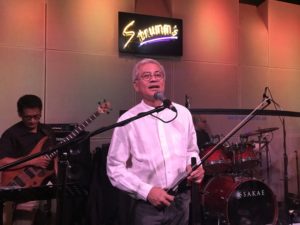 By Christopher Cottrell/ Images: Dr. Billy Chan
A saxophone wails. The dueling bass guitarists duel as the drummer flicks his sticks. The keyboardist's fingers dance like dragons. And the lead violinist pulls his bow like loosing an arrow.
It's Monday night in a cozy nightclub called Strumm's in Manila. In one corner the smokers puff their stogies and smokes in a private room walled off by glass. In the main two-story chamber, an audience of Manila music lovers snap their fingers to the easy jam of the band onstage—Enigma, led by the legendary violinist John Lesaca of Manila, Philippines.
After their second set, John Lesaca steps off stage and gives the Peace Post a few pearls of wisdom about his social radio concept of stimulating live music.
John Lesaca, said, " I do miss the 1980s, the good old days, when music was music. The nightlife in Manila was so alive."
How to keep that vibe going in a brave new world dominated by DJs and vocalists?
Mr. Lesaca noted, "I've always said, the best way to propagate and promote the soundtrack of our lives, as I call it, is through radio. Now its social media."
Mr. Lesaca continued, "It's just getting everybody together as a community of music, of music lovers, and musicians. My idea is you have one radio station cover the playing of the guitar, another station would cover the drums, and another would cover the sax, and another the violin, and down the line. And you won't be able to hear the complete sound without getting everybody together and having a sense around experience. And that can only happen in a place like here in Strumm's."
What gives him inspiration in his music?
Mr. Lesaca said, "I came from the Classical world. So I came from the world of Beethoven, Bach, Mozart. Jean-Luc Ponty and Mikhail Simonyan. And of course, my dear late friend Noel Pointer who passed away many years ago.
I'm looking forward to this new band that I set up. Originally the concept was for me and another violin. It's supposed to be two electric violins. That's not heard of here in Manila. Unfortunately, for personal reasons the other violinist backed out. So now I am scouting out and auditioning people. Maybe you'll hear another violinist on later tonight, in fact."
How to inspire the next generation of musicians?
Mr. Lesaca advised, "Firstly, you need to have the basics, you need to know the rules before you break them. Secondly, if you have the rules and are ready to break them, you should not let it go to your head—meaning you should be humble enough to know there will be a lot of new things you will learn. The more you know, the more you don't know. Always remember there is a better player than you."
He added, "So just have fun and just keep on maintaining that passion and love for music. When that happens you're going to have fun on stage. When the people see you have fun on stage, the people will love it."