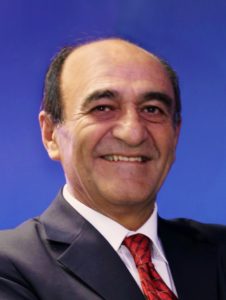 By Christopher Cottrell//
Image: American Chamber of Commerce for South China
Guangzhou based Dr. Harley Seyedin, president of the American Chamber of Commerce for South China, is a legend in the region. As an entrepreneur and philanthropist, he has been a pillar of Guangzhou and South China for well over two decades.
On May 15 and 16, he will win the 2017 Oslo Business for Peace Prize of the Business for Peace Foundation for his work. This will be his second major peace award in recent years. In 2013, he was given the U.S Peace Though Commerce Medal—less than 20 Americans have ever been awarded this since Thomas Jefferson founded it in 1790.
Organized by the Business for Peace Foundation, the 2017 awardees include America's Elon Musk for his alternative automotive and solar technology approaches. Durreen Shahnaz will win for her Impact Investment Exchange (IIX), the world's first stock exchange dedicated to social enterprises, which has impacted the lives of 10-million people since launching in 2009. Murad Al-Katib is also getting an award for his sustainable agriculture and for working to feed millions of Syrian refugees through his company AGT Food and Ingredients, a world leading lentil company.
Peace Post was able to gather a pearls of wisdom from Dr. Seyedin on the eve of the awards.
Peace Post: What does peace in business mean to you?
Dr. Seyedin: We must see peace as more than absence of conflict. Peace represents an opportunity for business to help improve society and the quality of life for all those with whom we come in contact with.
I truly believe each and every one of us, whether in business, government, academia, or otherwise, can advance the agenda of peace and prosperity by ensuring that people impacted by our decisions are never short of the means to see their children grow up smarter, healthier and more hopeful than they did.
Peace Post: What does this award mean to you personally?
Dr. Seyedin: To me this recognition represents our responsibility to those less fortunate in the world. To me it is nothing less than a moral imperative made tangible. I believe this award will help me create universal awareness of how first generation immigrants can assimilate into their new homes and contribute immensely to the well-being, prosperity, and economic growth of their new countries while also helping to create peace between nations.
Peace Post: After all of your years in China, how do you view the economic transformations adding to peace in the world?
Dr. Seyedin: Over the course of my career I have consistently sought out opportunities deemed by others to be commercially unviable or not sufficiently lucrative in which to attempt these innovations. I have been rewarded for these ventures not only by material success but also by the success of the indigenous communities that have become my partners. My legacy in business will be long-term sources of sustainable revenue for the local communities in which I have undertaken development projects.
I am driven by a hope and need to improve my life so that my children will know a life more peaceful and full of opportunity still. I am unaware of a purpose more universal or more uplifting than this, and believe that it is one shared by women and men around the world.
In just the last twenty years, economic growth in China has helped lift more than five hundred million people above the poverty line giving them hope and the ability to improve their lives so that they are able to give a better life to their children. Where hope lives, conflict is often avoided.
Peace Post: What are your hopes for peace in the coming years?
Dr. Seyedin: I hope to be able to continue to be a practitioner of an enlightened capitalism, in which the wealth of the global economy is leveraged in such a way as to provide hope and opportunities for the dispossessed as a systemic feature of development. Where hope lives, peace thrives.
Peace Post: What is your advice to young entrepreneurs and inventors who want to pursue peace?
Dr. Seyedin: I hope that they will deviate from the status quo in their efforts to construct a future in which we want to live and pursue unorthodox paths to pioneer new models for mindful economic growth.