By Peace Post Staff/ Images: UNICEF HK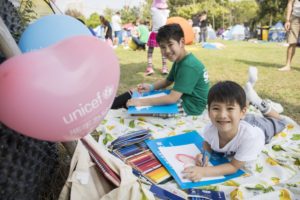 The "Little Artists Big Dreams" drawing contest by UNICEF HK this past weekend raised over HK$1 million. Over 1,000 children and their parents came out for the event to create pictures in advance of Mother's Day. With a single donation of HK$800,000 from title sponsor Chow Tai Fook Jewellery Group Limited, the total HK$ 1 million will go to UNICEF HK's "Cash Transfers for Deprived Children" project in China. These will save untold maternal deaths.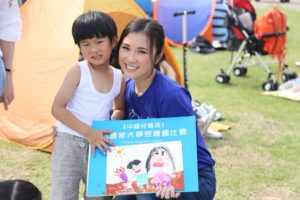 According to UNICEF HK, "There are about 4,400 maternal deaths in China every year. Many women die from largely preventable causes, for example, complications from pregnancy or childbirth. Most of these tragedies can be easily prevented if simple and cost-effective health care services such as antenatal and postnatal check-up, hospital birth delivery and immunization could reach more families before, during and after a child's birth."
Mr. Johnny Ng, Vice-Chairman of UNICEF HK said, "Providing mothers with access to better health care gives mothers a happy pregnancy and safe childbirth. It is also an essential step in ensuring a good start for every child."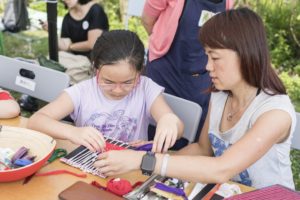 Spread over 15 counties in Gansu, Sichuan, and Yunnan, this healthcare project has supported over 16,000 pregnant women and children under the age of one-year. This weekend, many noted Hong Kong residents came out to show their support.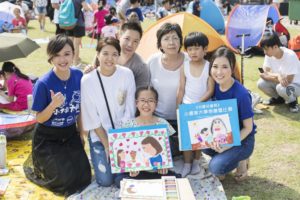 UNICEF HK Ambassador Miss Gigi Leung said, "I always love to draw with baby Sofia. I invite everyone to check out the great t-shirts designed by the little artists and support UNICEF to protect the health of every woman and child."
Singer-songwriter Miss Jocelyn Chan said, "This year, the competition has introduced the parent-and-child fundraising t-shirt for the first time, enabling participants to transform their drawings into unique t-shirts. Being my favourite part of the event, it will not only keep drawings in good conditions, but it will also contribute to a charitable cause. I encourage the public to support this event together!"
Miss Sandy Lau, Miss Hong Kong 2009 pageant and a mother, commented, "The event comes with a carnival that offers face painting, parental workshops, charity sales and other booth activities, providing parents and their children with an excellent bonding opportunity. I'm very impressed by the diversity and education value of the workshops, too. Children can develop their creativity by transforming raw materials into unique gifts for their mothers. I highly encourage the public to support this event together!"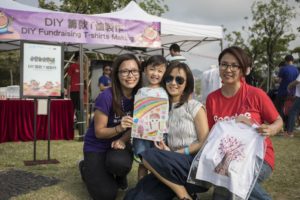 Chow Tai Fook Jewellery Group Limited Executive Director Mr. Peter Suen said, "Chow Tai Fook Jewellery Group Limited has been supporting Little Artists Big Dreams Drawing Competition for 9 years and this year, we have generously donated HK$800,000 for the good cause."
He continued, "We have always upheld our 'Do Good' brand philosophy and committed ourselves to care for the community, particularly on children's development. As such, we have been very supportive towards UNICEF's work, especially on projects in rural China. We hope to give a helping hand to deprived children in rural China and improve their living standard by mobilizing our staff and customers to participate in various community events such as drawing competition and field trip."
They are holding a public vote for the art work from May 18 through June 2, and will announce the winner on June 9, 2017.
For more information visit UNICEF HK.