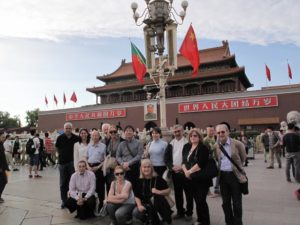 By Peace Post Staff/ Image: Christopher Cottrell
The Sino-Luso International Medical Forum Series 37 is bringing a strong healthcare delegation to Beijing and Macau.
Doctors and health officials from Brazil, Portugal, Cape Verde, the Philippines, Hong Kong and Macau will hold symposiums and workshops in Beijing from May 18th -20th, 2017 and Macau from May 21st and 22nd.
This is the second such delegation the Sino-Luso International Medical Forum has led to Beijing—the first was in 2014 and coincided with former Portuguese president Cavaco Silva's China visit. This is the second time Sino-Luso has presented a scientific exchange of this size in Beijing in partnership with the Peking University, People's Hospital and Chinese Medical Doctors Association.
Titled "Service Quality in Healthcare and Innovation", this forum features some of the best healthcare experts and health officials from many Portuguese speaking countries.
As part of the events of Sino-Luso's sister branch, the Sino-Asia Pacific Medical Forum, they are bringing the current Undersecretary of Health, Dr Herminigildo Valle, of the Republic of the Philippines as a keynote speaker at the opening the scientific symposium in Beijing on the 19th May.
The event is organized by, the Macau Health Management and Promotion Association (MHMPA) and programs are academically chaired by the Faculty of Health Sciences at the Macau University of Science and Technology (MUST).
President of Forum Prof. Manson Fok says, "Our mission is to provide a forum for international health experts to discuss the latest technologies, address the growing needs associated with training and treatment know-hows, and more importantly to exchange their discoveries and solutions for timely issues of high interest in the medical community."
Prof. Fok continued, "We are extremely honoured to have the support of the Chinese Medical Doctors Association and Peking University, People's Hospital. Our delegation of esteemed medical experts marks a momentous occasion for our efforts in our 6th anniversary of our forum."
The Sino-Luso International Medical Forum working committee is in the midst of preparing a list of ceremonial activities, workshops and scientific lectures.
The forum also features two keynote speakers, Director of Portuguese National Vascular and Heart Diseases, Dr. Rui Cruz Ferreira and the current President of Brazilian Medical Association, Dr. Florentino Cardoso. They are leading medical experts from Portugal and Brazil presenting on surgical training and heart diseases issues.
Over 14 prominent Portuguese speaking medical experts and scholars will present to over 300 surgeons and medical professionals in Beijing. There will be a strong diplomatic presence from the embassies of all Portuguese speaking countries. Including sport medicine expert, Chief Medical Doctor of Cabo Verde Olympic Delegation, Dr. Humberto Evora. Top Portuguese Breast surgeon, Dr. Luis Sousa and Clinical Director at Macau Government Hospital, Dr. Mario Evora will also be part of this strong delegation.
Genomics technology is experiencing an increased interest and as we all know technological advancements the genomics bounces forward at an alarming rate and is expected to grow rapidly.
In keeping with the forum's timely topic in life science, an expert from Hong Kong Polytech University, Prof Terence Lau will present and to covering the topic in genomics.
Co-chair of the forum, Dr. Billy Chan remarks, "I am delighted to celebrate this remarkable milestone, and to extend congratulations to everyone that has contributed in the past, and on the 6th anniversary of the founding of the Sino-Luso International Medical Forum on behalf of the executive board of our forum."
Dr. Chan continues, "This is a remarkable milestone. To offer some perspective: The forum was founded six years ago. We have trained over 8,000 doctors and nurses and over 11,000 medical professionals from more than 25 countries have attended our events worldwide. Our forum had over the years emphasized on how to improve on both the quality of skills training and implementation of new technologies."
To highlight the importance of this Sino-Luso relationship, official meetings will be planned for invited VIPs and healthcare experts to meet and greet the NHFPC Health Minister and Chinese People's Political Consultative Conference's Vice Chairman.
These meaningful medical events are supported by the Chinese Medical Doctors Association, the National Health and Family Planning Commission, PRC as well as a list of outstanding healthcare organizations and Portuguese speaking associations in Macau.