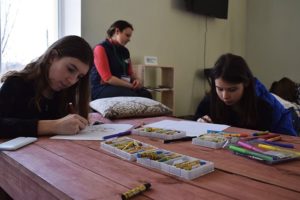 By Peace Post Staff/ Image: UNICEF
Whether by direct war or standoffs, more than 25 million children worldwide are missing school because of armed conflict.
According to UNICEF Chief of Education Josephine Bourne, "At no time is education more important than in time of war. Without education, how will children reach their full potential and contribute to the future and stability of their families, communities and economies?"
This recent UNICEF report reflects the international level of this crisis.
One example of this educational trauma is the city of Mariupol, Ukraine on the Sea of Azov. Just 25 kilimotres from the contact line between government and non-controlled areas where fighting is fierce, heroic teachers are standing their ground with day programs for students. These four city-wide UNICEF supported youth clubs run from 11 am to 8 pm at night.
In a UNICEF report, one youth club worker, Ms. Kashyra, says of the students, "They love us, they have found a second family here at the youth club and that keeps me going despite all the problems. It tells me that the work we do is appreciated and absolutely crucial in these troubled times."
More than just teaching, the clubs offer free psychological counseling to over 1,000 children and teenagers city-wide. From the clubs, though, the sounds of war is never far away—with shelling heard.
"This day left many of the people here with severe trauma. Every time young people hear the sounds of shelling, the memories come back and the teenagers are scared and come ask for help. When the shelling starts, the post-traumatic stress disorder that many of them suffer from emerges," another worker, Anastasiya, is quoted in the UNICEF report.
Ms. Kashyra remarked, "Here the children see soldiers on the streets, there is a military checkpoint just around the corner behind the local school and of course, the sound of the shelling can be heard almost every night and sometimes also during the day."
UNICEF estimates 200,000 girls and boys (1 in 4) are critically affected by conflict in eastern Ukraine, Donetsk and Luhansk. Says UNICEF, "They're in need of urgent and sustained psychosocial support."