By Christopher Cottrell /Photo Credits: Sino Luso International Medical Forum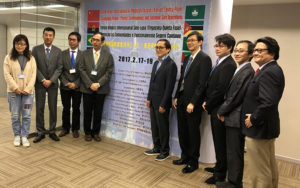 Doctors from Macau, Hong Kong, and Taipei joined together in Macau to address poison treatment, including auto accidents where drug driving was involved.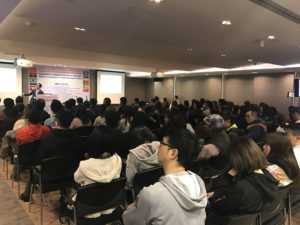 Over 120 Macau medical frontline providers were organized by the
the Sino Luso International Medical Forum led by Prof. Manson Fok and Dr. Billy Chan. For this third such toxicology training program presented by Sino Luso, Dr. Lau Fei-Lung, Chair of the Hong Kong College of Emergency Medicine, was invited to present. A specialist in toxicology, Dr. Lau told the Peace Post:
"In Hong Kong and in Macau, we encounter people driving their cars after taking drugs such as ketamine, which is an abusive substance. After taking this drug, the driver will become very confused and not be able to control the car properly. They get into trouble with traffic accidents, hurting themselves and others, namely pedestrians. There are cases even of taxi drivers and mini-bus drivers taking this drug before they start their vehicles."
Dr. Lau continued, "To this Hong Kong responded by proposing a law forbidding the taking of six illicit drugs, including ketamine, morphine, ICE, amphetamines and cannabis. The problem is it is difficult to enforce this law, by checking saliva or checking the blood of the driver when they encounter accidents where drug driving is suspected."
He noted that, "Sleeping pills and other drugs that cause sedation or drowsiness effect peoples' driving abilities too. So we have another law that says if someone drives on these chemicals and the blood level is above a certain level, then they are in violation."
Dr. Lau further elaborated that, "From the newaspapers, I know that drug driving in Macau is a problem, as in China and other countries. So people are thinking of ways of dealing with this drug driving problem. Everyone knows about drunk drivers and breathalyzers have reduced the cases and saved a lot of lives. So people now after going to a party, they will refrain from driving. But the drug driving problem is rising. Usually big sensational cases throw attention on the problem and the public will call for action, but it is not as discussed as drunk driving. You need both laws and good publicity."
He pointed out that understanding poison treatments gives doctors training across multiple medical disciplines.
Dr. Lau said, "Toxicology cuts across all departments beyond emergency medicine. Children can be poisoned and ICU needs to take care of poisoning. The number of acute poisoning cases are not high, but in Hong Kong we see about 5,000 cases per year. The death rate including death in hospital from poisoning is high at 10 percent. Mainly because people are poisoning themselves. Under the Hong Kong College of Emergency Medicine we developed the Board of Clinical Toxicology. We are one of the few places in the world to have this."
From this, he said, " Our doctors are now getting up there with the United States, Australia, and the UK. Courses like this in Macau are a step forward to recognizes doctors and nurses know how to treat patients effected by poison. Some of the patients previously
would die or even if you treat them they recover badly at home. So early treatment is key."
Dr. Lau is expanding this training regionally, noting, "We have exchanges and training programs with mainland China. They are invited to Hong Kong for six month training courses. These are also open to doctors."