Seychelles Founding President and global citizen dies.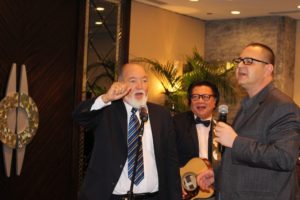 By Christopher Cottrell/ Photo Credits: Christopher Cottrell
Sir James Marie Mancham's passing on January 8, 2017 and memorial yesterday in his native Seychelles close an important chapter on the life of one of the Indian Ocean's and Africa's greatest leaders.
As the Seychelles founding president in 1976, Sir Mancham guided the islands peacefully away from British colonial rule only to watch his work betrayed and taken away in a violent Soviet backed coup the following year. Instead of calling for western help to retake the islands by force, he labored for peace and reconciliation during his entire time in exile in Europe before returning in 1992. Upon coming home in 1992 to a crowd of half a million Seychellois, he was dubbed "An Apostle of Peace." And that is how he carried out the rest of his days as the "Seychelles Global Citizen," their cultural and economic ambassador-at-large, their peacekeeper.
Among the many charms that Sir Mancham won people over with (ranging from parties warring across Africa), were his love of songs, and rousing speeches of morality.
He wrote in the Seychelles Nation publication on January 7, 2017, one day before he died peacefully in his sleep, that, "On the road of life I discovered that there is a song for each and every occasion and that it did not matter how well or how badly one sings because when one is singing one has no to time for envy, jealousy and or evil conspiracy."
One of his favorite songs on his own road of life to sing was the 1970s hit Una Paloma Blanca—Spanish for "white dove," the symbol of peace he came to live by.
Born on August 11, 1939 in the Seychelles under British Colonial rule, he said of his first years that, "I have only pleasant memories of early childhood." He wrote this in his 2009 memoir, "Seychelles Global Citizen: The Autobiography of the Founding President of the Republic of Seychelles." He continued, "Usually after dinner, the whole family would assemble on the verandah of our comfortable house and father might describe the exciting experiences of his own childhood."
These could center on his father's life in China. He wrote, "Like most Seychellois, he was of mixed blood, his mother French and his father Chinese. He was only eight years old when his father died and an uncle decided to send him to Canton, South China. His stay in China in the difficult mid-twenties was excellent discipline for a boy born in the carefree atmosphere of Seychelles, and when he returned to the islands five years later, he had developed a mature outlook and a clear sense of values."
These values were instilled in him and four siblings as well. James took them onto study law in London, and after as Seychelles first Chief Minister, then Prime Minister, then Founding President. He used them while juggling local and global politics in the Seychelles—which he helped open up to tourism by supporting the construction of an airstrip. Tanzania based communists backed by the Soviet Union who later pushed forward the coup felt the airstrip allowed imperialists better beaches. Regardless, tourism and the European jet-set poured into the Seychelles and he was credited with putting the island nation on the map.
The Times of London once said of him, "James Mancham is the first President of Seychelles, one of several firsts achieved by this remarkable man. He is ambitious, politically shrewd, and a devoted Seychellois. He has the flamboyance of a Trudeau, the political determination of Lee Kwan Yew, and the stamina for travel of a Kissinger."
Indeed, he was vigorously involved in peace as the co-chair of the Global Peace Foundation and Global Peace Festival, as well as the Institute of Cultural Diplomacy in Berlin, and the World Future Council based in Hamburg. He formed the magazine VIOAS (Voice of the Indian Ocean and the Arabian Sea) to discuss international affairs.
In a powerful speech for the inaugural of the Sino Asia Pacific Medical Forum in Manila before 5,000 audience members he called on the memory of John F. Kennedy to remind the world, and especially Americans, not to lose the order of peace that citizens had fought hard for since the end of the World War II. This editor was lucky enough to chat with him and receive a signed copy of "Seychelles Global Citizen."
Dr. Billy Chan, Fo-founder of the Peace Post, stated, "The loss of this great statesmen from Africa is sad and terrible news. Sir Mancham was a good mentor to me, and to us at the Peace Post . We never met such a man of compassion, courage and public work as our mentor."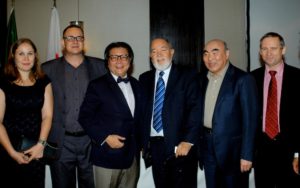 Photo Caption: Sir Mancham with Sino Asia Pacific Medical Forum friends in Manila, Philippines, November 2015.
Dr. Chan added, "He was one of the key signatories in 2015 to launch the Sino-Asia Pacific medical forums in Manila to promote medical diplomacy and peace across Asia… He had a wealth of knowledge and that was one of his greatest tools of peace. He carved his name in our hearts, not on tombstones. Goodbye my dear friend, your now with the Lord. Amen."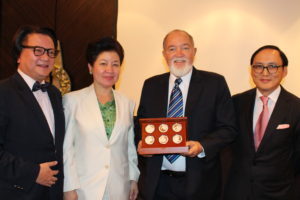 Photo Caption: Sir Mancham with Dr. Billy Chan, and Prof. Manson Fok, Manila, Philippines, November 2015.
Prof. Manson Fok, President of the Sino Asia Pacific Medical Forum said, "The life of Sir James Mancham was an inspiration to all of us…He supported the founding of our Sino-Asia Pacific medical forum and was a pillar of strength for us. His heritage was half Chinese and half French. In China, we will miss him. I personally extend my deepest condolences to the Mancham family and the peoples of Seychelles."
Last year, he received the Africa Peace Award for United Religions Initiative-Africa (URI-Africa). News of his death led Seychelles President Danny Faure to state on television, "He was a defender of liberty and champion of human rights. The world has lost a global apostle of peace, understanding, and unity. Seychelles has lost a true patriot."
President Faure added, "His dreams for a more united, peaceful Seychelles where there is true reconciliation, needs to be fulfilled by all of us here today."
Former Seychelles President James Michel said Sir Mancham was, "A world statesman, a philosopher, a writer and a poet whose commitment and tireless contribution to the promotion of world peace, progress and reconciliation found resonance on the international scene and in Seychelles."
He continued, "He was a pillar of the contemporary history of Seychelles and a central figure of our return to multi-party democracy. He was a true apostle of peace, national unity and reconciliation, and his achievements, vision and endeavors in that sense will remain his enduring legacy. I shared his principles and was proud to call him a friend and to avail myself of his wise counsel. We shall always remember Jimmy for the contribution he made to our country, for the patriot that he was – a man of uncompromising principles and conviction, the founding President of the Republic of Seychelles who shall continue to inspire us and many generations of Seychellois to come. We owe Jimmy a lot and we shall always be grateful to him."
Called Jimmy or Ton Jim by many, he was given a state funeral yesterday, with most of the island attending to pay their respects. He is survived by his wife Lady Catherine, his sons Richard and Alexander, and daughter Caroline. He had recently suffered from a heart attack and was recovering at home. He passed peacefully in his sleep. He was 77.
A refrain from one of his favorite songs, Una Paloma Blanca, helps sum up the spirit of his life: "Una Paloma Blanca. I'm just a bird in the sky. Una Paloma Blanca, Over the Mountains I fly, no one can take my freedom away."