By Christopher Cottrell//Images Christopher Cottrell and Peace Post Staff
The inaugural launch of the Sino Phil Asia International Peace Awards on March 6, 2019 in Manila began with a day of history—and closed with historical comments for future paths of peace from perspectives in Asia.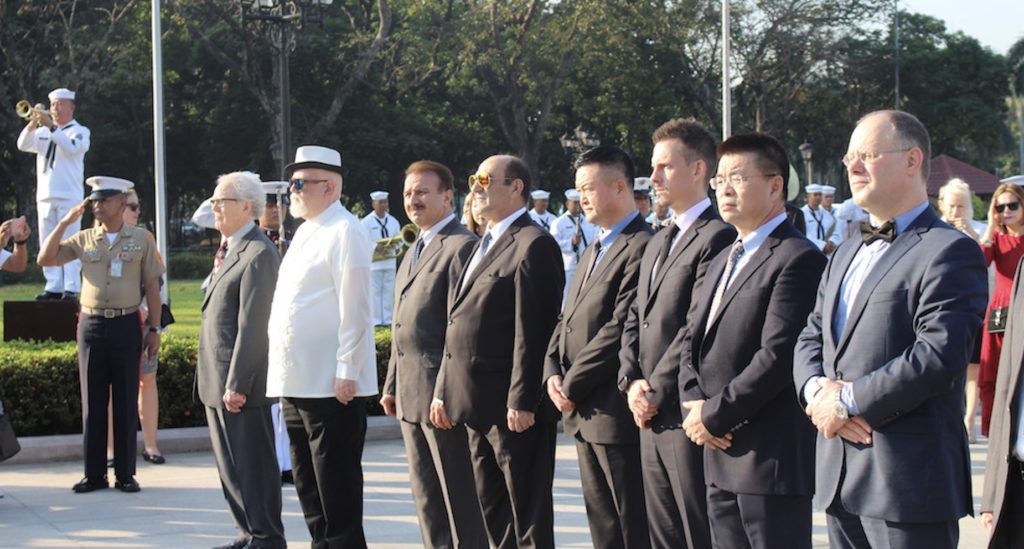 Welcomed by the Order of Knights of Rizal to the hallowed national memorial of the Filipino revolutionary martyr Dr. Jose Rizal in Manila, the laureates assembled for a morning wreath laying ceremony on the morning of March 6.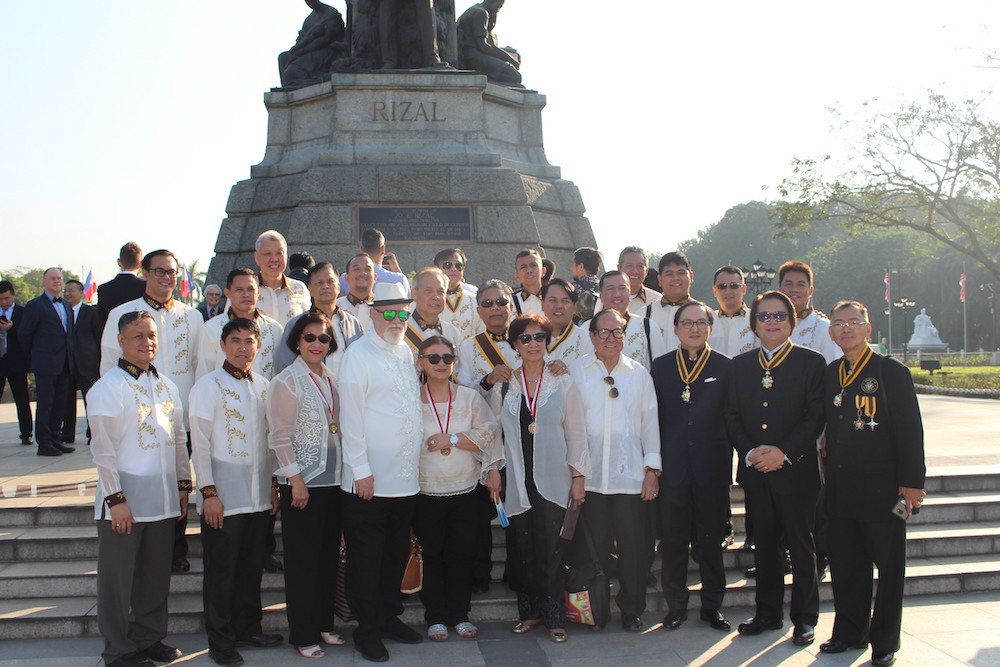 With tradition, the Philippine Marine Corps played tempo drumsas the key founders of the Sino Phil Asia International Peace Awards, President Emeritus Sir Manson Fok, and Chairman Sir Billy Chan, led the laureates with the official Sino Phil Asia International Peace Award Wreath as it was respectively placed at the Rizal memorial. The assembled Philippine Marine Corps then fired a 21-gun salute to the gentle bugle play of Taps.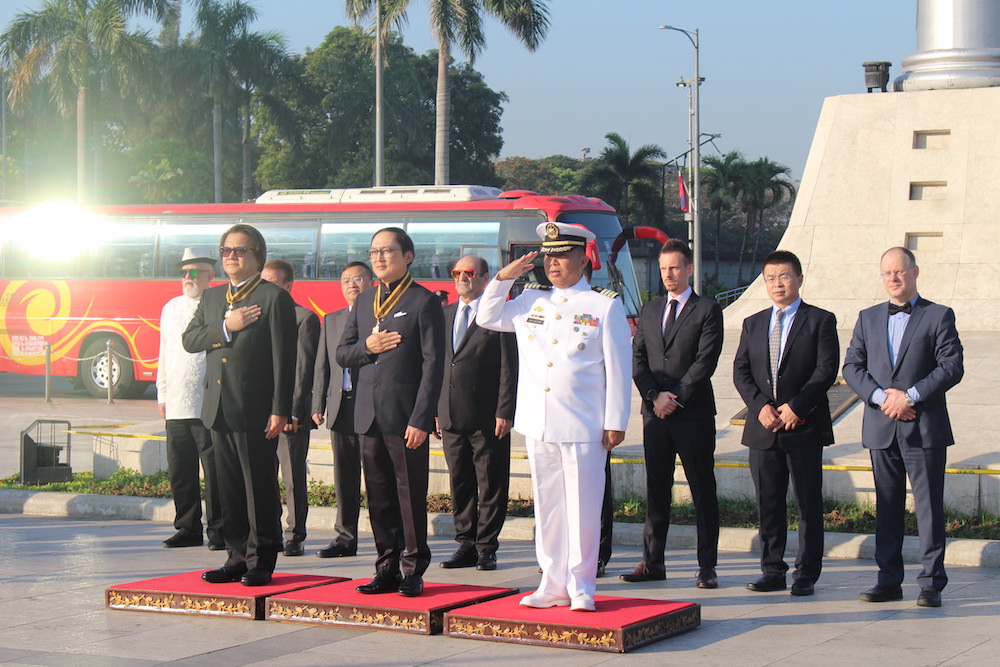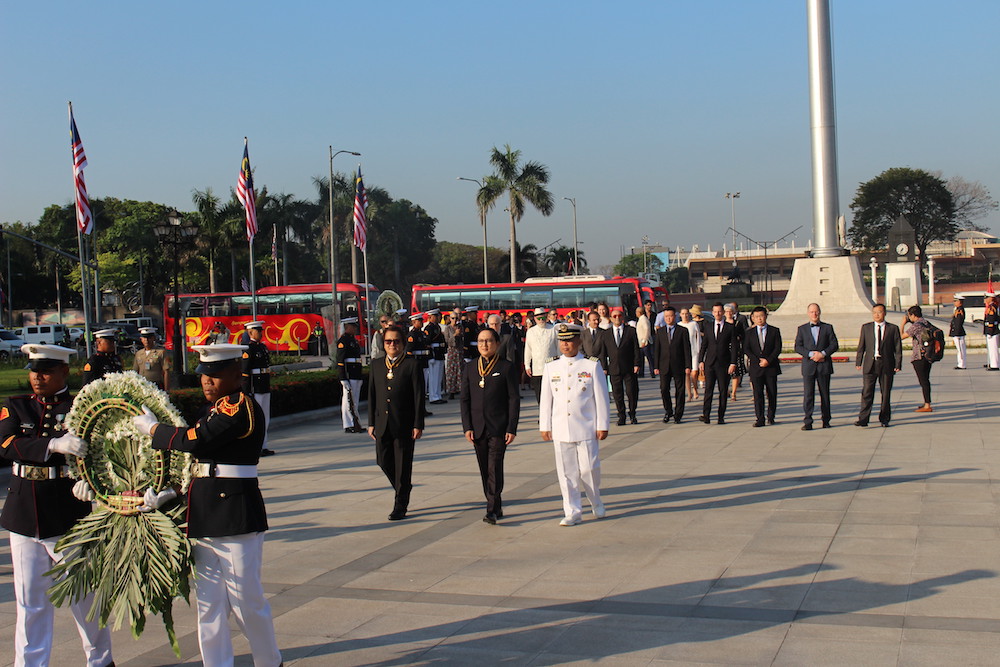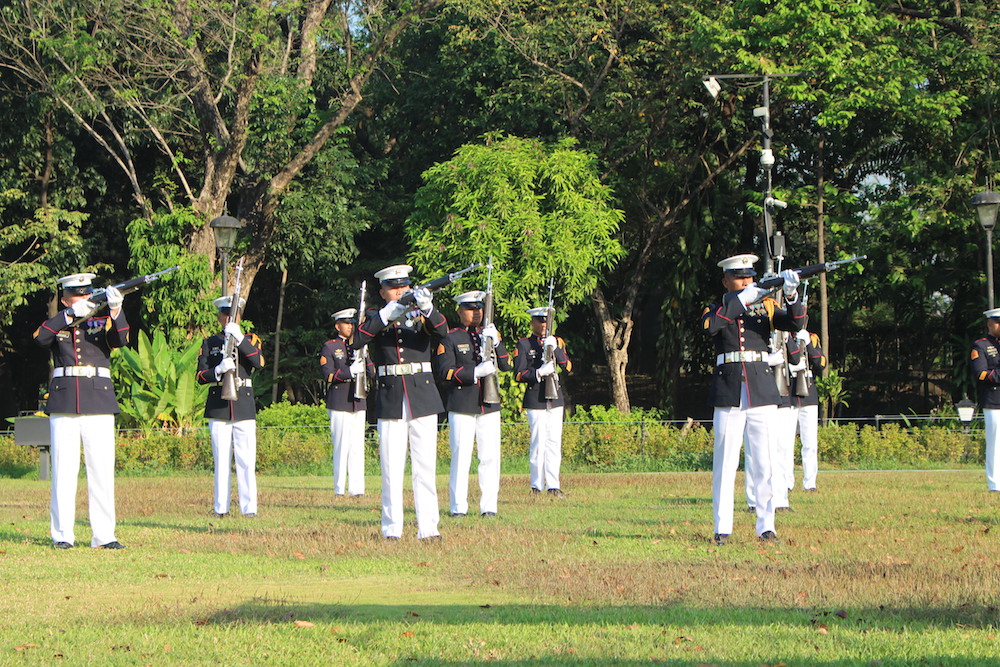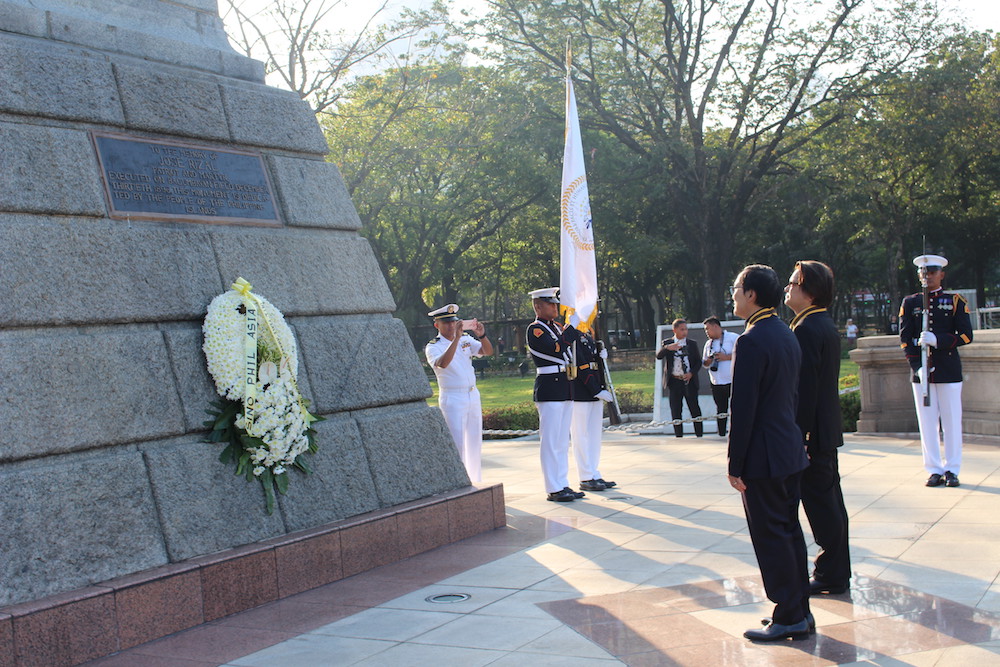 The solemn homage was followed by a courtesy call to the Presidential Malacañan Palace. The seat of government for over 175 years, Malacañan has an intriguing history with rich architecture. It was originally a sacred space for the indigenous tribes before Spanish officials erected a government building—one the Americans extended into from 1898. Since 1946 it has served as the official Philippines presidential residence. The laureates were welcomed by President Rodrigo Duterte's cabinet undersecretary.
After the tour, laureates were greeted in the neighboring historic district at brunch by Fema Duterte, a sister of Rodrigo Duterte.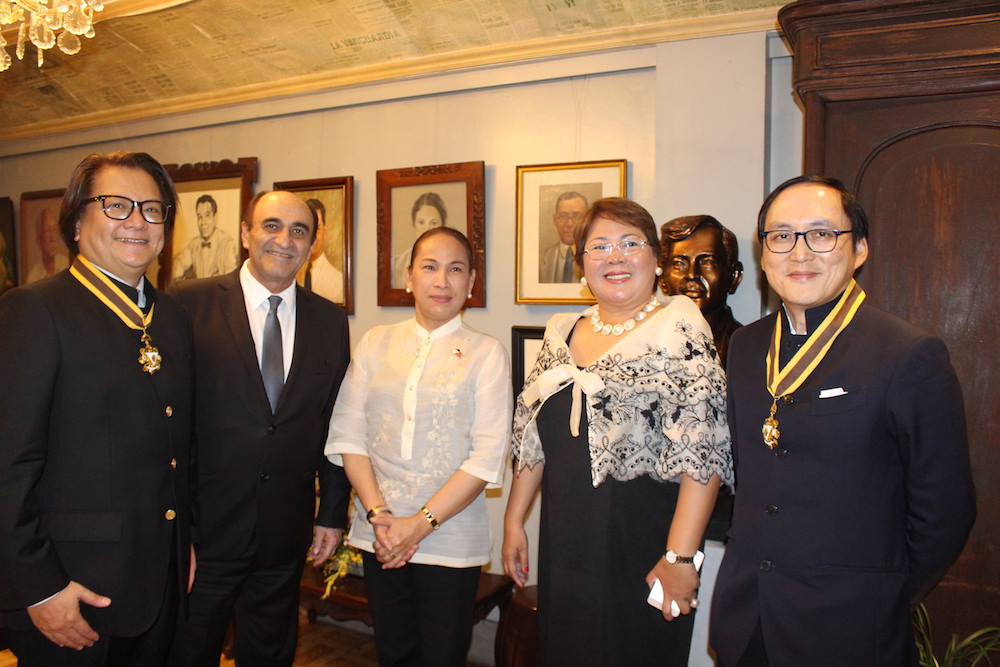 That evening at the Makati Shangri-La, the laureates assembled for their medals and to deliver their speeches of peace. Laureates included:
Dr. Harley Seyedin (USA)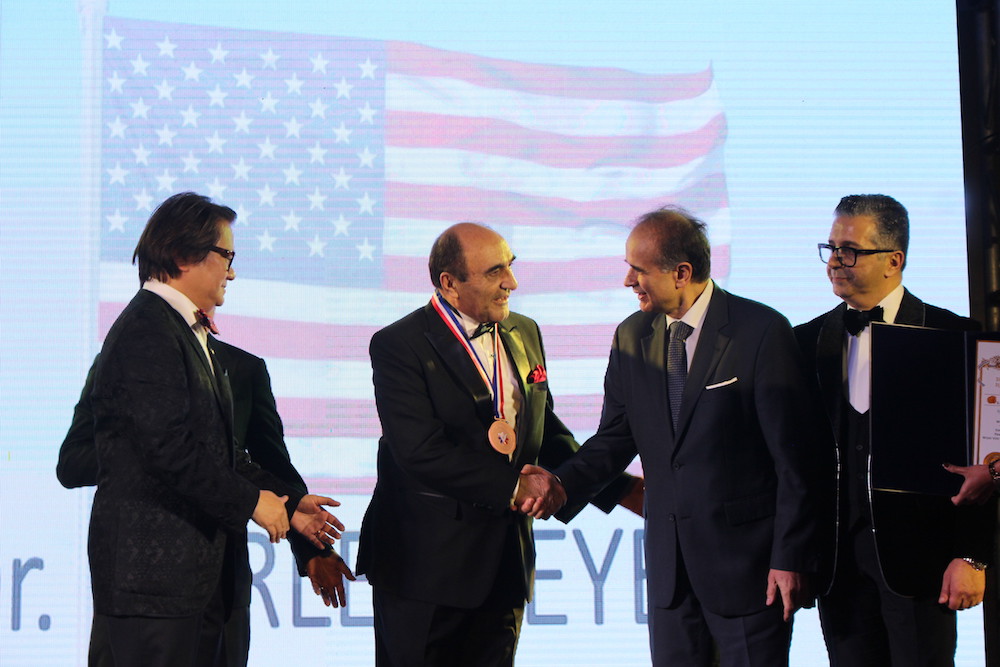 Working within China's opening reforms since they began 40-years ago, Dr. Seyedin's life work in business and philanthropy has seen him awarded the prestigious Thomas Jefferson "Peace Through Commerce Medal" in 2013 and the Nobel Business Peace Prize in 2017. As the President of the American Chamber of Commerce in South China his legacy of business and economic peace between China and America is one that resonates loud for human harmony.
Dr. James Hurley Meyers (USA)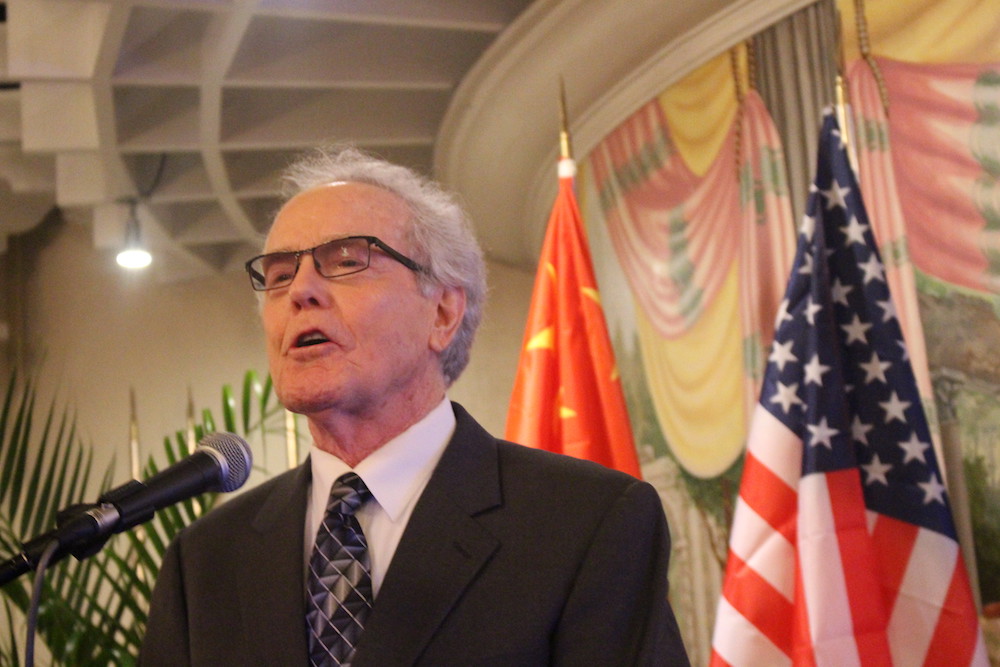 For over three decades, Dr. James Hurley Myers has advanced medical education globally. He has been lovingly applauded by his students at his South Illinois University School of Medicine with a Golden Apple Teacher and Master Teacher Award, among many. He has authored more than 50 academic articles on hypertension, coronary disease, vascular smooth muscle functions and worked closely with the American Heart Association developing medical education in China.
Dr. Koen Gustaaf A. De Ridder (Belgium)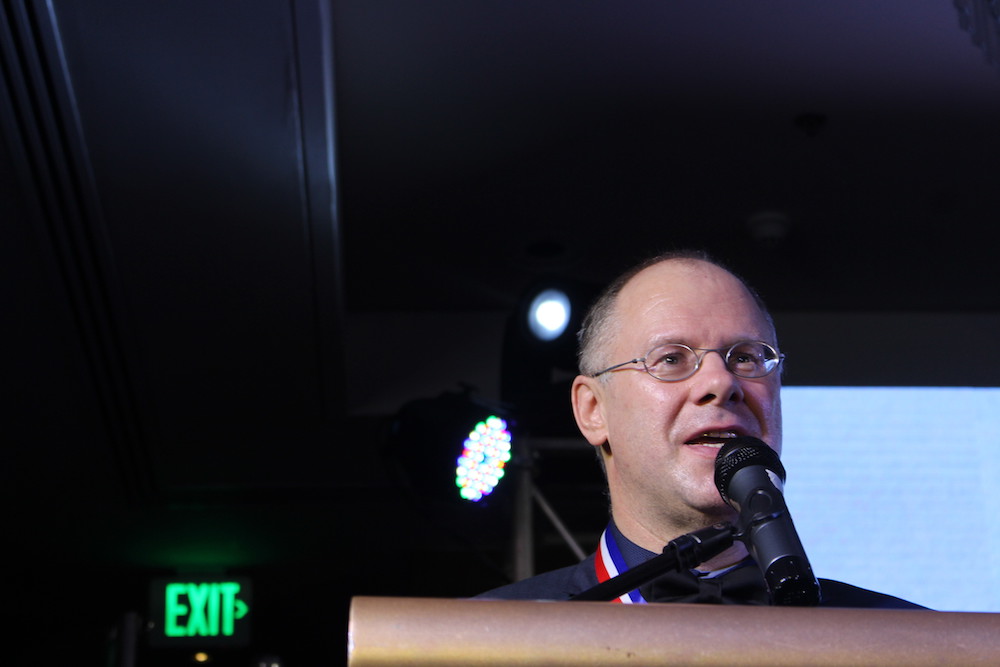 Economist and China scholar Dr. Koen Gustaaf A. De Ridder is currently the Director of the Confucius Institute in Brussels and Director of UNIZO. He is bridging peace between China, Belgium and Europe. In his capacity as the former Flanders Investment & Trade office, The Belgian Foreign Trade Agency, and the Belgium-China Association, as well as historical research into China, his cultural and economic contributions to peace are commendable.
Dr. Ji Jiafu (China)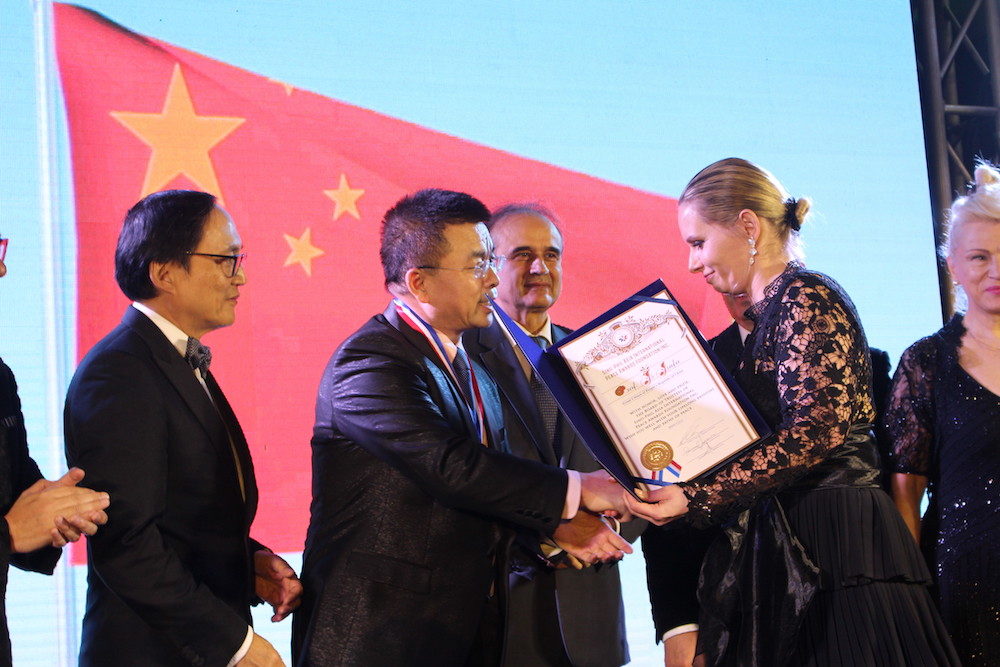 Dr. Ji Jiafu's contributions to medical advances in China are nothing short of historic. As the President of the Peking University Cancer Hospital, Professor Jiafu is internationally recognized for his surgical expertise of gastric cancer. He has standardized surgical procedures and the development of chemotherapy for gastric cancer in China, training thousands of surgeons across the nation. He carries a deep love for his doctor mentors in the United Kingdom, his close colleagues, students and patients in China, and the medical education profession globally. He is a true champion in the battle against cancer.
Professor Ahmad Sheibani Nia (Iran)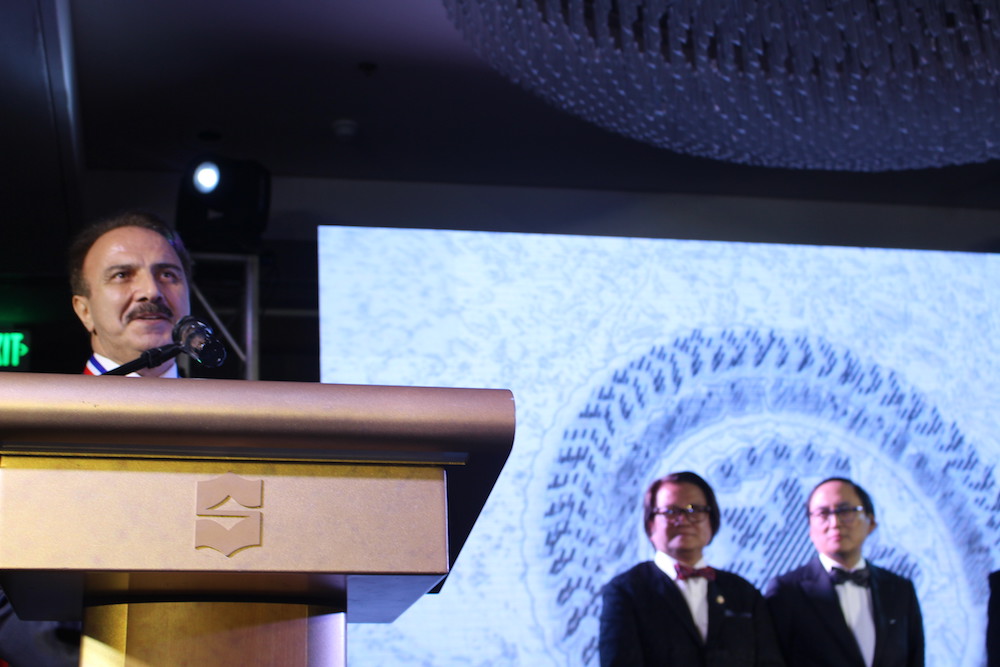 As an orthodontist at the Dental School of Azad, Professor Ahmad Sheibani Nia works tirelessly for dental health for all humanity. He has invented patents for the diagnosis of and treatment of dentofacial deformities. With this dental technology, he has donated his efforts to to fixing the teeth and dental deformities of orphans and the poor in Iran free of charge. This is truly inspirational work.
Secretary of Health Dr. Francisco T. Duque III (Philippines)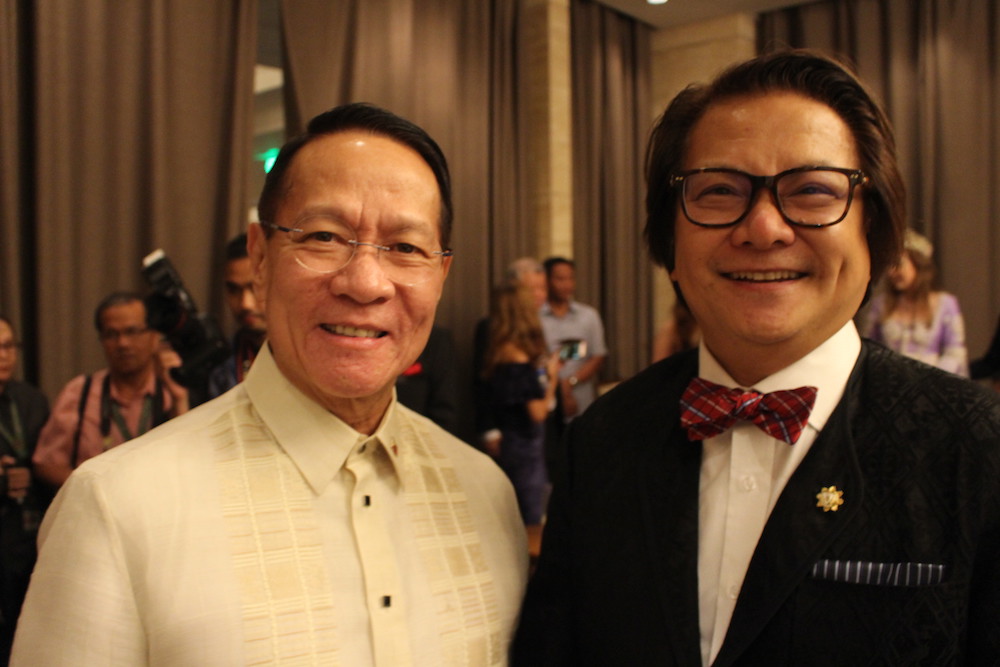 As the Secretary of Health of the Philippines, Dr. Francisco T. Duque III is leading our revolutionary Universal Healthcare law signed into law in January by President Rodrigo Duterte. His own work creating the "Formula One For Health" prioritizes strategic financing for healthcare advancement. He moved the passage of the historic legislation of the Universally Accessible, Affordable Quality Medicine Act of 2008, and the Food and Drug Administration Law of 2008. This work is heroic and live-saving here in the Philippines and serves as a global example of medical peace.
Senator Sherwin T. Gatchalian (Philippines)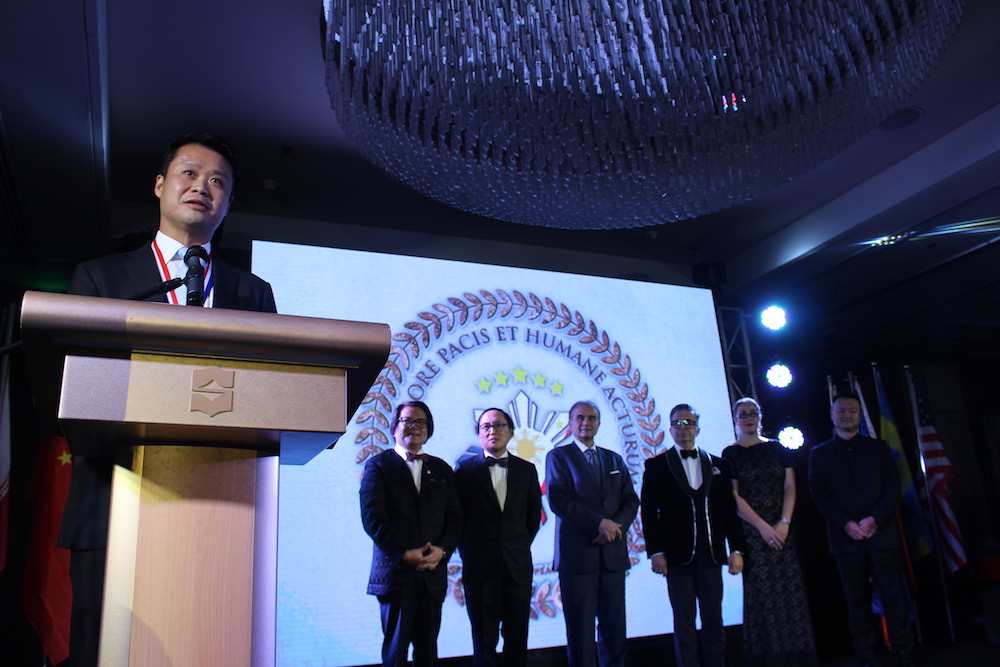 The landmark Affordable Higher Education For All Act and his lifetime commitment to education is something that Senator Sherwin T. Gatchalian should be applauded for. He also labored with love for the enactment of the Universal Access to Quality Tertiary Education Law in 2016. His work for the Recoverable System Loss Act, Energy Virtual One Stop Shop Act, and Philippines Innovation also stand as examples of his support for the people. As a mayor, congressional representative and now Senator, his contributions to peace through education and politics is highly commendable.
Mrs. Soccoro Ramos (Philippines)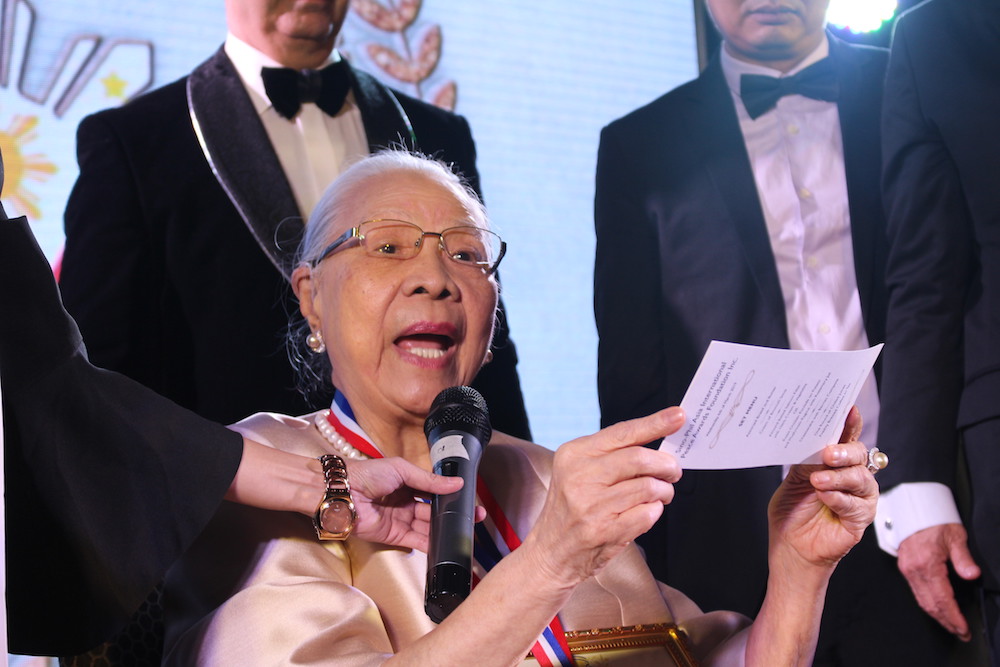 Promoting literacy and the love of books for over half a century is the beautiful legacy of Mrs. Soccoro Ramos. Since she was 19 years old she and her husband have run the National Bookstore of the Philippines. From a little sari-sari shop along Avenida Rizal to a national wide chain now, her work to bring the best books is truly a public service to lasting peace. In 2017, she launched the National Bookstore College for increasing access to higher education. Without great books and education we can lose our humanity in this social media driven world—keeping the flame of literacy alive and well is something we warmly cherish and toast.
Dr. Sergio Ortiz-Luis Jr. (Philippines)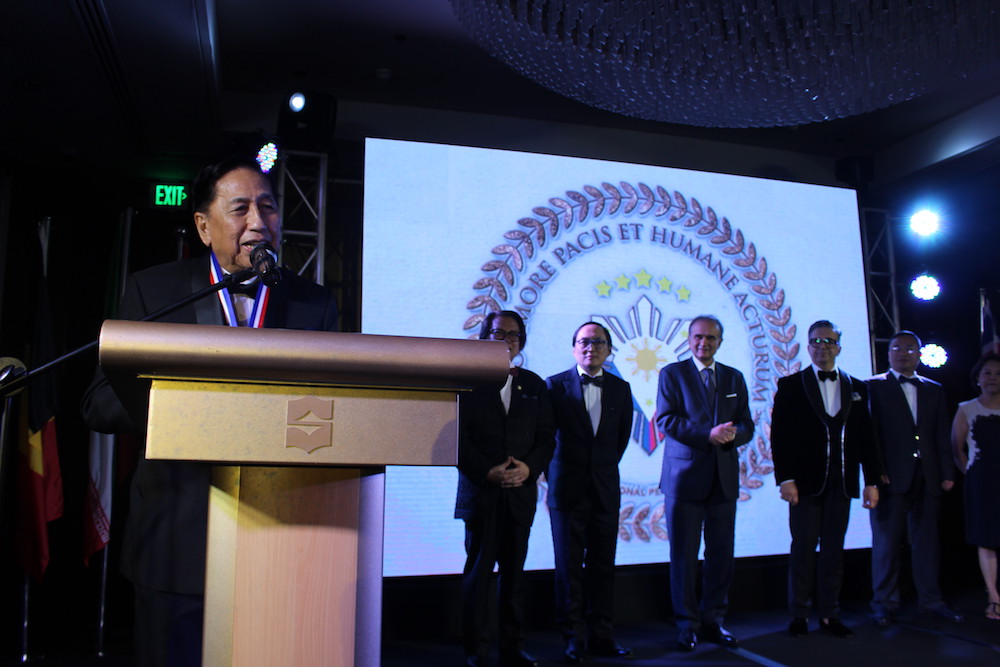 Supporting the dreams of small business owners here in the Philippines is a passion for Dr. Sergio Ortiz-Luis Jr. He has dedicated the operational prowess of his business empire to aiding the economy through entrepreneur and job creation, celebrating historic and honest deals as the Chairman of the Philippines Chamber of Commerce and Industry (PCCI) and the Chairman of the Export and Industry Bank. Moreover, he strengthens small and medium enterprises as the Chairman of EIB Realty and Development Corporation. As the Founding Director of the Manila Exposition Complex dubbed "The World Trade Center of the Philippines" his work is helping businesses across all spectrums, creating opportunity for a proud, peaceful, and prosperous Philippines.
Dr. Anders Gustav Nelsson (Sweden)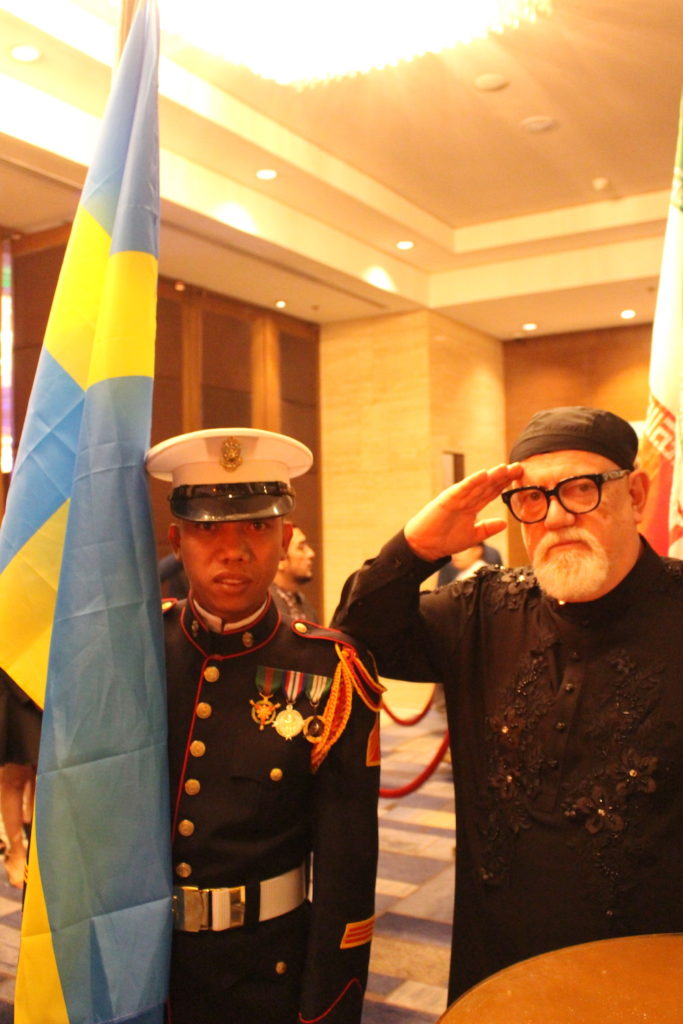 The musical love Swedish and Hong Kong composer has inspired all for over 50-years! As the Founder-Director of the Composers & Authors Society of Hong Kong (CASH) and the Music Publishers Association, he has helped countless aspiring musicians sweep audiences with harmony across generations. His jazz is legendary and we love to hear him jam! His songs, albums, radio and television appearances are a true tribute to peace and love and will reverberate with us always.
Mr. Mark Clayton (United Kingdom)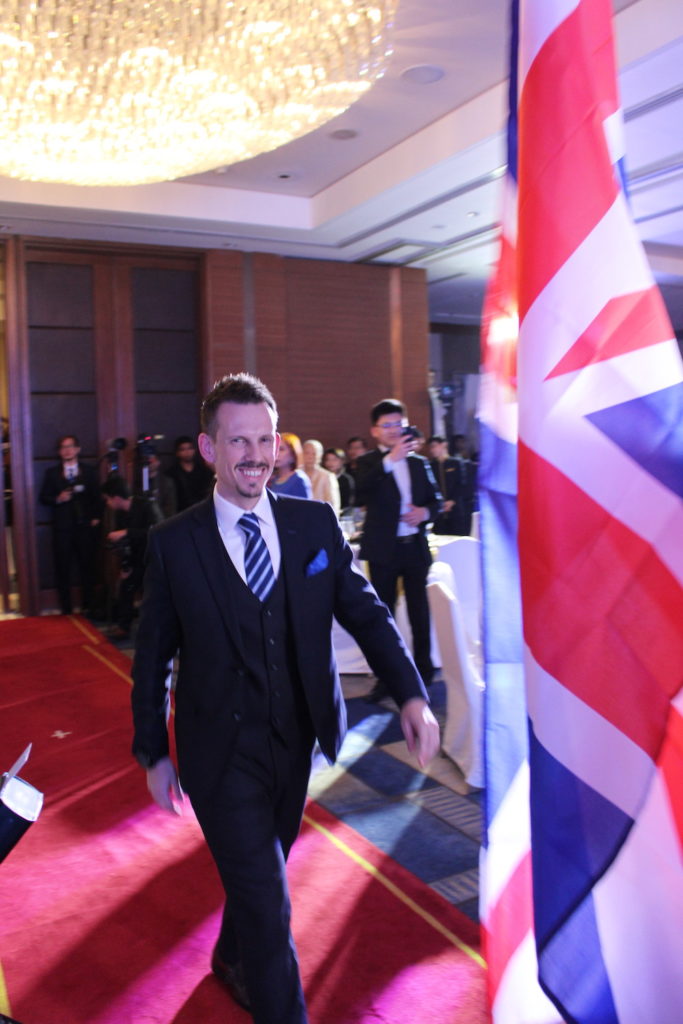 From the United Kingdom, Mark Clayton has been hosting the community spirited "Come Together Community" concert and fundraiser in the coastal Chinese city of Zhuhai for the past 7-years. Arriving in Guangdong province in 2005, he has used his entrepreneurial vigor as an accountant and CFO to raise over US$ 250,000 for students, orphans, and autistic children in Zhuhai. His "Come Together Concert" has brought together music lovers from all over the Greater Bay Area and beyond to enjoy local and international musicians spreading peace, love and community.
In his welcome address, Chairman Sir Billy Chan said: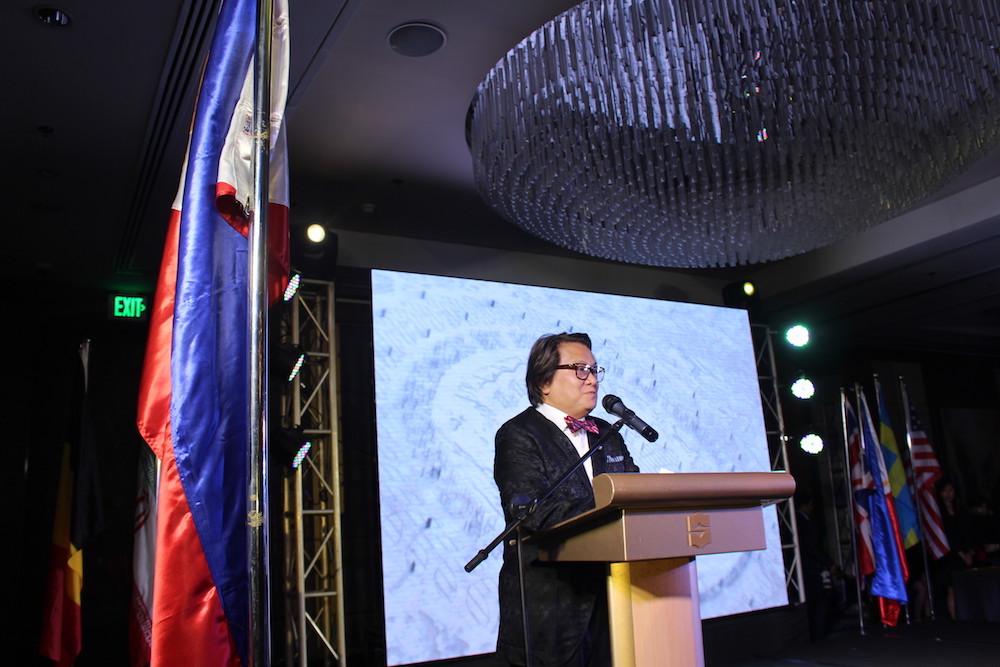 "On Christmas Day 1973, a 12-year old boy in Hong Kong stood before his birthday cake ready to make a wish and out blow the candles. Would he wish for a new bike? Money? Maybe a pretty girlfriend?
"As he looked at the cake, he could see in the background of his living room a black and white television screen showing the nightly news—-wars raging across Asia, from Vietnam to the Middle East.
"Closing his eyes, he made a wish for world peace and blew out the candles. That voice of the child wishing for peace is one we all have inside of us.
"It is a voice I too hold dear—because that little boy wishing for peace is standing here before you now 46-years later. Its my voice.
"I've kept this voice of peace alive inside of me all of these years—just as I will for the rest of my days.
"And it is with this voice that I am proud to welcome all of you here tonight to the inaugural launch of the Sino-Phil Asia International Peace Awards.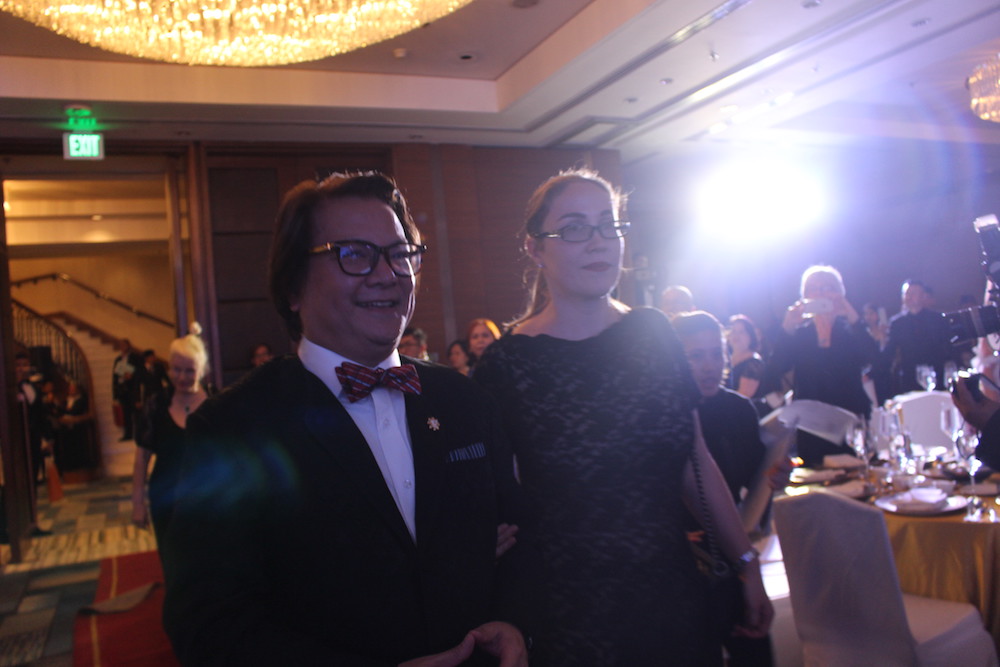 "It is a voice of peace I extend to our peace laureates who are here tonight from all over the world.
"Like this young man here, Mr. Mark Clayton of the United Kingdom. Mark came to China in 2005 as a fresh graduate to Guangdong province… In the city of Zhuhai, for nearly eight years now he has run a regional music charity festival, raising hundreds of thousands of dollars for Chinese orphans and autistic children.
"Also doing heroic work in Guangdong Province is the legendary Dr. Harley Seyedin. For nearly the entire span of China's past 40-years of opening up, Harley has worked tirelessly to build up roads where there were no roads—building schools, contributing to healthcare and fundraising of untold millions for the Chinese people's charity. Through his work as the President of the American Chamber of Commerce of South China, he was awarded the prestigious Thomas Jefferson Medal by President Obama and also a Nobel Business Peace Prize by the Nobel Economic Committee in Oslo, Norway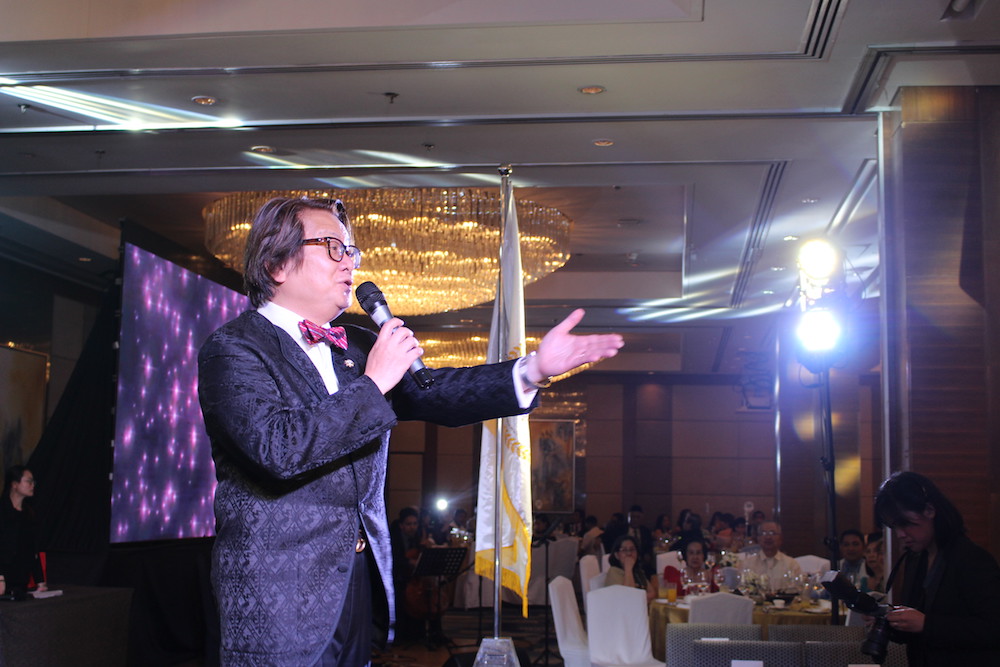 "Speaking of Scandinavia and China's Greater Bay Area, we are touched to have with us tonight Anders Nelsson. Of Swedish ancestry, Anders has been jazzing up Hong Kong since moving there with his missionary parents when he was 4-years old. With ground breaking bands such as The Kontinentals and Anders Nelson & The Inspiration, and acting with Bruce Lee in Way of the Dragon, his cultural legacy has inspired us for over 70-years.
"Also tonight representing cultural ambassadorship, is a dear friend Dr. Koen de Ridder, a Belgian diplomat who has expanded Chinese goodwill now as the Director of the Confucius Institute in Brussels. Dr. de Ridder's talents extend beyond economics and his fluency in Mandarin to authorship of engaging histories of Belgians in China during the 19th century and early 20th centuries.
"With Chinese history in thought, I tip my hat to Dr. Jiafu Ji of Peking University Cancer Hospital & Institute. He is making Chinese medical history today with genetic cancer research and the first tumor issue bank at Peking University Cancer Hospital & Institute.
"Also involved in medical peace is Dr. Hurley Myers, emeritus professor of physiology and internal medicine at Southern Illinois University. For over 30-years he developed medical education curriculum and published more than 50 articles on experimental hypertension to heart disease.
"Further complimenting these doctors is Dr. Ahmad Sheibani Nia of Iran, a dentist who has dedicated his life to performing free dental treatment and gum disease for poor people in Iran, especially children with dentofacial deformities. He has truly brightened the smiles of untold thousands of people—including us.
"Keeping us smiling tonight too here as our hosts in the Philippines are four outstanding Filipinos.
"One is Senator Win Gatchalian ,who is empowering people here in the Philippines with public education by creating free education legislation for all students attending state colleges and universities. There is no greater purpose than educational access so thank you Senator Gatchalian.
"Speaking of education, we warmly acknowledge Jose Ramos, President of the National Book Store of the Philippines—keeping the flame of literacy alive with book donations and the NBS college to enhance education are deeds we celebrate for public service.
"Dr. Sergion Ortiz-Luis Jr., in his capacity in business peace as the Chairman of the Philippine Chamber of Commerce and Industry and across his businesses is an icon and strong supporter of small and medium sized businesses, public employment and numerous local charities.
"Finally, the work of Francisco Duque III as Secretary of Health of the Philippines under Presidents Arroyo and Duterte is widely applauded—particularly his "Formula One for Health" program to strategically increase healthcare investments. Financial planning in the saving of lives is often overlooked by peace but is indeed essential to it. As a healthcare professional and Vice Dean of a medical school, your work truly touches me Secretary Duque for improving the lives of Filipinos and humanity.
"Working for peace is no easy task.
"So I thank all of you from the bottom of my heart for the deeds you do everyday on behalf of humanity.
"May you never lose your inner voice of innocence, childhood, and peace in the acts you carry out everyday.
"I love all of you.
"God bless you and may peace be with you always."