PRESS RELEASE:
12 April 2018
Macau Elements:
bamboo, iron, light, and music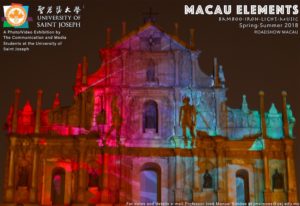 A photo/video exhibition by the Communication and Media students of the University of Saint Joseph, Macau
Summer-Spring 2018 Roadshow Macau
Macau__ Talented students of the Communication and Media Department at the University of Saint Joseph have selected a collection of their finest photo and video samples of Macau from their recent project classes to showcase the city.
Based on their Autumn 2017 explorations of Macau, this exhibition and coming roadshow blends youth with vitality and the perspective of an evolving globalised city—with a contrast between its past, present, and future.
Bamboo symbolizes ancient wisdom of China—even though bamboo is used to construct the new Macau on many new buildings.
Iron symbolizes the constant construction of the city—as well elements of its past.
Lights illuminate cultural spaces of old village lamps to flashy resorts—and the contrast of the shadows in between.
Music comes to life in the selection of student video shorts.
Professor José Manuel Simões, Department Head of Communication and Media at the University of Saint Joseph said: "This exhibition displays the grasp that illuminates our
students' potential side-by-side with their capacity for
deep learning, within the context of our society."
Professor Simões added, "I believe that this exhibition demonstrates the technical and practical topics covered by the Baccalaureate Communication and Media program, ranging from audiovisual production to digital publishing techniques, reflecting upon the entire range of modern platforms. The main focus of our program is on how people use messages to generate meanings placing our students at the forefront of contemporary information society."
Samples of the exhibition will debut at the University of Saint Joseph Open Day, on 14 April from 2pm to 6pm.
Additional exhibition showings for Spring and Summer 2018 around Macau will be announced shortly for the School of the Nations, and Escola Portuguesa de Macau, among others.
For further dates and details, e-mail Professor José Manuel Simões at: jmsimoes@usj.edu.mo