By Christopher Cottrell// Images: Christopher Cottrell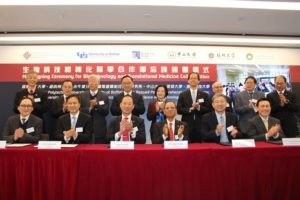 The Pearl Bay's premier biotechnology minds have struck an accord for finessing regional and international collaboration for anti-cancer and other life saving drugs.
At an MOU signing at Hong Kong Poly University, professors from Guangzhou, Shenzhen, Hong Kong and Macao joined up with New York State professors to further cement projects in a unique scientific exchange eco-system for advancing biotechnology globally.
On hand for the MOU were Professor Haipeng Xiao, Vice President, Sun Yat-sen University, Guangzhou, Professor Qingquan Li President Shenzhen University, Professor Manson Fok, Dean of Faculty of Health Sciences, Macau University of Science and Technology, and Professor Ping-kong Alexander Wai
Vice President (Research Development), Hong Kong Polytechnic University.
International collaborators included Professor Satish Tripathi, President of University at Buffalo, The State University of New York, and Professor Yeong Christopher Choi, Assistant Professor of Oncology, Roswell Park Comprehensive Cancer Center, U.S.A.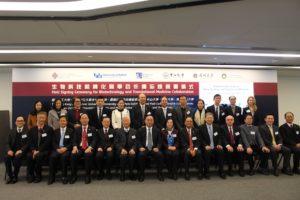 The morning was graced by Nicholas W. Yang, Secretary for Innovation and Technology for the Government of Hong Kong SAR.
Said Professor Haipeng Xiao, Vice President, Sun Yat-sen University, Guangzhou, "We are a preeminent with medical education and healthcare research. We were the first resident medical school in China, founded in 1886. We have made medical firsts in China since then. Like the first x-ray photo… and the first application of anesthesiology in surgery."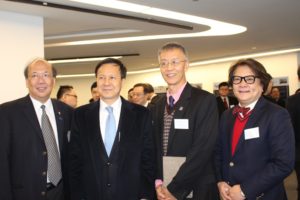 Prof Haipeng added, "We have the second biggest medical education facility in China with 10-regional theatre hospitals located in Guangzhou and Shenzhen and Zhuhai—three core cities of the Guangdong, Hong Kong, Macao, Greater Bay Area. This collaboration will boost medical education and healthcare in China."
Professor Li, President of Shenzhen University, said, "Ten years ago we started our medical school, and a month ago we started our hospital. We have strong support from the local government. Not just financial, but special freedoms. In the future, we will have very fast development because the local economy is strong—the Shenzhen government is one of the richest in China."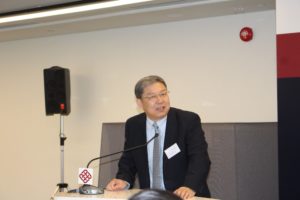 Prof Li said, "We will develop more collaboration in biotechnology and medicine we have a school biology, school of medicine, and also a pharmacy—so I hope we can achieve great research results."
Prof. Li added, "We need more high-tech support in Shenzhen for future development. So with this collaboration we can develop more research projects and translate our this to the high-tech industry, which is important for the development of the local economy."
Professor Manson Fok, Dean of the Faculty of Health Sciences at the Macau University of Science and Technology (MUST), said, "It is an honor to represent the Macau University of Science and Technology in this important collaboration. We are very active in developing biotechnology. Hopefully we will be able to participate and set up a school of medicine in the coming years. We already have a small university hospital which we will be able to use in collaboration with our partners."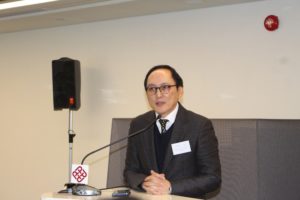 Prof. Fok continued, "This highlights an important element from an ancient Chinese saying. To succeed you need heavenly timing, you need geographic positions and advantages, and you need human harmony. This is the perfect timing because biotechnology is destined to be the next economic driver for the whole world in the global sense. We are in the right place because China is the world's second largest economy and has a main focus in innovation and biotechnology. Hong Kong and Macao are naturally following this big drive. To succeed, is the most important element of human harmony."
Prof. Fok added, "We have shown this week with all of our collaborating partners we are all fully committed to this collaboration. We want to really develop products that address global needs…there are many people who are still suffering because they science is still not there, the products are still not there. But we have the scientists, we have the research facilities, we have the will to address and create solutions that will alleviate these human sufferings."
Professor Alexander Wai, Vice President (Research Development), Hong Kong Polytechnic University, said, "We have worked hard these past weeks for the Greater Bay Area and U.S. alliance."
Prof Wai continued, "We have been working on biotechnology here at Poly U and Hong Kong, specifically on drug development. Our drugs have been approved by the U.S. Food and Drug Administration and are in e trials around the world."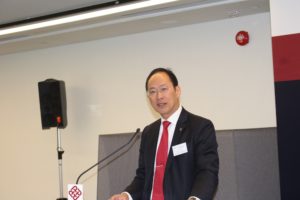 Prof Wai added, "We have taken key steps to bring together key players in the Greater Bay Area in China and the United States, and together, with key industrial partners. We are equipped with knowledge and expertise in translational medicine in biotechnology and life science… For the Greater Bay Area, we expect this to become a model for biotech and translational medicine."
Nicholas W. Yang, Secretary for Innovation and Technology for the Government of Hong Kong SAR, said, "This collaborative biotechnology platform further strengthens our collaboration with all of us and our networks. The collaboration was first focused on cancer drug research, genomic research, medical devices and diagnostic development, and many other projects. Some of the medical devices projects are expected to completed in a short period of time, say in one year we will have something coming out soon."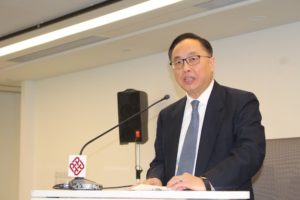 Secretary Yang continued, "It also covers long term projects such as new drug development …and antibiotic development. This aims to be a translation platform and for biotechnology and to serve as a China-US partnership to facilitate approval and allow access to both markets. With this biotechnology projects and holistic planning, the collaborative platform is expected to generate an impact towards to development Hong Kong and the [Pearl] Bay Area into a biotechnological hub and most importantly to deliver innovation and technology to different mathematical needs in order to benefit our people."
Secretary Yang said, "Innovation and technology has always been a top agenda of the Hong Kong SAR government. In the 2017 Hong Kong policy address, the Chief Executive introduced 18 measures to enhance innovation and technology development in Hong Kong. RD expansion is expected to develop an international innovation and technology hub to capture the unprecedented opportunity under the Guangdong, Macao, Hong Kong Bay Area initiative. Biotechnology is certainly one of the key technology disciplines in our pursuit to promote innovation and technology. Not only because of its prospective economic contribution to diversify and grow our existing industry and business. But also, because of its boundless potential to revolutionize disease treatment and to enhance the quality of life."
Secretary Yang said, "Over the years, Hong Kong has established a foothold in biotechnology research, including biomedicine. Our medical and healthcare system is world famous for its high quality, reliability, and cost effectiveness. We have two medical schools ranking out of the world's fifty best in delivering top quality medical doctors and researchers. With government support, there are now two phase one clinical centers in Hong Kong which will facilitate the development of biomedical research outcomes."
Secretary Yang further remarked, "There are now a total of 16 key-stakeholder laboratories contributing to Hong Kong's cutting edge R&D, with about 2/3 of them conducting biotechnology related research. To step up our collaboration in innovation and research technology with other economies abroad, the government has been attracting internationally regarded R&D institutions and universities to Hong Kong. With solid groundwork in biotechnological research, we have established our novel laboratories discovery into research results, viable products and services. Non-invasive pre natal diagnostic method and pioneered by Professor Denis Lo which has been used now in over 90 countries and millions of pregnant women."
Secretary Yang added, "These are globally recognized locally made biomedicines achievements. Tie to spearhead translation research in biotechnology. I believe such technology is both timely and relevant. I'm also confident that this international partnership will drive new world class developments in biotechnology."
Professor Satish Tripathi, President of the University at Buffalo, the State University of New York, said, "We have a relationship with Hong Kong Poly and Shenzhen University, and others, but this really brings multiple universities together. It's really focused in the area of biotechnology and translational medicine issues and collaborations with the University of Buffalo and Roswell Park Comprehensive Cancer Research Center and all our Chinese university partners here today. We're looking at research and actuating translations medicine. This is great to get our institutions together and figure out what to work on."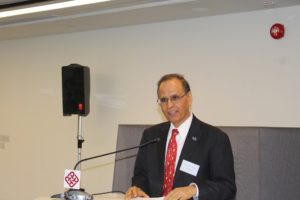 Professor Yeong Christopher Choi of the Roswell Park Comprehensive Cancer Center said, "I'm very excited that I can represent here today. This is such a great opportunity to collaborate with our new friends in the east. We're hoping that we can really establish innovative medical developments with this collaboration."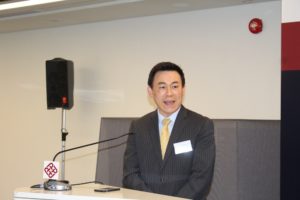 Prof. Choi added, "In terms of cancer treatment, I don't believe there's going to be a single bullet that's going to cure everything, but with this collaboration it will allow us to develop several weapons against this fight against cancer."
Professor Jianrong Sun, Associate Vice Rector and Dean of University International College at MUST, who witnessed the MOU, commented, "One of the things we are looking at here is collaboration. When you talk about teamwork, its really important. In terms of research, collaboration is crucial. For our geographical location in the Greater Pearl Bay Area its perfect to make partners. The outcome is always important and we believe that collaborations bring positive results. Partnerships are key."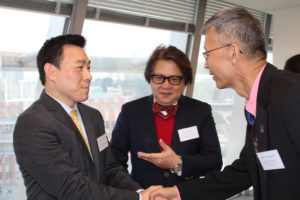 Dr. Billy Chan, Director of the Center for Medical Professional Excellence at the Faculty of Health Sciences at MUST said, "It's exciting to see what's happening over the past few years with biotechnology and regional medical education. The Dean of our Faculty, Professor Manson Fok has been actively involved in biotech research. There's so much exciting news coming out from our biotech event that we had a month ago."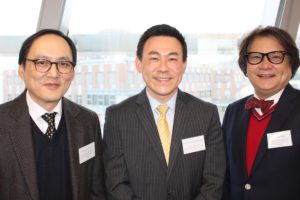 Dr. Chan added, "They've actually launched two to three new products, developed from this particular region. With the big Bay Area between Shenzhen, Zhuhai, Macau and Hong Kong, I think what we can do now is we can bring in other elements from the United States of America, from Europe, New Zealand, Australia, and many other partners coming to this region. We can bring all of these great minds together, and as our Vice Rector at MUST Jianrong Sun said, can bring these projects into reality. We can see that industry is supporting this heavily. Many great minds of medicine from the Greater Pearl Bay Area are here, gathering to sign this MOU document. With this momentum, we are looking forward to more creativity and inventions."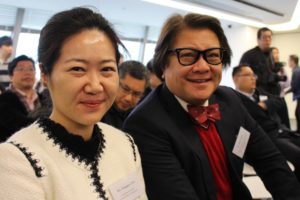 Dr. Terence Lau, Director of Innovation and Technology Development, Hong Kong Polytechnic University, who emceed the event, said, "It's not easy, but all of us have a similar vision to facilitate more biotechnology collaboration to try to come up with something useful for humanity."