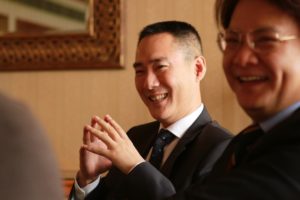 By Christopher Cottrell/ Image: Christopher Cottrell
Six years ago this May, Macau embarked on a bold new medical mission—the Sino Luso International Medical Forum.I was lucky enough to have written about the first one.
I'd been covering Macau since 2005 so was intrigued to get the assignment—particuarly when I saw the lineup of speakers, such as Colonel Wu Jun of the 3rd Military Medical College in Chongqing. For the past six years, I've had the honor to cover the forum from Macau to Hong Kong to Chongqing to Beijing to Manila and Phnom Penh.
Below is the first article ever written about Sino-Luso. It originally ran with a publication that has since closed, taking with it its server, also now shuttered and offline.
Fortunately, I have this archived article in my data-base—as I do with nearly all of the 37 Sino-Luso International Medical Forums I have chronicled.
This first one, though, is incomplete—as one of the main minds of the forum was not mentioned in it. Easy going, he put the focus of the story on Dr. Wu Jun and Dr. Manson Fok. Indeed, that meticulous medical mind is Peace Post co-founder Dr. Billy Chan. Featured in the foreground here with Dr. Wu, Dr. Chan was also in one of the first published photos of the Sino-Luso International Medical Forum (See below).
Since it started in 2011, it has trained over 5,000 frontline healthcare workers from Macau, Hong Kong and the Chinese mainland.
Here's to wishing it many more years of success!
May peace be with it's special mission!
Christopher Cottrell, Editor/Publisher Peace Post
P.S. The first humble story of this exciting chapter in Chinese medical history is below.
Medical Macau: Lusophone health forum injects dose of optimism
May 26, 2011
By Christopher Cottrell
The lessons of the great Sichuan earthquake of 2008 are still with Wu Jun. Wu, a professor and senior colonel with the 3rd Military Medical University, tells, "We need to create more ways to communicate emergency relief methods internationally, and we can do this in Macau with our Lusophone friends,and with doctors around the world." Those are powerful words from a man who was commended for his heroic valor in the Sichuan earthquake by Secretary-General of the United Nations, Ban Ki-Moon.
In fact, this was the wonderful and committed tone and tenor of a three-day international medical forum in Macau that ended yesterday. The event was chaired by the Macau University of Science and Technology: Faculty of Health Sciences and organized by the Macau Healthcare Management and Promotion Association (MHMPA).
Doctor Manson Fok, Dean of the Faculty of Science and Technology at theMacau University of Science and Technology (MUST), said, "We're working towards larger international forums like this for two reasons. The first is to increase awareness of better relief methods and to share medical knowledge. The second is to promote diversification here in Macau with education."
Education indeed—Professor Wu gave a heart rendering account of the, "Organization of Medical Rescue of Wenchuan and Yushu Earthquake". Other Chinese panelists and the workshop leaders included Vice-Director of Health Bureau of Macau, Dr. Chan Wai Sin, Vice Superintendent of Government Hospital, Dr. Lei Wai Seng, Dr Mario Evora, and Dr. Rui Furtado.
MUST Professor and Vice Rector of academic affairs, Zhang Shuguang, said that, "This is a very good thing for Macau to have. By bringing together doctors from around the world, we improve our ability to work together as a team, and as friends. So when an emergencycomes, it is very good we have a network of connected experts to come aid people."
This sentiment certainly impacted Brazil's Consul for Hong Kong and Macau, Terezinha Bassani Campos. Consul Campos said, "We're grateful to be learning with the Chinese and other people's from Portuguese speaking countries about increasing healthcare and medical technology. I think that this forum shows that friendship among professionals will better link us together for further challenges."
Apart from guests from Lusophone countries, such as Rodrigo Pedro Domingos, Consul General to Macau from Angola, Australian and American doctors also participated in the events. Consul General Domingos said, "This is a welcome event, and I am happy to attend and learn and see."
One Australian participant, Amanda Grauze, medical training manager of Medical Synergies, said, "We're learning new ways to share our technological skills with medicine, and that's a very exciting component with this forum."
Altruism aside, the forum, organized with the encouragement of the Chinese Central Government, may take on interesting market forms—from training to technological sharing. On the business front, one can see international medical companies viewing this forum as a way to utilize Macau as a gateway for the Chinese mainland medical market.
More immediately for Macau, the forum was a precursor to the launch of a new emergency medical treatment center to open in Taipa this summer. It is hard to say if this will see more Chinese mainland tourists coming to Macau—but at least one guest privately said that this could become another vibrant balance of the Macau tourism experience.
Hong Kong, for example, is already seeing a spike in medical tourism. Macau could also see this rise and at the same time harness it to better improve its already respectable medical facilities and hospitals, said one participant who did not want to be named.
Whatever the long term side-effects, the conference seemed to have bolstered the morale of all who attended. It gave a nice booster shot for Macau's march toward diversification—namely how medical professionals can come together in Macau for solutions to pressing healthcare and medical emergency problems.