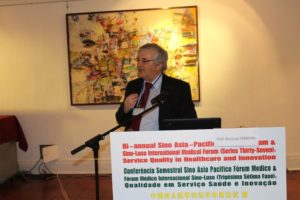 By Peace Post Staff/ Image: Christopher Cottrell
The 37th Sino-Luso International Medical Forum's five days of symposiums ended with a private, closed door, VIP symposium discussing medical errors at the Clube Militar de Macau.
Dr. Billy Chan, vice-president and co-founder of the Sino-Luso International Medical Forum, commented, "After six-years, we are honored to be here with all of these wonderful doctors from Macau, China and the Portuguese speaking world."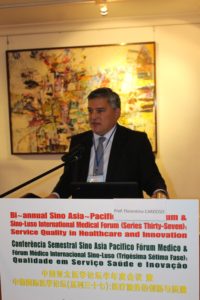 Dr. Chan added, "I hope we are here for another six years and beyond to provide Macau's frontline healthcare providers with the best science, training, and international medical experts. We've been graced with the world's finest doctors to train with our Macau healthcare providers—and to that I salute them for caring for the people of Macau."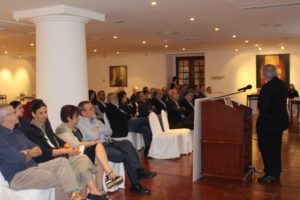 Two leading medical experts from Portugal and Brazil presented to Macau's leading medical and medical law intellectuals: Prof. Rui Cruz Ferreira, an interventional cardiologist and director of cardiology at Centro Hospitalar de Lisboa-Santa Marta Hospital, and Prof. Florentino Cardoso, managing director of the Fortaleza General Hospital and president of the 400,000 member strong Brazilian Medical Association.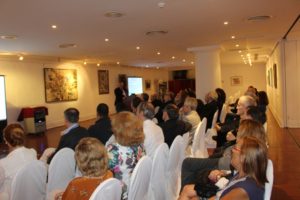 Moderators included Macau based lawyer Paulo Cardinal, University of Macau professor Vera Raposa, and Dr. Mario Evora, director of the Macau Health Bureau and president of Macau Cardiology Association.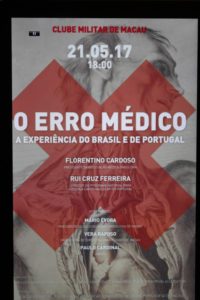 Dr. Evora had also served as a key leader with the core Macau delegation to the Beijing symposiums and signings. He was joined by Dr. Humberto Evora, a sports medicine specialist and chief medical doctor of the Cabo Verde Olympic team, Dr. Luis Sousa, senior breast surgeon at the Macau government hospital, and Dr. Monica Pon, an assistant professor at the Nova Medical School in Lisbon now based in Macau.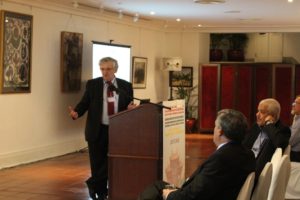 This was the second such medical science delegation with the Sino-Luso International Medical Forum that Dr. Mario brought Macau government doctors to with Prof. Fok and Dr. Chan. Their first Beijing trip in 2014 coincided with former Portuguese president Cavaco Silva's China visit.
This 2017 delegation signed several MOUs for medical skills training between the Faculty of Health Sciences at the Macau University of Science and Technology (MUST), the Peking University People's Hospital, and Chinese Medical Doctors Association.
Titled "Service Quality in Healthcare and Innovation", this forum featured some of the best healthcare experts and health officials from many Portuguese speaking countries—as the Sino-Luso International Medical Forum has been doing in Macau since 2011.
This year's meetings in Beijing and Macau were graced by Undersecretary of Health for the Philippines Dr. Herminigildo Valle.
Organized by the Macau Health Management and Promotion Association (MHMPA), the programs are academically chaired by the Faculty of Health Sciences at the Macau University of Science and Technology (MUST).