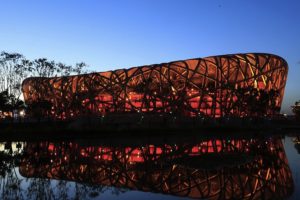 By Peace Post Staff/ Image: Xinhua
The One Belt, One Road Initiative is a "Project of the Century," said Chinese President Xi Jinping.
With over 1,500 international delegates in Beijing for the Silk Summit held Sunday and Monday, Xi further called for joint efforts to build the Belt and Road for "peace, prosperity, openness, innovation and civilization."
At the historical forum, President Xi said, "Spanning thousands of miles and years, the ancient silk routes embody the spirit of peace and cooperation, openness and inclusiveness, mutual learning and mutual benefit."
"The Silk Road spirit has become a great heritage of human civilization," he added.
The financial support for these large scale road and rail networks amounts to RMB 100 billion—which will be amassed in the Silk Road Fund.
President Xi further remarked that, "The China Development Bank and the Export-Import Bank of China will set up special lending schemes respectively worth RMB 250 billion equivalent and RMB 130 billion equivalent to support Belt and Road cooperation on infrastructure, industrial capacity and financing."
Attendees from 29 heads of state included Russian President Putin and Turkish President Erdogan, as well as UN Secretary-General Antonio Guterres, World Bank President Jim Yong Kim, and Managing Director of the International Monetary Fund Christine Lagarde.
For the occasion, the iconic Beijing Bird's Nest was illuminated—as if it were the mother nest from which the Silk Century was just hatched.