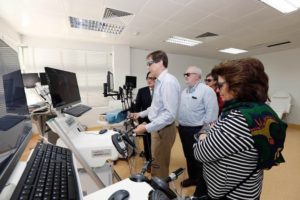 By Christopher Cottrell/ Images: Peace Post
"We don't have anything like this back in Portugal," says Prof. Madalena Patricio, Director of the Faculty of Medicine at the University of Lisbon and former president of Association of Medical Education of Europe (AMEE).
Before her are several medical simulation training machines—from sonograms to laparoscopic surgery. This is one of many state-of-the-art rooms at the Faculty of Health Sciences at the Macau University of Sciences and Technology. Indeed, this is the Center of Medical Excellence overseen by Dr. Billy Chan, the vice-president of Sino-Luso International Medical Forum—which he launched with Prof. Manson Fok, Dean of the Faculty of Health Sciences at MUST six years ago this May.
Prof. Patricio adds, "This is an incredible room and I do believe simulation training is the future…." Seeing this she remarks, "With this it is clear Macau is well qualified to have its own medical school."
She's echoing the sentiments of the scores of globally renowned scholars and scientists who have presented at the Sino-Luso forum since it launched in May 2011.
During the past four days of medical meetings with scholars from the United Kingdom, Portugal, Australia, Beijing, Hong Kong and Macau at Sino-Luso 36 ending on Monday April 3, a consensus developed that advanced medical simulation training is the future of medicine and that it is high-time Macau get a medical school.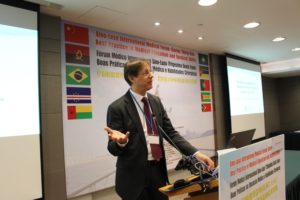 A long time supporter and Sino-Luso panelist, Prof. Niv Patil, Director of the Hong Kong University of Bau Institute of Medical and Health Sciences Education, says, "We say this is medical stimulation."
Stimulating for sure. It means a profound paradigm shift—one which Macau, Hong Kong, and Chinese mainland are beginning to accelerate.
Medical simulation expert Dr. Ross Horley, a lecturer at Notre Dame University of Australia, said, "You have this type of training in theatres of war to pilot training. Sadly, the medical profession has had foot-dragging with simulation training. But the fact is this saves lives, lowers insurance costs, and improves doctor training."
Expert panel presentations from the United Kingdom and Beijing gave practical advice about the strategies of implementing theoretical training modules and real-life programs that have been set in motion.
United Kingdom's Prof. Bill Tennent noted that Surgical Skills Courses must be executed with highly targeted goals, for example.
Another presenter, the convener of Royal College of Surgeons of Edinburgh, Prof. Peter McCollum stressed, "You can teach with simulation and it has results. But it must be said to doctors that there are limitations and they should be ready for anything. There is nothing that can replace situations on the operating table."
With that caution, medical students can move forward their medical training on the machines before moving onto the dynamics of humans in real-time—which, of course, the various scenarios and drills are designed to prepare them to confront.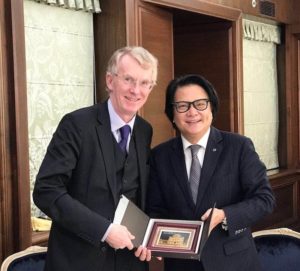 Dr. Wang of the Peking University Hospital in Beijing highlighted their mass-trauma programs in traffic that save lives in more than 100 counties around the PRC. In fact, Dr. Jiang Baoguo, president of Peking University Hospital, was awarded with a 2016 Gusi Peace Prize International in Manila, Philippines last November for this mass trauma. Thanks to the Sino-Luso offshoot of the Sino-Asia Pacific Medical Forum, this mass-trauma program will be implemented in Cambodia later this year, says Dr. Wang.
The forum also stimulated the truth.
In a sudden era of dangerous lies on the internet, a new breed of doctors are being born at the Notre Dame University in Australia. Dean Kathryn Hird trains her first year doctors to engage with Wikimedicine pages.
"We're seeing our students engaged and able to train with networks instead of simple stages of progress." It instantly plugs her students in internationally with like minded scientists—with articles that can be weeded out with strong peer review globally.
Further regarding reality, Dr. Patricio in Lisbon sends their doctors to engage public health by sending them out from institutes to the blind to prisons—connecting public health and engaging medicine. "Whether they are dealing with AIDS patients or gypsies, we always get them to engage public health. This connects them with the human side of medicine."
These and other innovations are key and compliment advanced simulation tools—as do wise accounting and financial modules. Dr. Horley said, "Without business models to support them and careful financial planning, medical schools can face troubles."
Moreover, the 36th Sino-Luso International Medical Forum opened with the signing of major medical MOUs with Prof. Manson Fok, Dean of the Faculty of Health Sciences at the Macau University of Science (MUST) and President of the Sino-Luso Forum, and Madalena Patricio, Director of the Faculty of Medicine at the University of Lisbon, and Prof. Kathryn Hird, the Vice Dean of School of Medicine, Notre Dame University of Australia. This will see dynamic faculty and student exchanges in the coming years.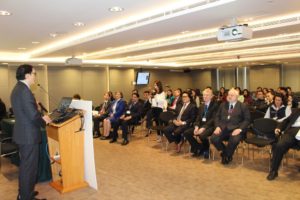 Titled "Best Practice in Medical Education and Surgical Skills," Prof. Fok said at Sino-Luso 36, "For nearly five-hundred years Macau has gone without a medical school. All these friends here are making it possible to put pressure so we can finally get a medical school."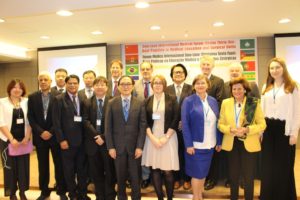 Now that's stimulating and happy news for sure.