Meeting of hearts and minds in Manila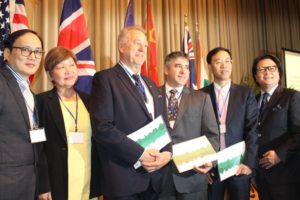 Text: By Christopher Cottrell / Photo Credit: Christopher Cottrell
The 2nd Sino Asia-Pacific Medical Forum held in Manila and Macau in recent days witnessed strong synergy and forward-looking steps.
At its opening symposium in Manila, scientists and policymakers from dozens of countries discussed matters ranging from trauma training in China to climate change and public health in Australia, to obesity in women's health in South Asia, to endocrine endeavors in the Philippines. The forum may also expand globally in reach because of these meetings—stretching from Macau to Manila to Cambodia to the Mediterranean. And even the Caribbean.
Commenting on the forum's title umbrella of, "Building a Regional and International network in Promoting Healthcare and Skills," the president of Sino Asia-Pacific Medical Forum, Prof. Manson Fok, commented, "The purpose this year is to emphasize the importance of collaborations and to build long-term relationships with all out health stakeholders. This symposium will provide medical professionals with essential medical and surgical knowledge."
Prof. Fok, who is also the Dean of the Faculty of Health Sciences at the Macau University of Science and Technology (MUST), further stated, "Together we can really change the scenery because around us there are still so many diseases and illnesses that we really need to put our heads together and change and improve the healthcare for our citizens."
Vice President of the forum, Dr. Billy Chan, commented, "The Philippines has been a wonderful neighbor, and a great friend in Asia for centuries. Last year when we were here, the Philippines and China were at the lowest point in their relationship ever. Who could have imagined that after 12 months that things would turn around so beautifully."
Dr. Chan continued, "The current president of the Philippines, the honorable Duterte, made a visit to Beijing a few weeks ago and talked about all sorts of collaboration, not just in commerce in trade. Tonight we get together under one roof of health and peace. So never give up hope. We've heard this in our past forums with stories from the rescue mission of Dr. Susan Briggs at the twin towers [on September 11, 2001 in New York City] all the way to the Chinese military saving thousands of survivors of the Sichuan earthquake [of May 12, 2008]. We're seeing these stories today too in our forums, with the collaboration we saw between Brazil and Hong Kong with Zika virus research, and all the way to what we have been in doing in Cambodia the last four months."
Dr. Irineo C. Bernardo III, President of the Philippines Medical Association (PMA), said, "We must remove all the [medical] barriers. Slowly but surely all different regions throughout the world will now be one whole. One global village."
Dr. Bernardo III continued, "Different disease conditions, particularly viruses, can reach epidemic proportions, such as the Zika virus….One health approach is with doctors trying to harmonize their skills as one. This is an important time to join together. That we think as one with the common objective. That we have a multi-disciplinary approach and multi-sector approach."
Dr. Jiang Baoguo, president of Peking University People's Hospital in Beijing, said, "I think this forum is very good. It gives ever doctor a chance to give their presentation on their works and for exchanging information."
Indeed, Dr. Jiang explained his traffic trauma reduction module at the opening symposium. This life-saving formula coordinates trauma centers in cities with advanced teams and enhanced communication. Dr. Jiang continued, "This is very good and important to build relationships with each other. For example, doctors from different departments that might not meet, that might never have a chance to meet, or to exchange ideas. This forum is very open with high levels of exchange."
Dr. Philip Fidler, a burns and trauma expert based in Colorado, USA, showed penetrating graphics of severely burned patients. Of one patient he noted, "We had one woman write a note to kill her. We deliberated and kept her alive, hoping we weren't going against her wishes…well she later recovered and said of the note 'oh, well I was suffering then. What do you expect?"
Perth, Australia resident Dr. Kingsley Faulkner, former president of the Royal Australasian College of Surgeons said, "It's vastly important that Australia is part of this region. We must be engaged with Southeast Asia and with the whole Pacific. It is in our interest. It is in the region's interest. Medicine is a marvelous conduit for an exchange of ideas between people, breaking down barriers and building bridges.
Dr. Faulkner, an anti-smoking advocate, continued, "It's been fantastic meeting people from Syria and other parts of the world where there are troubles, and hearing there perspective on the tragedy of what's happening in the Middle East. To meet people that can see the tragedy that are intelligent and articulate and determined to see a better life for their people."
Dr. Faulkner, who also champions fighting climate change, and sexual harassment in hospitals, further observed, "We're seeing the consequences. Our smoking rates have dropped and continue to drop. Australia is leading the world in this area. But we're dragging our feet, we're lagging behind on addressing climate change. We're backward and likely to loose the Great Barrier Reef because we're not doing more. It is a tragedy environmentally and it is a great challenge to health in our communities and in communities across the world." 
Fellow resident of Perth, Australia, Dr. Ross Horley, CEO of Medical Synergy Australia said, "It's important that countries like Australia give back to their local neighbors with medical expertise and training with diagnosis and so forth and so on. We're all part of the one group here, and we're all part of the one region, so for breaking down economic and cultural barriers, medicine is one way of doing it, imparting knowledge and imparting expertise."
Prof. Manson Fok, put the forum's impact in context, noting, "Last year we held the first Sino Asia-Pacific meeting in Manila. We have had many follow ups. One of them was former Portuguese president Eanes. He invited us to Portugal and we brought a team of doctors from China, including members from the National Healthcare and Family Planning Commission to meet up with all of the delegates from Portuguese speaking countries. This included meeting the health ministers of Portugal, Mozambique, and Guinea-Bissau. There were a lot of important discussions and further collaborations that came out of that."
Prof. Fok further remarked that, "Another laureate from last year we worked with was the honorable H.E. Hun Many, son of Cambodia Prime Minister Hun Sen. We were able to visit and spend some time there visiting hospitals. We went to the orphanages and the outreach clinics and saw first hand what the Cambodian government has done to look after the underprivileged citizens."
Prof. Fok continued, "So right now we are organizing a visit with the National Health and Family Planning Commission chair to visit Cambodia with a Chinese medical team. One of our laureates from this year is Dr. Jiang Baoguo, chief of one of the most prestigious hospitals in Beijing, the Peking University Hospital. He will lead a team that will go to Cambodia and build an acute trauma center as the first of many things we want to do together."
At the closing symposium held over the weekend back in Macau, Dr. Billy Chan said, "From our meetings in Manila and our closing symposium about medical tourism here in Macau, we are also looking to expand beyond Asia Pacific to the Caribbean. St. Kitts and Nevis Prime Minister Timothy Harris' speech at the Gusi awards inspired us to broaden our horizons to continue our medical peace and diplomacy globally. You can say we're interested in Sino Caribbean!"
A quotation from Dr. Fidler summed up the Sino Asia-Pacific's medical sentiments: "There is no shame for being disfigured. When you see someone who is burned, say 'hello' to them. That will go such a long way for them and for their recovery."