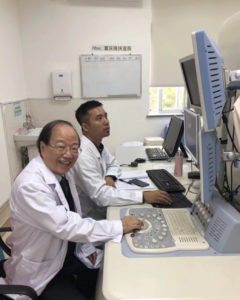 By Peace Post Staff:
Images: From Dr. Felix Wong
Cancer treatment is entering a new phase—one of extraordinary advances with methods such as "focused ultrasound surgery." Indeed, these topics and more were addressed at the 45th Sino-Luso International Medical Forum titled, "New Era for Cancer Prevention and Treatment", which held multiple workshops and presentations recently at the Faculty of Health Sciences at the Macau University of Science and Technology (MUST).
One such presenter was Hong Kong based Dr. Felix Wong, an obstetrician and gynecologist. Also serving as Conjoint Professor of the School of Women's & Children's Health in the Faculty of Medicine, University of New South Wales, Australia, Dr. Felix Wong researches gynecological cancer, endoscopy and alternative medicine.
Dr. Wong spoke with the Peace Post about his latest research and findings with High Intensity Focused Ultrasound, or HIFU.
Peace Post: Can you summarize the HIFU system in a nutshell?
Dr. Wong: HIFU stands for a high intensity focused ultrasound (HIFU) tumor treatment system developed by Chongqing HAIFU Medical Technology Co. Ltd. The English abbreviation is "HIFU", now more commonly called "focused ultrasound surgery (FUS)" to separate it from the small cosmetic HIFU machines. It is a new technology that can kill tumors in vivo without the need to cut or puncture the skin. It also comes under the category of "non-invasive surgery". The treatment principle is similar to focusing sunlight through a convex lens but with the ultrasound being guided to come to a focus within the body after safely penetrating the body tissue. High intensity focused ultrasound (HIFU), as used in non-invasive treatment, delivers external ultrasonic energy into the body, producing a high temperature above 60 degree Centigrade at the focused target tissue within an instant. Due to the fundamental nature of the ultrasonic waves, this results in coagulation necrosis without producing injury to tissues outside the acoustic window or outside the target area. A combination of thermal, cavitation and mechanical effects will cause tissue coagulation necrosis and cell damage in the treatment area. The necrotic tissue will be gradually absorbed or become an invisible benign fibrotic scar. Then the symptoms due to the tumors and the tumor itself will disappear or markedly reduce in size over 6 months to a year.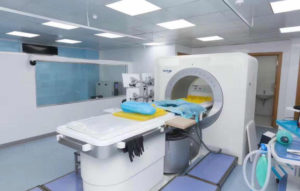 Peace Post: What motivates you to use it in cancer treatment?
Dr. Wong: To be correct, in general I did not use it to treat cancer yet routinely as we have to have more clinical data before it is an indication to do so. I am still exploring to refine its use in cancer treatment. For the time being, I must say I was motivated to use this non-invasive device to treat at present benign solid tumors like fibroids and adenomyosis in gynaecology because I am an obstetrician and gynecologist. These two solid tumors accounts for half of the surgeries performed in gynecology because of the problems and side effects they create in women e.g. heavy menstrual bleeding leading to severe anemia, infertility, pain and miscarriages. Even though like many doctors, I am very skillful in performed minimally invasive laparoscopic surgery to remove these tumors, infrequently complications like heavy operative bleeding, postoperative pain, infection, and serious injury to other organs did occur. In the search for better and safer treatment for my patients to resolve their problems, I found out this promising surgical technology – HIFU.
Peace Post: Are there many countries adopting this new modality in surgical operations? If yes, what kind of surgeries.
Dr. Wong: There are at least 26 countries and regions that had imported this HIFU tumor ablation system for uses in fibroid treatment and cancer treatment and research, e.g. the treatment of renal cancer (research) and fibroids in Oxford University, liver cancer (research) in Queen Mary Hospital, Hong Kong…etc. Countries and regions like Korea, Taiwan, Singapore are using it for the alternative treatment of fibroids and adenomyosis.
Peace Post: In your presentation at the Sino Luso International Medical Forum, you mentioned about nano-technology being incorporated in HIFY at the Australia Institute–is this breakthrough research?
Dr. Wong: I mentioned it for arousing interest, and the preliminary data in experimental animals with nanoparticles under ordinary ultrasound stimulation were exciting. We are exploring the incorporation of HIFU with various types of drug carrying nanoparticles for lung cancer treatment, but we are not reporting the result yet for the benefit of applying patents of the ideas. HIFU ablation system at present is not available in Australia yet.
Peace Post: What were some of your feelings or impressions about today's meeting in Macao?
Dr. Wong: It is an excellent meeting particularly cancer experts from Guangzhou, Hong Kong and Macao Big Bay Area could gather together at a meeting to share the new developments and knowledge of cancer management. We welcome more meetings on different topics in medicine can be held or even better, alternative meeting can be held at other sites in Big Bay Area under the umbrella of Sino Luso International Medical Forum. Although how appropriate it is from its original purpose, it will be determined by the organizing committee and the sponsors